View More:
---
Artist
Harold Cazneaux
New Zealand, Australia
30 Mar 1878 - 19 Jun 1953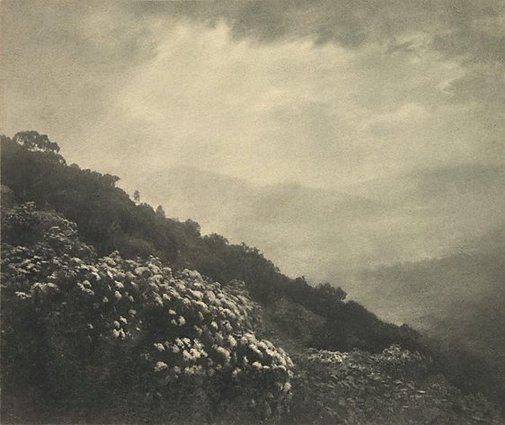 ---
About
The bromoil technique was used in Mountain flowers to render the scene with an impressionistic finish. Cazneaux manipulated sharp and clear definition here in favour of a softer focus and in order to create a poetic representation of the landscape. A bromoil print is created through an intervention in the printing process when a gelatin silver photograph is bleached and fixed, then soaked in water. A greasy ink is then applied and gradually built up to the required density 1. Helen Ennis argues that landscape photography was integral to the conceptualisation of a distinctly Australian identity in the wake of the First World War. Cazneaux, F.A. Joyner, J.B. Eaton, among others, all travelled through rural Australia capturing scenes that focussed on the virtue and stoicism of the pastoral existence, which became central to the national narrative 2.
Harold Cazneaux was born in Wellington, New Zealand in 1878. His parents, Pierce Mott Cazneau and Emma Florence (née Bentley) worked in commercial studios in New Zealand before returning to settle permanently in Adelaide during the early 1890s. At the age of 18 Cazneaux went to work alongside his father at Hammer & Co studio as a retoucher. He moved to Sydney in 1904 to join the larger portrait firm, Freeman's quickly ascending to the position of 'chief operator' (as camera portraitists were known). Studio work was highly formulaic, with little scope for creativity. Cazneaux used his time walking to and from work to experiment with pictorialist aesthetics 3. The Photographic Society of New South Wales organised an exhibition of Cazneaux's photographs in 1909, the first such solo exhibition of its kind in Australia. In 1916 he and fellow pictorialist photographer, Cecil Bostock founded the Sydney Camera Circle. The group was particularly interested in the how pictorialism could be adapted to and extended within an Australian context. The mechanised, standardised and frenetic pace of Freeman's increasingly took its toll on Cazneaux's creativity and health, and he resigned in 1917. He moved with his wife and daughters to the Sydney suburb of Roseville, and in 1920 he was employed as the official photographer for The Home magazine. This new position let him work in a varied indoor and outdoor environments. In 1938 Cazneaux was awarded an Honorary Fellow of the Royal Photographic Society of London. He continued to work until his death in 1953.
1. Baldwin G 1991, 'Looking at photographs: a guide to technical terms', J Paul Getty Museum, Los Angeles pp 11-12
2. Ennis H 2007, 'Photography and Australia', Reaktion Books, London p 62-3
3. Newton G 1988, 'Shades of Light: Photography and Australia 1839-1988', Australian National Gallery, Canberra p 85
---
Details
---
Media category
---
Materials used
bromoil photograph, green tone
---
Dimensions
29.0 x 34.5 cm image/sheet; 41.6 x 36.0 cm card
---
Signature & date
Signed l.r. original mount and c. verso card, pencil "H. Cazneaux". Not dated.
---
Credit
Gift of the Cazneaux family 1975