View More:
---
Artist
Barbara Hanrahan
Australia
06 Dec 1939 - Dec 1991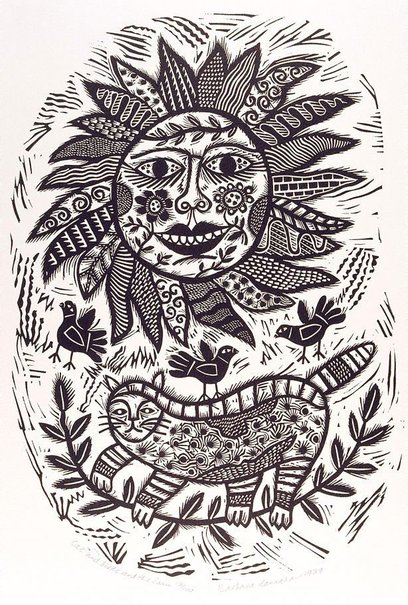 ---
About
Barbara Hanrahan was born in Adelaide. She studied to be an art teacher at Adelaide Teacher's College 1957-60 and attended evening printmaking classes with Udo Sellbach and Karin Schepers at the South Australian School of Art in the early 1960s. She was a foundation member of the South Australian Graphic Society, the first society in the state devoted to prints, formed in December 1961 with Sellbach as Treasurer and Hanrahan as President.
"Seemingly by chance, I heard of the new evening class in printmaking at the Art School. I enrolled, and, suddenly I'd found my medium. Those nights after teaching when I made lithographs and etchings and linocuts and woodcuts were the highlight of my week. My first linocut was a girl with a bird on her head; my first etching a pair of lovers; my first lithograph the poet and his muse. The woodcuts were savage and surprised me.... From 1960-1962 my life centred round the evening classes in printmaking at the South Australian School of Art. Yet I made the smallest editions; I kept wanting to begin work on a new image. Hardly any of the prints were exhibited, I gave many away, and eventually the blocks and plates were abandoned or lost.... For three years I drew out my fantasies while others explored abstract expressionism. I started on a set of linocut animals and matching nursery-rhyme-style verses. They were the last prints I made before leaving for an art school in London".
In 1963 she travelled to England to study at the Central School of Art until 1964 when lack of funds forced her return to Australia. Over the next few years she moved between England and Australia, working, teaching and exhibiting.
"In London my work changed - sex got into the prints. Yet sometimes a more innocent image would surface. It was as if those girls with their floating hair and flower-sprigged dresses, those benign animals under friendly suns were old friends. But there is often a sense of menace in the prints where they appear, giving an edge to their decorativeness".
In 1971, while still in England, she began writing the first of her fifteen novels 'The scent of eucalyptus', published in 1973. She returned to Australia in 1982.
"It always seemed a pity that the prints I'd worked at with so much excitement and dedication only existed in such a limited sense. When it was suggested I might cut some blocks for a Brindabella publication, I decided to base a number of them on some of the early etchings and linocuts. Most of the twelve linocuts in this suite, then, are the old images strengthened and added to; a few are interpretations of later prints". (B Hanrahan, 'Introduction' in 'Twelve linocuts, a suite of prints', The Officina Brindabella, Canberra, 1990)
'Twelve linocuts, a suite of prints' consists of letter press title page, introduction and colophon, and twelve linocuts. It was printed and published by Alec Bolton of The Officina Brindabella, Canberra.
Hendrik Kolenberg and Anne Ryan, 'Australian prints from the Gallery's collection', AGNSW, 1998
---
Details
---
Shown in 2 exhibitions
Exhibition history
---
Referenced in 2 publications
Bibliography
---