View More:
---
Title
Bamboo brush pot decorated with bamboo motif and Chinese verses in low relief
---
Artists
Unknown Artist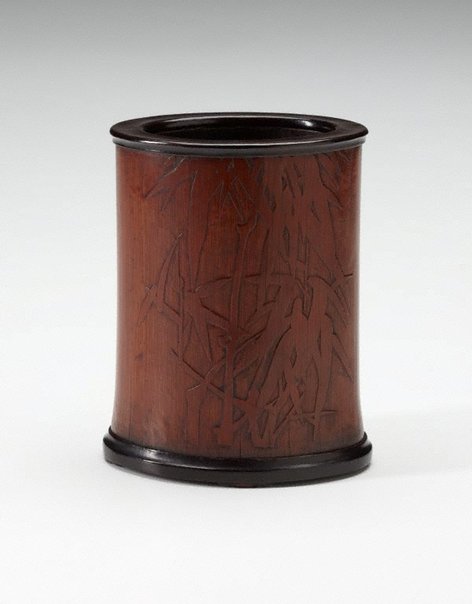 ---
About
One side of the object is carved with a bamboo motif, which is one of the symbols of a 'gentleman'. On the other side is part of 'Jin Si Lu', a philosophical book for teaching Li Xue (Study of Li), written by Zhu Xi and Lu Zuqian of Southern Song dynasty (1127-1279).
The characters read: 'If one doesn't learn, one would become old and waning. If one learns but does not improve, it is because one is timid.' It probably served as a motto on a scholar's desk.
Asian Art Department, AGNSW, June 2012
Bamboo Carving:
The earliest mention of a bamboo brush pot in literature appears during the Song dynasty (960-1127). Zhu Yizun of the Ming dynasty (1368-1644) wrote in his 'Bi Tong Ming' ('On Brush Pot'): "Brushes that lie on the desk randomly are like people who don't have proper deportment. When they are put in a brush pot, like guests finding a home, they become proper."
Starting from the late Ming dynasty, the literati of the day stressed the cultivation of 'ya' (elegant, refined distinguished) style in their life. This style was expressed in their studies, carved bamboo ornaments, including brush pots ('bitong'), arm rests ('bige') and incense tubes ('xiangtong'). These were highly sought after because bamboo was considered as one of the four symbols for 'gentleman' whose integrity should be like the sections on bamboo trunks that go higher and higher.
The art of bamboo carving, probably started as early as the Tang dynasty, and became a unique art form. At its apogee in the early Qing dynasty (1644-1911), bamboo carving eclipsed all other similar forms of art and craft.
---
Details
---
Place
Where the work was made
China