View More:
---
Title
2. Chain of ponds 'following the blind leading the blind' 'Following the blind leading the blind'
---
Artist
Janet Burchill
Australia
1955 -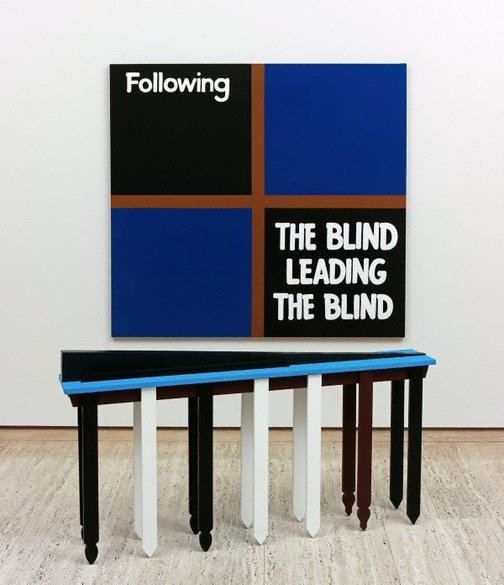 ---
About
With a background in film and photography, Janet Burchill has emerged as one of Australia's most articulate and uncompromising artists. In her early work from 1984–87 (with show titles like 'Future unperfect', 'Rites of delay', 'Temptation to exist') Burchill used industrial materials, screenprinting, airbrush and video-scanning processes to explore the information-like nature of the image. Words themselves, enamelled on canvas boards or aluminum panels, in turn functioned as images: 'MUTE' (silent), 'APORIA' (doubt) 'EQUIVALENCE' (of equal value), 'RETURN' (come back? or go back? give back or turn back?). Words, instead of strengthening communication, suggested its utter impossibility, an implication also found in the work of René Magritte (famously his 1929 painting 'This is not a pipe' and his 1935 'The key of dreams' in which the word 'wind', for example, is represented by a clock and 'bird' by a vase). In the work of both Burchill and Magritte, canonical definitions of things swerve away from their proper place or resemblance.
Similarly Burchill uses images as shorthand propositions: the constructivist cross, primary colours, Kasimir Malevich's white-on-white, plus references to Gertrude Stein's 'rose' ('A rose is a rose is a rose' – and it is nothing more than a word). And she is keenly aware of the way in which works circulate, how (in her own words) 'works are seen, remembered, processed – how the works take their place in "art" at the given moment'.1 Nonetheless, her biting rejoinders to art of the given moment are displayed in terse, handsome works that are easy on the eye and unfailingly smart while strategically aiming at the art establishment.
The painting '2. Chain of ponds: 'following the blind leading the blind'' and the sculpture 'following the blind leading the blind' comprise a single work, despite each element having its own title. Begun following Burchill's return to Australia after four years in Berlin, it is a sculpture/painting with words painted over a window-like abstract composition. The sculpture is made of inverted picket-fence posts and sits slightly off-centre from the painting. It follows a work by Louise Bourgeois, 'The blind leading the blind', a bronze sculpture from 1947–49 with a double row of thin inverted columns (of red and black, and in a later version, a fleshy pink patina). For Bourgeois, who as a child witnessed traumatic domestic events from beneath the legs of the dining table, the stiffness of the legs evokes psychological fear. The blindness is Bourgeois' enforced complicity with her father. Here Burchill is making acerbic comments about the suburban conformism of artists in Australia, a place where blindness is followed by blindness.
1 'Janet Burchill' interview by Peter Cripps 'Tension 15', Sept 1988, p 41
© Art Gallery of New South Wales Contemporary Collection Handbook, 2006
---
Details
---
Materials used
synthetic polymer paint on canvas and synthetic polymer paint on wood
---
Dimensions
part a: 167.4 x 182.6 x 3.5 cm; part b: 96.8 x 183.5 x 26.5 cm :
a - painting, 167.5 x 182.5 x 3.3 cm, stretcher
b - sculpture, 97 x 183.4 x 26.7 cm
---
Signature & date
Not signed. Not dated.
---
Credit
Contemporary Collection Benefactors 1999
---
Accession number
141.1999.a-b
---
Shown in 2 exhibitions
Exhibition history
---

Orange, Race, Riot, Yuill/Crowley Gallery, Potts Point, 05 Sep 1998–30 Sep 1998

Unscripted, Art Gallery of New South Wales, Sydney, 20 May 2005–24 Jul 2005
---
Referenced in 1 publication
Bibliography
---