View More:
---
Title
Bamboo Brush pot decorated with the scene from the story 'News of Victory at Dongshan' in low relief
18th century-20th century
---
Artists
Unknown Artist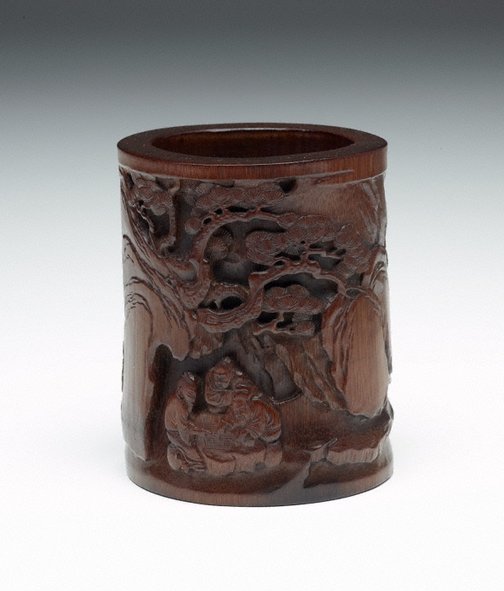 ---
About
The famous story of 'Dong Shan Bao Jie' (Victory reporting at Dong Shan Mountain) depicted here often appears in painting and carvings collected by the literati. Xie'an, the great general and statesman of the Eastern Jin dynasty (317-420) is depicted here as a very determined and confident elderly gentleman playing chess with his friends one day in August of 383. On the right side of chess board, set in a rock shelter with overhanging pine trees, Xie'an stretched out his hand to move the last piece that will decide his victory in the game. Legend has it that at this very moment, a military messenger on a galloping horse rushed to the site with news of the great triumph that their army had won in the battle at Feishui where the enemy forces, many times stronger than Xie'an's, were routed.
The Palace Museum in Beijing has one wood brush pot decorated with carved scenes depicting the same story by Wu Zhifan (active in 1662-1722), a famous artisan of Qing dynasty.
Asian Art Department, AGNSW
Bamboo Carving:
The earliest mention of a bamboo brush pot in literature appears during the Song dynasty (960-1127). Zhu Yizun of the Ming dynasty (1368-1644) wrote in his 'Bi Tong Ming' ('On Brush Pot'): "Brushes that lie on the desk randomly are like people who don't have proper deportment. When they are put in a brush pot, like guests finding a home, they become proper."
Starting from the late Ming dynasty, the literati of the day stressed the cultivation of the 'ya' (elegant, refined distinguished) style in their life. This style was expressed in their studies, carved bamboo ornaments, including brush pots ('bitong'), arm rests ('bige') and incense tubes ('xiangtong'). These were highly sought after because bamboo was considered one of the four symbols for 'gentleman' whose integrity should be like the sections on bamboo trunks that go higher and higher.
The art of bamboo carving, probably started as early as the Tang dynasty, and became a unique art form. At its apogee in the early Qing dynasty (1644-1911), bamboo carving eclipsed all other similar forms of art and craft.
---
Details
---
Place where the work was made
---
Date
18th century-20th century
---
Media category
---
Dimensions
13.6 x 10.9 cm
---
Credit
Gift of John Yu, in memory of George Soutter 2012. Donated through the Australian Government Cultural Gifts Program.
---
---
Place
Where the work was made
China