Aboriginal and Torres Strait Islander art
View More:
---
Artist
Dr David Malaŋi
Australia
1927 - 19 Jun 1999
Language group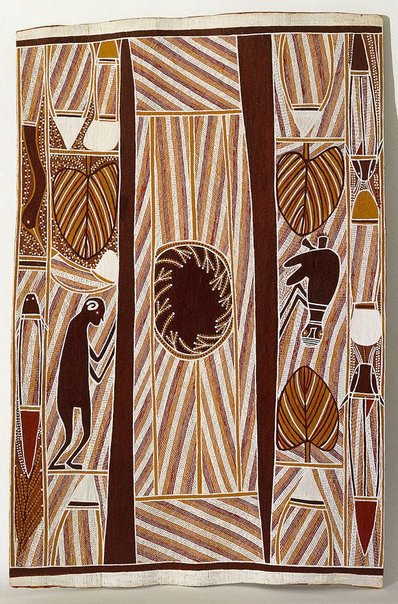 ---
About
Just as in the Dhuwa land certain spiritual forces such as the djang'kawu made waterholes of a sacred nature and shaped the land, it is also true in the yirritja world.
At Yathalamarra, several Wangarr (creative beings) made a special waterhole which has now grown to become the twin kidney shaped lagoons of present day Yathalamarra. A Burala (Diver duck), is said to have dived into the earth, hitting the ground and splitting it with his beak, making a fresh water spring. An archetypal being in the form of Watu (dog) also travelled this way and made a fresh water hole with his penis.
About this time, two spirit women lived in the billabong resulting from these actions. It is also said that they made the waterhole with their powerful digging sticks. The water hole created by all of this concentrated action was full of life – birds, insect life, fresh water fish (such as Ginginy) and waterlilies. The spirit of these women moved about through the water hunting as present day women hunt for edible roots and bulbs. The stem, flower and roots and bulbs of the waterlily can all be eaten. The women carried collecting bags made from a segde grass found on the shore called mewini or ratjarrk. The open weave bag is known as mewini from these grasses and the women.
Yathalamarra means 'the place of the lotus flower'. The flower represents the 'evening star'. Just as Dhuwa being send out the morning star on a string for Dhuwa places, so Yirritja spirits keep the evening star in a dilly bag and let it out to visit all Yirritja places; the stalk of the flower being synonymous with the string. Gindjimirri, whose work appears here is Balmbi and owns the land, her name means lotus flower.
[Art Centre documentation]
---
Details
---
Other Title
Yathalamarra waterhole - his mother's land
---
Media category
---
Materials used
natural pigments on bark
---
Dimensions
112.0 x 71.5 cm (irreg.)
---
Signature & date
Not signed. Not dated.
---
Place
Where the work was made
Ramingining
---
Shown in 1 exhibition
Exhibition history