View More:
---
Title
1-6 glass / mirror piece
---
Artist
Ian Burn
Australia, United States of America
29 Dec 1939 - 29 Sep 1993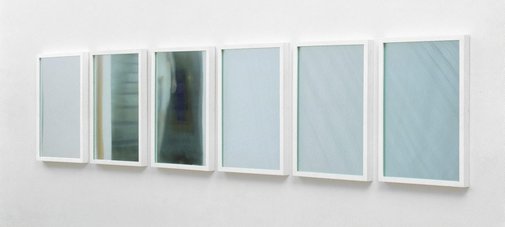 ---
About
Ian Burn's investigation into the act of looking at a painting began in 1966 with his series 'Re-ordered painting'. In this series he stencilled numbers over areas of flat colour, suggesting an order in which to 'read' the work. One of the factors that concerned artists working with highly reduced structures was the way the composition or certain colours attracted attention so that the eye naturally follows a certain route around the painting. The numbers contradicted this visual logic, making the viewer uncomfortably aware of a contest between languages.
Burn sought to create works that had no meaning beyond the form and colour presented to the viewer. Yet in these and later colour field works, the artist's subjective view was still evident in the choice of colour, form and texture. Like Sol LeWitt, Burn alternately employed glossy and matt colours which have different optical effects and experimented with the proportions of bands of colour which became 'faster or slower' depending on their width relative to the spaces in between. These works constituted an intensive empirical experiment in optics.
'Blue reflex' 1966-67 (AGNSW collection) is both a culmination of Burn's earlier investigations and a starting point for his subsequent work with mirrors and glass. Made from a standard-sized piece of plywood, instead of canvas, with epoxy resin as a ground and auto lacquer applied with an airgun, the work eliminates any sign of 'the artist's hand'. Reflex blue is a standard colour in printing and suggests the reproducibility of this kind of work. At the same time, the reflective surface thwarts the possibility of looking at the work without being distracted by your own reflection. His next series dealt with the concept of looking, and more specifically at the difference between the conception and the perception of a work of art: '1-6 Glass/mirror piece' is a series of plain mirrors framed behind increasing layers of glass, resulting in barely perceptible variations of sharpness in the reflected image (the viewer).
In 'No object implies the existence of any other' 1967 (AGNSW collection), a standard framed mirror with text inscribed across the front, Burn plays on the idea of the internal contradiction. The text is a quote from the 18th-century Scottish philosopher David Hume, which continues '… if we consider these objects in themselves, and never look beyond the ideas which we form of them'.1 The viewer is thus being asked to consider this specific work of art without considering his or her accumulated knowledge and assumptions about either 'mirrors' or 'works of art' (or the person 'in' the mirror). The words 'No object implies the existence of any other' were also picked up by the phenomenologist Alain Robbe-Grillet in the 1960s and were used in a discourse about abstraction and its supposed autonomy from the observed world. By printing the words onto a commonplace mirror, Burn makes nonsense of this proposition: conceptual art always returns to the realities of life and our understanding of it and hence critiques purely formal claims for autonomy. The practical impossibility of this demand is given a further ironic twist as it hangs in an art gallery surrounded by other 'works of art'.
1. David Hume, 'A treatise of human nature', vol 1, pt 3, sect 4, published anonymously 1739
© Art Gallery of New South Wales Contemporary Collection Handbook, 2006
---
Details
---
Media category
---
Materials used
synthetic polymer paint on wood, glass, mirror
---
Dimensions
6 frames: 63.0 x 43.0 x 4.5 cm each frame
---
Signature & date
Signed l.r. verso each frame, ink "Ian Burn". Signed label c. verso each frame, pencil "Ian Burn". Not dated.
---
Credit
Rudy Komon Memorial Fund 1990
---
Accession number
1316.1990.a-f
---
Shown in 1 exhibition
Exhibition history
---

Dead Sun, Art Gallery of New South Wales, Sydney, 02 Oct 1997–09 Nov 1997
---
Referenced in 6 publications
Bibliography
---
Art Gallery of New South Wales, Dead Sun, Sydney, 1997. no pagination or catalogue numbers
Anthony Bond and Victoria Lynn, AGNSW Collections, 'Contemporary Practice - Here, There, Everywhere ...', pg. 229-285, Sydney, 1994, 231 (colour illus.).
Charles Green, The third hand: collaboration in art from conceptualism to postmodernism, 'Conceptual Bureaucracy: Ian Burn, Mel Ramsden, and Art & Language', pg.25-56, Minneapolis, 2001, 39 (illus.), 40.
Mel Ramsden and Michiel Dolk, Ian Burn: Minimal-Conceptual Work 1965-1970, Perth, 1992, 77 (illus.).
Anne Rorimer, New art in the 60s and 70s redefining reality, 'Medium as message/ message as medium', pg.70-111, London, 2001, 102.
Michael Wardell, Contemporary: Art Gallery of New South Wales Contemporary Collection, 'Ideas and actions', pg.60-107, Sydney, 2006, 68, 69 (illus.).