View More:
---
Title
Raja Savant Singh with courtesan
---
Artists
School of Kishangarh
India
1760 - 1770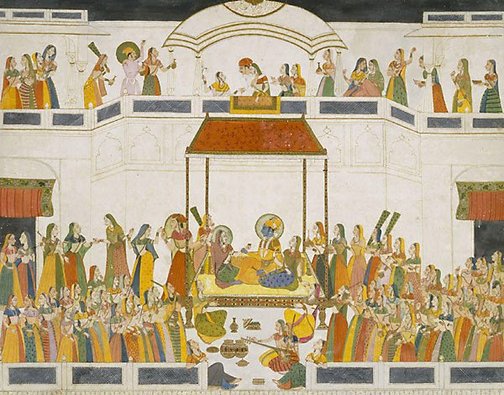 ---
About
Kishangarh was a small state in central Rajasthan founded by Kishan Singh (1609-1615), a son of Raja Udai Singh of Jodhpur. The state developed under Rup Singh (1644-1658), a favourite of the Mughal Emperor Shah Jahan, and Kishangarh remained unusually dependent on the Mughal court and its culture. While there is little evidence of painting in the seventeenth century, in the eighteenth century Kishangarh produced perhaps the most important school of Rajasthani painting. By tradition the greatest patron of painting at Kishangarh was Raja Savant Singh (r1748-1764), an accomplished poet and religious devotee, as well as a friend of the Mughal emperor Muhammad Shah. His poems, written under the pseudonym of Nagai Das, were intensely devotional verse in praise of Krishna and celebrating Krishna's love for Radha and their lives in a mythical Brindaban inspired by Kishangarh's beautiful scenery around Lake Gundaloo. In about 1740 he fell in love with a bewitching singer and poetess whose real name is unknown but who is known as Bani Thani. Their love became legendary, and inspired much of the evocative and romantic painting for which Kishangarh is justly famous.
While Savant Singh was a great inspiration to Kishangarh, it seems many of the large miniatures for which Kishangarh is most admired were painted in the reigns of succeeding rajas, since Savant himself spent so much of his time away from Kishangarh either dwelling in Brindaban with his beloved Bani Thani or going on pilgrimages (Binney and Archer, 1968, 37). It is generally accepted that larger paintings such as this one began to be produced during the reign of his Sardar Singh (1756-1766). This painting conveys the luxury and elegance of the Kishangarh court while the setting of a musical performance on a marble terrace with a bevy of beautiful ladies recalls the popularity of such a subject with Muhammad Shah's court artists. In this painting a blue-skinned Krishna, wearing a gold turban, is seated under a canopy with his beloved Radha and a servant, surrounded by musicians, servants and court ladies. The absence of men would suggest this scene was taking place in the 'zenana' (the few depicted would be eunuchs). In the balcony above the focus on Krishna is echoed in the central courtly couple, an earthly parallel to the divine couple below. The elongated figural style and distinguished faces with their sharp noses and chins, and long curving eyes and eyebrows, which are so distinctive to Kishangarh, are here fully evolved. The atmosphere of wealth, luxury and refinement to be seen in the best of Kishangarh painting is beautifully conveyed.
Jackie Menzies, 'Dancing to the flute - Music and dance in Indian art', AGNSW, 1997. pg. 268-270.
---
Details
---
Media categories
---
Materials used
opaque watercolour with gold on paper
---
Dimensions
35.0 x 46.0 cm
---
Signature & date
Not signed. Not dated.
---
Shown in 3 exhibitions
Exhibition history
---
The provenance of this work is under review and records will be updated as new details become available. The Gallery welcomes any information. Contact provenance@ag.nsw.gov.au
Provenance
---
Art of the Past, pre Mar 1995, United States of America
---
Referenced in 2 publications
Bibliography
---
Pratapaditya Pal and Pratapaditya Pal, Dancing to the flute: music and dance in Indian art, Sydney, 1997, 268, 270, 271 (colour illus.). cat.no. 171 See 'Further Information' for text.
Haema Sivanesan, Indian painting, 'Indian Painting', verso of poster., Sydney, 2001. cat.no. 2.11