View More:
---
Title
Just before the most significant events, people are particularly prone to deny the possibilities of the future. (cause all we're doing is learning how to die)
---
Artist
Tomislav Nikolic
Australia
1970 -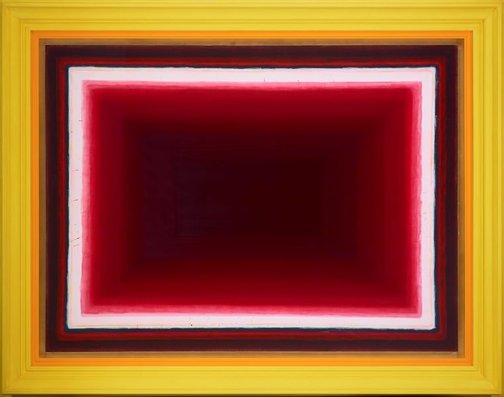 ---
About
Completed over a four-year period, Tomislav Nikolic's exceptional abstract work has hundreds of layers of paint in which the specific shades of reds, whites and blacks and the many other colours in this work become hard to discern within the overall dazzling chromatic effect. The frame was also carefully chosen by Nikolic as an integral part of the final painting, emphasising a holistic experience of both and that the work is as much an object in the viewer's space as an image hanging on a wall.
Nikolic's practice is research based and the chromatic origin point for this painting was Caravaggio's 'Judith beheading Holofernes', which was also painted over four years, from 1599-1602. The emotional quality of colour and its ability to suggest spiritual dimensions are key to Nikolic's practice, an aspect also conveyed in the painting's title. The first part of this is taken from the writings of Alice Baily, an early 20th century Theosophical author, and the second part from lyrics by American singer-songwriter John Grant.
Tomislav Nikolic is the sixth recipient of the Bulgari Art Award which was launched by Bulgari and the Art Gallery of New South Wales in 2012. The past recipients are Jude Rae, Ildiko Kovacs, Daniel Boyd, Jon Cattapan and Michael Zavros.
---
Details
---
Media categories
---
Materials used
acrylic polymer, marble dust, 24ct gold leaf, 12ct white gold leaf, copper leaf, museum acrylic on canvas and wood
---
Dimensions
186.4 x 236.5 x 17.0 cm frame
---
Signature & date
Not signed. Not dated.
---
Credit
Art Gallery of New South Wales, Bulgari Art Award 2017
---
Referenced in 8 publications
Bibliography
---
Elissa Blake, The Sydney Morning Herald, 'A pigment pf Tomislav's imagination', pg. 27, Sydney, 28 Apr 2017, 27 (colour illus.). Arts supplement
Elissa Blake., www.smh.com.au, 'Bulgari Art Award 2017: Tomislav Nikolic sees red', Sydney, 27 Apr 2017, n.pag.. http://www.smh.com.au/entertainment/art-and-design/bulgari-art-award-2017-tomislav-nikolic-sees-red-20170427-gvtmnd.html
Gabriella Coslovich, Australian Financial Review Magazine, 'Front portrait', pg. 19, Sydney, 28 Apr 2017, 19.
Tomislav Nikolic, Look, 'The art that made me', Sydney, May 2018-Jun 2018, 23 (colour illus.).
John Saxby (Editor), Look, 'Challenging Caravaggio', pg. 14-15, Sydney, Jul 2017-Aug 2017, 13, 14-15 (colour illus.).
Michael Stutchbury (Editor), Australian Financial Review, 'For Bulgari winner; Italy beckons', pg. 7, Sydney, 28 Apr 2017, 7 (colour illus.).
Sophie Tedmanson., www.vogue.com.au, 'Tomislav Nikolic wins Bulgari Art Award', Australia, 28 Apr 2017, n.pag.. http://www.vogue.com.au/culture/features/tomislav+nikolic+wins+bulgari+art+award,42631
Matthew Westwood, The Australian, 'Prize winner owes debt to Old Master', pg. 5, Sydney, 28 Apr 2017, 5 (colour illus.).