View More:
---
Title
The well-beloved mother
---
Artist
Jean-Baptiste Greuze
France
21 Aug 1725 - 21 Mar 1805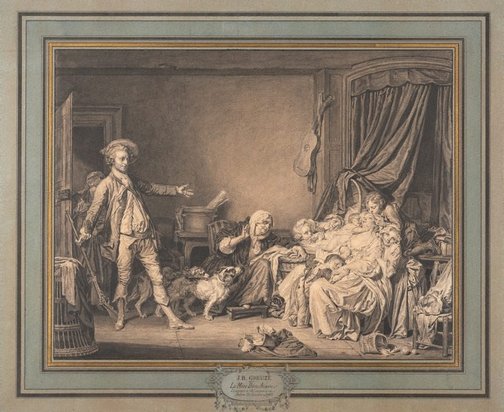 ---
About
At the Salon exhibition of 1765 Greuze exhibited a now lost compositional sketch for The well-beloved mother. It was praised for its moralism by the philosophe and art critic Denis Diderot. What he wrote applies equally to the Gallery's drawing, executed some years later: '[Greuze is] the first who has set out to give art some morals, and to organise events into series that could easily be turned into novels.' Diderot described the scene depicted:
The mother of all these children has joy and tenderness painted on her face, along with a bit of strain inevitably following from the overwhelming movement and weight of so many children, whose violent caresses will become too much for her if they continue much longer … much further left … the husband returning from the hunt; he joins in the scene by extending his arms, tilting backwards a bit, and laughing. He's a big young fellow who carries himself well, and his satisfaction betrays his vanity at having sired this pretty swarm of brats … This is excellent both for the talent it demonstrates and for its moral content; it preaches population, and paints a sympathetic picture of the happiness and advantages deriving from domesticity; it announces to any man with soul and feelings: Maintain your family comfortably, make children with your wife, as many as you can, but only with her, and you can be sure of a happy home.
For Diderot, Greuze's art epitomised a new direction in French painting, one that endowed humble, homespun dramas with the narrative force and moralising overtones of history painting. By presenting contemporary characters in recognisable settings together with forcefully expressed emotions and declamatory gestures, genre scenes like The well-beloved mother were guaranteed to be immediately understood – and felt – by Greuze's audience.
On the basis of the abovementioned sketch exhibited at the 1765 Salon, Greuze developed a finished painting. This picture was painted on commission from the marquis de Laborde, who required the artist to turn it into a group portrait of the patron and his family.
Jean-Joseph de Laborde (1724–94) was a fabulously wealthy financier who gained the favour of King Louis XV. He married Rosalie-Claire-Josèphe de Nettine in 1760 and the couple had six children. The marquis was eventually executed on the guillotine during the French Revolution.
We might find it surprising that one of the wealthiest men in France during the ancien régime should wish to have himself and his family portrayed in rustic guise, as humble and unprepossessing country folk. But such an aspiration demonstrates the extent to which such Enlightenment ideals as rural simplicity, family life, motherhood and sympathetic childrearing had penetrated the uppermost echelons of French society and become a fashion.
The Gallery's drawing was made after the painting, which was exhibited at the Salon of 1769. It was intended to serve as the model for an engraving, which was eventually completed by Jean Massard and published in 1775. The drawing's function accounts for its unusually smooth, detailed finish, which Greuze insisted be faithfully reproduced to size by the engraver.
Peter Raissis, Prints & drawings Europe 1500–1900, 2014
---
Details
---
Alternative title
La mère bien aimée
---
Media category
---
Materials used
brush and grey ink wash with black chalk
---
Dimensions
49.0 x 62.4 cm sight; 75.5 x 88.0 x 3.5 cm frame
---
Signature & date
Not signed. Not dated.
---
Credit
Gift of James Fairfax AC 1999
---
Shown in 4 exhibitions
Exhibition history
---

Greuze the Draftsman:

The James Fairfax collection of old master paintings, drawings and prints, Art Gallery of New South Wales, Sydney, 17 Apr 2003–20 Jul 2003

Old Europe: Prints & drawings from the collection 1500-1800, Art Gallery of New South Wales, Sydney, 03 Jun 2006–06 Aug 2006

European prints and drawings 1500-1900, Art Gallery of New South Wales, Sydney, 30 Aug 2014–02 Nov 2014
---
Referenced in 9 publications
Bibliography
---
Richard Beresford and Peter Raissis, The James Fairfax collection of old master paintings, drawings and prints, Sydney, 2003, pp 90-93, co illus p 91, col illus p 92. cat no 24, illustration on page 92 is a detail
A Brandt, Town and Country, 'The Prince of Prints and the Duke of Drawings - David Tunick', New York, Oct 1993, p 119.
A.F. Collins, House & garden, 'Drawn to the Master', New York, Apr 1991, p 90.
Denis Diderot, The Salon of 1765 (1765), in Diderot on art: the Salon of 1765 and notes on painting, trans John Goodman, 1995, p 96. related to compositional sketch, now lost
Bernadette Fort, Framing women, 'Framing the wife: Jean-Baptiste Greuze's sexual contract', pg.89-124, Germany, 2003, p 89, p 91, p 105, pp 107-111, illus p 124.
Edgar Munhall, Greuze the Draftsman, London, 2002, pp 200-203, col illus p 201. cat no 70
Peter Raissis, Prints & drawings Europe 1500-1900, Sydney, 2014, p 84, col illus p 95.
Simon Schama, Citizens: a chronicle of the French Revolution, 'Casting roles: children of nature', pg.142-158, London, 2004, vol 1, p 150, illus p 151. pl 43
Art Gallery of New South Wales annual report 1999, 'Collections: European Art Before 1900', pg. 20-21, Sydney, 1999, illus p 20, p 21.