Vivid Art After Hours
Let's talk about death. It won't kill you.
Over three successive Wednesdays, Vivid will take over the Gallery to create an intimate portrait of our better selves.
Tonight, in the first of these nights, we explore and celebrate our own mortality, investigating issues of life and death. Join psychologists from the Groundswell Project and the Indigo Project to explore how to approach death differently and inject creativity, humour and individuality into this very personal last passage. The evening also includes a 20-minute mass meditation on letting go, a tour of artworks reflecting on the end of life and powerful live music by Goldheist.
All events tonight will be Auslan interpreted.
Part of Vivid Art After Hours, a series of talks and music programmed by Vivid over three Wednesday nights to create an intimate portrait of our better selves.
Floor talk: Moving toward stillness
Dr Gail Kenning and Danielle Gullotta
Can art help us express some of the emotions and difficult feelings we struggle to discuss openly? Meet University of Technology Sydney researcher Dr Gail Kenning and the Gallery's access programs producer Danielle Gullotta near the ticketing and information desk for a tour of selected artworks that prompt us to reflect on the end of life and matters of care.
Wednesday 30 May 2018
5:30pm – 6pm
Location: Ticketing and information desk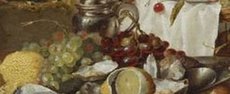 Panel: Let's talk about death. It won't kill you.
Kerrie Noonan in conversation with Mary Hoang
It's time to make talking about death a normal part of life. Join us for a conversation that celebrates life and considers how we deal with dying. How can we approach our final days and eventual demise in new ways? Kerrie Noonan and Mary Hoang encourage us to move beyond clinical attitudes to death and bring creativity, humour and individuality into this very personal last passage.
Kerrie Noonan is the director of the Groundswell Project, a clinical psychologist in palliative care and an end-of-life researcher. The Groundswell Project educates people about how they can approach death differently.
Mary Hoang is the founder of The Indigo Project that has taken on the role of mental health education, community building and providing support to Sydneysiders. By using therapy rooms, immersive experiences, music and art, The Indigo Project helps people to understand concepts like death, transformation, anxiety, self-love and forgiveness.
Wednesday 30 May 2018
6:30pm – 7pm
Location: Entrance court

Transience: a ceremony for past relationships
The Indigo Project
Note: Places are limited. Tickets will be distributed on the night, from 5.30pm at the information desk. The 8.30pm session will be Auslan interpreted. This experience may not be suitable for those currently grieving the death of a loved one.
Grief encompasses so much more than the loss of life. When we look closer, we are all experiencing the cycles of life and death across many aspects of our lives; the evolution of our attitudes, belief systems, emotions, friendships and relationships. Letting go is important – but it's hard. How do we deal with the baggage that we carry around every day, without knowledge of the rituals and tools to support change in our lives?
Transience: a ceremony for past relationships by The Indigo Project is a 20-minute experience where we will partake in a modern day ritual. You will have the opportunity to release a person or situation in your life that no longer serves you. Whether that be an ex, an old friendship or an incident that has caused you pain, begin to process the past with this unique experience by The Indigo Project founder and psychologist Mary Hoang. It's time to let go.
The Indigo Project creates experiences grounded in psychology and creativity to help people learn about themselves and discover a new way of being. From therapy and courses, to art installations and immersive experiences, they guide people on a personal journey of transformation. Based in a converted warehouse in Surry Hills, Indigo houses a progressive psychology practice and a regular program of workshops, courses and gatherings, designed to help you get your shit together.
Mary Hoang is a psychologist/artist who thinks deeply about what makes humans lead more meaningful lives: 'My mission is to think creatively about mental health and to help people be extraordinary.' Founding The Indigo Project in 2012, Mary is now an in-demand teacher and speaker, featured by Sunrise, RBMA, FBi Radio and The Sydney Morning Herald. Her no-bullshit approach attracts a range of creative individuals and organisations looking to unlock potential and enhance their mindset. Mary specialises in working with life transitions. Having recently experienced the loss of her father, she seeks to transform how we look at supporting people who are dying, and those that are grieving.
Funeral dressings supplied by The House – Funeral Directors
Wednesday 30 May 2018
7:30pm – 7:50pm
Wednesday 30 May 2018
8pm – 8:20pm
Wednesday 30 May 2018
8:30pm – 8:50pm
Location: Contemporary galleries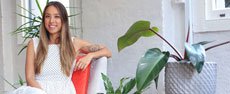 Live music: Goldheist
In celebration of human conversation and storytelling, Goldheist collaborates with Auslan interpreters to bring her songs and stories to life through music and movement. Discover the performance power of sign-language when it is used to convey the passion and poetry of Goldheist's lyrics.
Goldheist and her band – comprising vocals, piano, strings and percussion – are visually and sonically arresting. This inclusive event opens up the musical world of Goldheist to members of the Deaf community. For the broader community, this magnificent collaboration heightens awareness of the incredible resilience within the Deaf community, and the unwavering power of humanity to communicate with one another through multi-dimensional means.
Wednesday 30 May 2018
7:30pm – 8:30pm
Location: Entrance court