Studio Ghibli summer festival
In association with Japan supernatural
Join us for a showcase of one of the most iconic animation studios in the world.
Headed by animation legend Hayao Miyazaki, Studio Ghibli has created renowned works inspired by the traditions of folklore and fantasy in Japanese art.
Don't miss this chance to revisit – or discover anew – beloved favourites on the big screen including Spirited away, Pom Poko, My neighbor Totoro and more.
Image: Still from Spirited away. Courtesy Madman Entertainment.
Saturdays 2pm
11 January - 8 February 2020

$12 adult
$10 concession/member
How to get your ticket
Tickets can be booked in advance online via Qtix from Wednesday 23 October 10am.
Films start at the advertised time. Doors open 30 minutes before.

Location: Domain Theatre
Related exhibition: Japan supernatural
Principal patron and public program patron


Spirited away
Dir: Hayao Miyazaki 2001 (Japan)
125 mins Digital Colour Rated PG
Miyu Irino, Mari Natsuki
Japanese with English subtitles
Miyazaki's Academy Award-winning film made Japanese folklore a global pop culture phenomenon. A young girl named Chihiro stumbles into a dreamlike world where she is put to work in a bathhouse for the gods. Separated from her parents, who have been transformed into pigs, Chihiro embarks on a fantastical adventure to find her way home. Along the way, she encounters a cast of memorable yōkai (supernatural creatures) including a giant radish god, river dragon, sumo baby and floating ghoul named No-Face. Spirited away is a perfect, all-ages introduction to some of the themes of the Japan supernatural exhibition.
Saturday 11 January 2020
2pm – 4:05pm
Location: Domain Theatre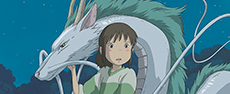 Pom Poko
Dir: Isao Takahata 1994 (Japan)
119 mins Digital Colour Rated PG
Akira Kamiya, Shigeru Izumiya
Japanese with English subtitles
A family of tanuki (racoon-dogs) spend their days frolicking in the forest on the outskirts of Tokyo. When suburban sprawl threatens their habitat, the mischievous creatures summon their shape-shifting powers. To defend their home, the tanuki start playing tricks on the town-folk, culminating in a spectacular ghost parade. The parade references Toriyama Sekien's Night procession of the hundred demons (Hyakki yakō zu), an 18th-century handscroll featured in the Japan supernatural exhibition. Takahata considered animation a continuity of the handscroll tradition, in which paintings are unrolled little by little, revealing a section of story at a time.
Saturday 18 January 2020
2pm – 3:59pm
Location: Domain Theatre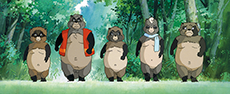 My neighbor Totoro 
Dir: Hayao Miyazaki 1988 (Japan)
86 mins Digital Colour Rated G
Naoki Tatsuta, Chika Sakamoto
Japanese with English subtitles
Miyazaki's delightful family fable tells the story of Satsuki and Mei, young sisters who move to the countryside with their father. They soon discover that the surrounding forests are home to a family of plush creatures called Totoros. Inspired by Miyazaki's own childhood imaginings and Lewis Caroll's Alice in Wonderland, the animation team sought to convey Japanese Shintō beliefs in the harmonious coexistence of humans, nature and kami (sacred spirits). Hop aboard the Cat Bus and discover why My neighbor Totoro continues to enchant adults and children alike.
Saturday 25 January 2020
2pm – 3:26pm
Location: Domain Theatre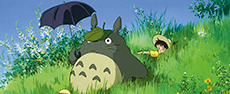 Kiki's delivery service 
Dir: Hayao Miyazaki 1989 (Japan)
103 mins Digital Colour Rated G
Rei Sakuma, Minami Takayama
Japanese with English subtitles
Thirteen-year-old Kiki moves to a seaside town with her talking cat, Jiji, to spend a year alone in accordance with a village tradition for witches in training. After learning to control her broomstick, Kiki sets up a flying courier service and soon becomes a fixture in the community. But when the insecure youngster begins questioning herself and loses her magic abilities, she must overcome self-doubt to get her powers back. 'Kiki's delivery service is truthful and scalpel-sharp. That it manages all this while remaining consistently funny, optimistic and exciting – even for little ones – is a mark of Miyazaki's genius' – Time Out.
Saturday 1 February 2020
2pm – 3:43pm
Location: Domain Theatre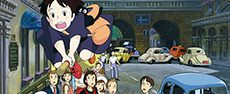 Princess Mononoke
Dir: Hayao Miyazaki 1997 (Japan)
134 mins Digital Colour Rated M
Yuriko Ishida, Yōji Matsuda
Japanese with English subtitles
While defending his village from a demonic boar god, the young warrior Ashitaka succumbs to a deadly curse. Searching for a cure to the hex, he journeys into the depths of the Great Forest's spirit realm, where he meets San (Princess Mononoke), a girl raised by wolves. It's not long before Ashitaka is caught in the middle of a battle to protect the forest ecosystem from industrial development. Miyazaki's environmental epic became the highest-grossing film of all time in Japan upon its release. 'I think that in the essence of human civilisation, we have the desire to become rich without limit, by taking the lives of other creatures' – Miyazaki.
Saturday 8 February 2020
2pm – 4:14pm
Location: Domain Theatre