States of mind film series
In conjunction with the 19th Biennale of Sydney
When a film narrative unfolds in an unconventional way, it echoes the confusion we often experience trying to comprehend the real world. Unreliable memories, vivid imaginations and subjective emotions demand we must piece together disparate fragments in order to understand even our own story.
In conjunction with the 19th Biennale of Sydney: You Imagine What You Desire, this series of films dramatises the vagaries of memory and time, and explores the dream-like worlds of fantasy and uncertainty that occur when a person gets trapped in their own mind.
Screened using 35mm film prints borrowed from local and international archives.
Institut Français is the agency for the Ministry of Foreign and European Affairs with responsibility for cultural activity outside France. It works to promote artistic exchange and dissemination of the French language, books and knowledge. Institut Français also complements the role of UniFrance Films in promoting French patrimonial cinema, the non-commercial screening of recent films, and showcasing its professionals. And Institut Français supports world cinema through the Cinémas du Monde pavilion at the Cannes Film Festival, the Cinémathèque Afrique, and Fonds Sud Cinéma for the funding of films, which Institut Français manages alongside the National Centre for Cinematography and the Moving Image. www.institutfrancais.com
Image: Still from Rashomon
Wednesdays 2pm & 7.15pm, Sundays 2pm
12 March - 4 June 2014
No screenings Sunday 4 May, 8 June
Free
Films start at the advertised time. Doors open 30 minutes before. Tickets are issued at the Domain Theatre one hour before. Latecomers not admitted.
Related exhibition: 19th Biennale of Sydney
Fellini's 8½
Dir: Federico Fellini 1963 (Italy)
138 mins 35mm B&W Rated MA15+
Marcello Mastroianni, Claudia Cardinale
Italian with English subtitles
Winner of two Academy Awards, Fellini's artfully abstract, semi-autobiographical piece is ostensibly about a movie director undergoing a mid-life crisis, stumped for ideas, battling to get past his creative block. He finds himself trapped by his fears and guilty irresolution. He delves into his memory from whence a crowd of characters magically arises. Beautifully choreographed with flashbacks, dream sequences, fantasy scenes and surrealist episodes, 8½ is one of the richest, most exuberant films ever made.
Wednesday 12 March 2014
2pm – 4:18pm
Wednesday 12 March 2014
7:15pm – 9:33pm
Sunday 16 March 2014
2pm – 4:18pm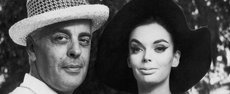 El aura
Dir: Fabián Bielinsky 2005 (Argentina)
134 mins 35mm Colour Rated M
Ricardo Darín, Manuel Rodal
Spanish with English subtitles
Espinosa (Darin) is a loner who fantasises about committing a perfect crime. He is subject to occasional epileptic seizures, during which he experiences an intense, fragmented blending of the past and the future. When he is invited on a hunting trip, Espinosa's fantasies suddenly become tangible, as an unexpected opportunity to commit a robbery presents itself. Director Bielinsky's sudden death at 47, shortly after completing his measured, atmospheric second feature (his first was Nine Queens in 2000), robbed Argentinian cinema of one of its newest talents.
Wednesday 19 March 2014
2pm – 4:14pm
Wednesday 19 March 2014
7:15pm – 9:29pm
Sunday 23 March 2014
2pm – 4:14pm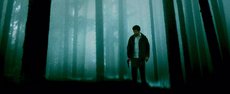 Memento
Dir: Christopher Nolan 2000 (US)
113 mins 35mm B&W/Colour Rated MA15+
Guy Pierce, Carrie-Anne Moss
Nolan's psychological thriller is an intriguing experiment based on the theory that memory defines identity. Leonard Shelby (Pierce) sustains a head injury when he tries to prevent his wife's murder. Robbed of the ability to form new memories, he searches for the perpetrator of the crime. The only information he has retained after the incident are notes, Polaroid photos and an assortment of odd tattoos. In this unique film, using two narrative strands, Nolan invents a character, robs him of his capacity to form memories and observes how that affects his concept of identity: one story line moves forward in time while the other tells the story backwards.
Wednesday 26 March 2014
2pm – 3:53pm
Wednesday 26 March 2014
7:15pm – 9:08pm
Sunday 30 March 2014
2pm – 3:53pm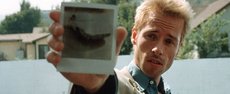 Last year at Marienbad
Dir: Alain Resnais 1962 (France)
93 mins 35mm B&W Rated PG
Delphine Seyrig, Georgio Albertazzi
French with English subtitles
The past, present and future run parallel, cross over and converge in this story of a man and woman who are guests in a palatial hotel. The man attempts to rekindle a relationship with the woman, but evidently she has no recollection of their ever having met. He insists they met the previous year at Marienbad, when she promised to see him again. Resnais' radical experiment in film is a hypnotic puzzle: 'an attempt… to approach the complexity of thought and its mechanisms,'he explained. In spite of many critical detractors, the film won the prestigious Golden Lion at the Venice Film Festival in 1962
Wednesday 2 April 2014
2pm – 3:32pm
Wednesday 2 April 2014
7:15pm – 8:47pm
Sunday 6 April 2014
2pm – 3:32pm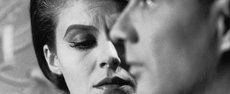 Eternal sunshine of the spotless mind
Dir: Michel Gondry 2004 (US)
108 mins 35mm Colour Rated M
Jim Carrey, Kate Winslet
Joel (Carrey) is stunned to discover that his ex-girlfriend Clementine (Winslet) has undergone a procedure that erases all memories of him and their tumultuous relationship. In retaliation, he contacts the inventor of the process, Dr Howard Mierzwiak, and asks to have Clementine deleted from his memory. As Joel's recollections progressively disappear, he begins to re-experience their earlier passion. Written by celebrated screenwriter Charlie Kaufman in collaboration with Gondry, Eternal sunshine of the spotless mind is a dazzling meditation on memory's role in love and romance. A time-twisting story told backwards, it depicts the exhilaration of the early stages of love and broods on what we lose with its fading and extinction.
Wednesday 9 April 2014
2pm – 3:48pm
Wednesday 9 April 2014
7:15pm – 9:03pm
Sunday 13 April 2014
2pm – 3:48pm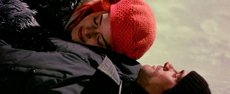 The trial
Dir: Orson Welles 1962 (France, West Germany, Italy)
118 mins 35mm B&W Rated PG
Anthony Perkins, Jeanne Moreau
A man in an unnamed country is arrested for a crime of which he has no knowledge. Inspired by novelist Franz Kafka's best-known work, The trial tells the story of K (Anthony Perkins), a man who is prosecuted by an illogical, unaccountable authority. Welles' vision of an alien bureaucratic world buffets the hapless K through a labyrinth of grandiose and claustrophobic spaces. The law offices and court rooms were created out of the mouldering shell of the Gare d'Orsay in Paris – then an abandoned railway station which Welles discovered on the rebound, after plans for shooting in Yugoslavia fell through. Polarising audiences at the time of release, Welles regarded The trial his favourite work.
Wednesday 16 April 2014
2pm – 3:58pm
Wednesday 16 April 2014
7:15pm – 9:13pm
Sunday 20 April 2014
2pm – 3:58pm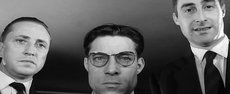 21 grams
Dir: Alejandro González Iñárritu 2003 (US)
124 mins 35mm Colour Rated MA15+
Sean Penn, Benicio Del Toro, Naomi Watts
Mexican filmmaker Alejandro González Iñárritu explores the emotionally charged lives of three strangers – a critically ill mathematician, a grieving mother and a born-again ex-con – who meet in the aftermath of a tragic accident. Using a brilliant non-linear structure, the film scrambles past, present and future, presenting a mosaic of the lives of the central characters before, during and after the terrible event. The freak automobile accident at the centre of this cinematic puzzle profoundly affects everyone it touches. Released from the constraints of conventional cause-and-effect storytelling, Iñárritu adds dimensions of intrigue, horror and unaccountable strangeness. 21 grams was shown in competition at the 2003 Venice International Film Festival.
Wednesday 23 April 2014
2pm – 4:04pm
Wednesday 23 April 2014
7:15pm – 9:19pm
Sunday 27 April 2014
2pm – 4:04pm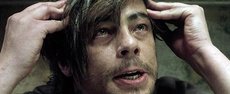 The thin blue line
Dir: Errol Morris 1988 (US)
103 mins 35mm Colour Rated PG
Morris' groundbreaking film is the result of a 30-month investigation into the conviction of a young drifter, Randall Adams, for murder in Texas in the 1970s. At once a documentary, a drama, an interrogation and a poetic reverie, the film mixes filmed interviews, staged reconstructions, and iconic imagery (guns, clocks, empty streets and newspaper headlines) to explore the shortcomings of the legal system as well as the unreliable nature of memory.
Wednesday 30 April 2014
2pm – 3:43pm
Wednesday 30 April 2014
7:15pm – 8:58pm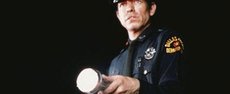 No screening on 4 May
Sunday 4 May 2014
2pm – 2pm
Elephant
Dir: Gus Van Sant 2003 (US)
81 mins 35mm Colour Rated MA15+
Elias McConnell, Alex Frost
Elephant, the controversial Palm d'Or winner at the 2003 Cannes Film Festival, is a documentary-like record of a not-so-ordinary day at a US high school, when a gruesome multiple shooting occurs. Van Sant has taken one of the most disturbing phenomena in recent American history and created a delicate and uninflected meditation on high school life. With stylistic simplicity, Elephant reveals the casual lives of several students. All of the young actors are amateurs; they mostly improvise their dialogue and use their own first names for their characters. The tone of the movie is neutral, offering an objective look at mass shootings in America without judgement or politicised theories. Playing several scenes over and over from the varying points of view of the central characters, the film immerses the viewer in meandering long takes and a looping narrative structure.
Wednesday 7 May 2014
2pm – 3:21pm
Wednesday 7 May 2014
7:15pm – 8:36pm
Sunday 11 May 2014
2pm – 3:21pm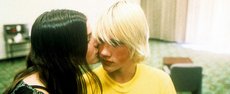 Rashomon
Dir: Akira Kurosawa 1950 (Japan)
88 mins 35mm B&W Rated M
Toshirô Mifune, Machiko Kyô
Japanese with English subtitles
After a violent murder and rape is committed by a bandit, four people tell their different versions of what happened. Set during a time of social crisis in 11th-century medieval Japan, Rashomon is a radical examination of truth, memory and guilt as well as a compelling murder mystery. Its daring, nonlinear approach to narrative gives us four versions of the same event, each contradicting the others. The combination of brilliant photography and superlative acting, direction and writing won this Japanese classic an Oscar for best foreign film. The term 'Rashomon effect' has since been widely adapted by psychologists to describe the effect of subjective perceptions on recollection. Presented in conjunction with The Japan Foundation, Sydney.
Wednesday 14 May 2014
2pm – 3:28pm
Wednesday 14 May 2014
7:15pm – 8:43pm
Sunday 18 May 2014
2pm – 3:28pm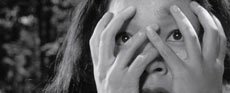 The Manchurian candidate
Dir: John Frankenheimer 1962 (US)
126 mins 35mm B&W Rated M
Frank Sinatra, Laurence Harvey
The original 1962 version of the cold-war thriller/black comedy continues to be topical, chilling and confronting. Sinatra gives a superbly controlled performance as a Korean War veteran who begins to suspect that the honoured heroics of a former member of his squad, Sergeant Raymond Shaw (Harvey), may be the product of brainwashing by an enemy with sinister designs. Shaw then begins to face questions of his own identity while his mind is made to obey alien commands that compel him to destroy the democratic structure of the United States. Moving the story back and forth in time and place, revealing fragments of information in fantastic sequences of memory and nightmare, Frankenheimer maintains a delicate balance between hilarity and horror.
Wednesday 21 May 2014
2pm – 4:06pm
Wednesday 21 May 2014
7:15pm – 9:21pm
Sunday 25 May 2014
2pm – 4:06pm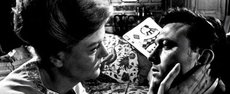 Moon
Dir: Duncan Jones 2009 (US)
97 mins 35mm Colour Rated M
Sam Rockwell, Kevin Spacey
Astronaut Sam Bell (Rockwell) is nearing the end of his three-year stint on the Moon. An employee contracted by the Korean-based company to oversee the procurement of helium-3, he is stationed on an isolated lunar base. His only companion is his computer, GERTY (Spacey). When Sam is hurt in an accident, he wakes up from a lengthy coma to realise that the situation on the moon base has radically changed, threatening to postpone his return to normal life on Earth. Jones' Moon is a beautifully rendered science-fiction thriller that pays homage to seminal genre films such as 2001: A space odyssey and Alien. The film uses a HAL-like computer as a major character and the classic technique of miniaturised models, instead of conventional CGI computer graphics. It also delivers an original, mind-bending story exploring isolation and memory. Jones explains: 'It's about being face to face with different versions of yourself. A younger version which is lost and doesn't know its place in life, and an older version that's had more time to work out where they fit in the world.'
Note: Moon will screen instead of The master, which was previously advertised
Wednesday 28 May 2014
2pm – 3:37pm
Wednesday 28 May 2014
7:15pm – 8:52pm
Sunday 1 June 2014
2pm – 3:37pm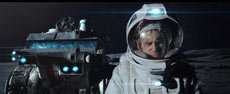 Mulholland Dr.
Dir: David Lynch 2001 (US)
147 mins 35mm Colour Rated MA15+
Naomi Watts, Laura Elena Harring
Lynch wrote and directed this mesmerising, visually menacing horror picture – a complex story of suspense set in an unreal universe. Focusing on two women who inadvertently walk a fine line between truth and deception, the film explores the schizophrenic nature of Los Angeles: an uneasy blend of innocence and corruption, love and loneliness, beauty and depravity. Mulholland Dr. opens with a woman being driven in a limousine through the Hollywood Hills. She is about to be murdered. She makes a miraculous escape and, suffering from amnesia, sneaks into an apartment to hide. An aspiring actress, Betty Elms, discovers her and decides to help unravel her identity, a mystery which leads to a twisting adventure beyond dreams and reality.
'This is a movie to surrender yourself to. If you require logic, see something else. Mulholland Drive works directly on the emotions, like music.' – Roger Ebert (Chicago Sun-Times)
Wednesday 4 June 2014
2pm – 4:27pm
Wednesday 4 June 2014
7:15pm – 9:42pm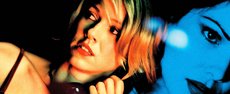 No screening on 8 June
Sunday 8 June 2014
2pm – 2pm