Live music: Spirit level
A concert series exploring music and ritual
For the 20th Biennale of Sydney: The future is already here – it's just not evenly distributed, the Art Gallery of NSW is transformed into the Embassy of Spirits.
In this concert series we explore music's ability to bring people together, influence and move us, and the traditional association between music and spiritual ritual.
Image: Langen Suka. Photo: Greg Gould
Chant paths
Entitled Chant paths, this concert features solo performances by Bronwyn Kirkpatrick and Simon Barker as well as a selection of compositions for shakuhachi (a type of Japanese flute) and drums, which Simon wrote in response to various forms of shakuhachi repertoire, rhythms associated with Buddhist chant, and the meditative aspects of long-distance running.
Wednesday 6 April 2016
7:30pm – 8:30pm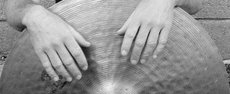 Langen Suka
Langen Suka is a Sydney ensemble dedicated to the performance of Javanese gamelan. With its interlocking and cyclical melodies and rhythms, this musical tradition combines gongs of all sizes, bronze chimes, xylophones, drums and flute with sung poetry evoking the ancient Hindu-Buddhist past of Java. This concert presents a selection of instrumental and vocal pieces ranging from haunting and meditative to thundering and majestic – an hour of music designed to calm the soul and revive the spirit.
Wednesday 13 April 2016
7:30pm – 8:30pm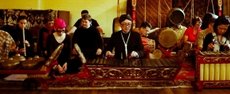 Joseph Tawadros
Joseph Tawadros AM is one of the world's leading oud performers and composers, known for his brilliant technique, deep musicianship and joyous style of performance. He has recorded 13 albums, including Epiphany, Angel and The Prophet: music inspired by the poetry of Kahlil Gibran, and won the ARIA Award for Best World Music Album three times. He has collaborated with celebrated artists from Zakir Hussain to Neil Finn; headlined concerts in Europe, America, Asia and the Middle East; and performed with the Sydney, Adelaide and West Australian Symphony Orchestras, with Richard Tognetti and the Australian Chamber Orchestra, and with the Academy of Ancient Music in London, making him the first and only Australian composer whose music has been performed by this prestigious orchestra. Tonight Joseph will perform solo for Art After Hours in what is sure to be a very special concert.
Wednesday 20 April 2016
7:30pm – 8:30pm