Queer Art After Hours 2020
A celebration of LGBTQI art and performance!
Co-produced with Sydney Gay and Lesbian Mardi Gras for the fourth year running, the Art Gallery of NSW bursts with queerness! It's spectacular, it's glorious, it's powerful: it's Queer Art After Hours.
Strut through a creative wonderland of art, ideas, colour, movement and sound inspired by this year's Mardi Gras theme What matters with an extraordinary array of performances, music, talks and installations. Drawing on the brilliance of Sydney's dazzling and diverse queer communities, this is a night to revel in your rainbow palette and be your own masterpiece.
You can also take part in the Queering the collection treasure hunt. Keep your eyes peeled for rainbow flags dotted throughout the ground-floor galleries.
The following programs will be Auslan interpreted:
Patrick Abboud's welcome, 6.15pm
TabOriginal's art tour, 6.30pm
Verushka Darling's art lecture, Mardi Gras is a drag, 7.15pm
DJ HipHopHoe
HipHopHoe is on high rotation in the Sydney and Melbourne queer club scenes. Her work is dedicated to amplifying the voices and stories of First Nations Peoples, LGBTQI+ peoples, those of the African Diaspora and those otherwise silenced through oppression. Although her first love is hip hop, expect the unexpected as she spans genres, decades, moods and sounds in one giant leg spread. Let HipHopHoe take you on this musical journey as she fills the Gallery's entrance court with power boss beats.
Image: HipHopHoe. Photo by Shelley Horan.
Wednesday 26 February 2020
5pm – 6:15pm
Wednesday 26 February 2020
6:30pm – 7:30pm
Location: Entrance court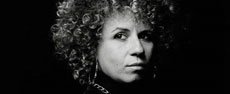 Gendermess
Gendermess is a collective of club kids, gender f*** cross dressers and performance artists. Founded in Perth in 2013, their mission is to bring an alternative style of drag and performance to the foreground. Ginava is the head of this family of misfits and founder of Gendermess Productions. Their twisted take on miming, clowning and alternative theatre gives this avant-drag artist a unique flare. See them light up the Gallery's front steps in an unmissable performance.
Wednesday 26 February 2020
5:30pm – 7pm
Location: Front of the Gallery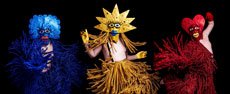 Jordy Bos
Jordy Bos is a sculptor who uses paper to explore the structural components of repetition and geometric patterns. Her experimental approach pushes the capabilities and limits of paper in varying scales and directions across two and three-dimensional objects. Explore the intricacy and beauty of Jordy's geometric patterns in a hands-on workshop led by the artist herself using an array of colours as well as recycled Sydney Gay and Lesbian Mardi Gras posters.
Wednesday 26 February 2020
6pm – 8pm
Location: Function space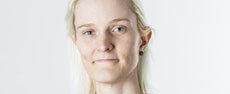 Eric Avery
Ngiyampaa, Yuin, Bandjalang and Gumbangirr artist, Eric Avery, is a violinist, dancer and composer. He works with his family's custodial songs and seeks to revive and continue the tradition of singing in his tribe. Avery is an Associate Artist with the Indigenous, intercultural dance theatre company Marrugeku, and has composed for the Black Arm Band, Melbourne Symphony Orchestra and artists including Lou Bennett and Jon Rose. His compositions often feature him singing while playing violin, predominantly in the Ngiyampaa language. Don't miss his special performances immersed deep in AGNSW gallery spaces.
Image: Eric Avery by Keelan O'hehir
Wednesday 26 February 2020
6pm – 6:10pm
Wednesday 26 February 2020
8:45pm – 8:55pm
Location: 20th & 21st c Australian art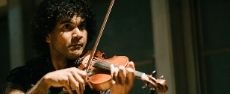 Stelly G and The Sharman
Through the medium of dance, Stelly G and The Sharman incorporate Fijian and ancient tribal culture in their storytelling. In a powerful performance in the Gallery's entrance court, they will take you on an inward journey performing ritualistic cleansing, inspiring an evolved perspective and performing a manifestation for awareness and collective change.
Image: Stelly G and The Sharman
Wednesday 26 February 2020
6:15pm – 6:30pm
Location: Entrance court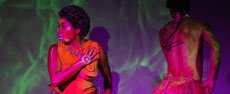 Patrick Abboud
Your host for Queer Art After Hours 2020 is none other than award-winning journalist, TV presenter, documentary maker Patrick (Pat) Abboud. Pat founded SBS TV's The Feed and is best known for his innovative work on the show. Pat has co-hosted SBS's Mardi Gras television broadcast, reported for The Project and directs interactive documentary projects in collaboration with SBS Digital Labs and Google Labs. His pop culture interview series #PatChat has clocked up more than 25 million views across social media. Cosmopolitan magazine has named Pat one of the most 50 influential LGBTQI+ voices.
Pat's welcome introduction at 6.15pm will be Auslan interpreted.
Wednesday 26 February 2020
6:15pm – 9:15pm
Location: Entrance court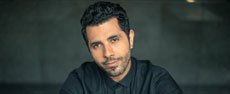 TabOriginal
TabOriginal is the fierce adjudicator from NITV's Indigenous art quiz show Faboriginal, who also happens to be the Gallery's own curator of Aboriginal and Torres Strait Islander art. Get ready to be taught a lesson and whipped into line as TabOriginal leads her tour of the collection with a very unusual twist especially for the Mardi Gras crowd!
The 6.30pm tour in the Yiribana Galleries will be Auslan interpreted.
Wednesday 26 February 2020
6:30pm – 7pm
Wednesday 26 February 2020
8pm – 8:30pm
Location: Ticketing and information desk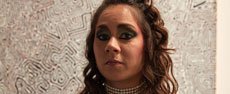 Zaya
Zaya Barroso is a captivating Sydney singer-songwriter and performer with a rich and diverse background. Zir song writing is unapologetically honest, tapping into their personal experiences of resilience against trans haters, and those who exploit power. Zaya's performances. Dramatic, supernatural and cathartic, ze is motivated by celebrating life as it is, whilst creating and staging art in the moment, within the everyday. Be prepared for a show like no other as Zaya immerses audiences in a special performance deep in the AGNSW's gallery spaces.
Wednesday 26 February 2020
7pm – 7:20pm
Location: Grand Courts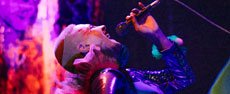 Verushka Darling
Verushka Darling is Australian drag royalty. She has changed the face of drag in Sydney and opened doors into the world of media, pop-culture and the mainstream through which others are now following. Returning for the fourth year of Queer Art After Hours by popular demand, Verushka Darling has converted her famous art tours into a full blown art lecture, Mardi Gras is a drag, which explores the history of Mardi Gras through the Gallery's collection (and the eyes of a drag queen).
This program will be Auslan interpreted.
Seating is limited and available on a first-come, first-served basis.
Wednesday 26 February 2020
7:15pm – 7:45pm
Location: Domain Theatre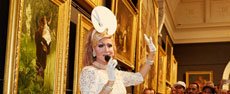 Lupa J
Lupa J is the creative project of Sydney-based producer and songwriter Imogen Jones. At age 15, Jones posted her first three tracks under the Lupa J alias on Soundcloud. With three EPs and a debut LP under her belt and a touring history that includes Grimes, Alice Glass, Sarah Blasko and Tegan and Sara, Lupa J has evolved into one of Australia's most unique and proven left-field pop voices. The 21-year-old performer is set to showcase her love of pop, techno and EDM in an electrifying performance for Queer Art After Hours.
Wednesday 26 February 2020
7:45pm – 8pm
Location: Entrance court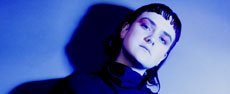 Annabelle Gaspar
Annabelle Gaspar has been playing records since the early 1990s. She is one of the founders and a resident of the legendary Bad Dog parties and has played from Mardi Gras in Sydney to Mardi Gras in Rio de Janeiro. Gaspar has hosted radio shows, sound tracked films and played infamous local parties such as Mardi Gras, Mad Racket, Kooky, Loose Ends, Trough, Club Mince, Sleaze Ball, Pavlova Bar, Jamie and Vanessa parties to only name a few. Annabelle will fill the entrance court with the sounds of her extensive record collection that boasts a hearty mix of techno, house, hip hop, funk, soul, rock and anything in between.
Image: Annabelle Gaspar. Photo by Joy Lai and John Dennis.
Wednesday 26 February 2020
8pm – 9pm
Wednesday 26 February 2020
9:15pm – 9:45pm
Location: Entrance court
Queer Film Shorts - curated and hosted by Kelli Jean Drinkwater
Witness the dynamic creative relationship between queer film and performance. This rich melange of short films and live performance features screenings of Pinky by Justin Shoulder and Bec Stegh, Ribbons by Bleck (with a live performance response from the filmmaker themselves), Dyketactics by Barbara Hammer, Nerves by Geryon, directed by Triana Hernandez, and Monsta Gras by Kelli Jean Drinkwater (with performance response by Adonis). This event is an homage to the 20th anniversary of the Gallery's pioneering film program, which began in 1990 with a series of queer short films.
Kelli Jean Drinkwater is a fat activist and filmmaker recognized for her voice in radical body politics. She has performed in, hosted and curated events around the UK, Europe and Australia. Major performances include Force Majeure's Nothing to Lose for Sydney Festival and Dance Massive Melbourne, Night Craft for MCA's Artbar, Tableau Vivant for Underbelly Arts Festival, Monsta Gras at The Red Rattler Theatre and Department H in Tokyo.
Bleck is an emerging artist from Newcastle whose practice draws from performance and the moving image. Bleck's work is a defiant battle cry against capitalist driven ecocide and white, cisgender, heterosexual binaries. In 2018, they were a featured artist on ABC's Art Bites: Unboxed. In a special screening-performance for Queer Art After Hours, Bleck continues the celebration of queer identity, experience and expression in a live response to their debut work, Ribbons.
Anastasia Zaravinos AKA 'Adonis' proudly stems from Western Sydney. Adonis was born in the filth of the underground queer scene. She rose up as a provocative performance, makeup, video and photo artist, working with themes such as cultural identity, gender, sex and sexuality. She is interested in the abject and pushing the voyeurs' boundaries. Adonis uses her body as her main source of inspiration and medium. Obsessed with the complexities of religion and discipline, she continues to develop a ritualistic practice.
This program contains explicit content. Seating is limited and available on a first-come, first-served basis.
Image: Kelli Jean Drinkwater for HOH
Wednesday 26 February 2020
8:15pm – 8:50pm
Location: Domain Theatre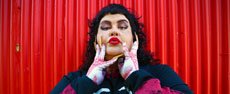 Blak Divaz
Felicia Foxx, Tyra Bankstown and Sarah Moany are Sydney's premier First Nations drag trio. The girls are resident queens at The Bearded Tit. Under the wing of uncle Jonny Seymour, they are actively creating safe spaces that bring together first nations LGBTQI+ performers. At the forefront of First Nations representation in Australia's drag community, they have made it their mission to bring more visibility and equality for all First Nations drag artists. The Blak Divaz will have you spellbound in their special performance for Queer Art After Hours.
Wednesday 26 February 2020
9pm – 9:15pm
Location: Entrance court