Queer Art After Hours 2018
The Gallery goes queer in a celebration of LGBTQI art and performance!
Art After Hours goes queer, celebrating our exhibition of iconic gay photographer Robert Mapplethorpe and the 40th anniversary of Sydney Gay and Lesbian Mardi Gras!
On the main stage, MCs Fancy Piece host a line-up of Sydney's cutting-edge queer musicians, DJs and performers: Marcus Whale, Rainbow Chan, Brendan de la Hay, DJ Yung Brujo, DJ Ayebatonye, and performance collective Gang of She.
Elsewhere in the Gallery, take a tongue-in-cheek art tour with Verushka Darling, a life drawing class with dominatrix Mistress Tokyo as your model, or have a profound coffee cup reading with artist Nicole Barakat. Watch out for The Huxleys, whose iridescent and glamourous creations might pop out from any corner!
And don't miss the chance to see the work of one of the most important figures in queer art history in the acclaimed exhibition Robert Mapplethorpe: the perfect medium.
Emerging during the wave of gay activism and pride that also birthed the Sydney Gay and Lesbian Mardi Gras, Mapplethorpe chronicled his deep involvement in New York's gay scene and immortalised the idols of the 1970s and 1980s, including lifelong muse Patti Smith.
Whether he was photographing a figure, a fetish or a flower, Mapplethorpe's unflinching quest for beauty has an enduring political and artistic resonance.
Wednesday 28 February 2018, 5-10pm
Free
No bookings required
Entry to the Gallery is free as well. If you want to visit Robert Mapplethorpe, you'll need to buy an exhibition ticket.
Related exhibition: Robert Mapplethorpe
DJ Ayebatonye
Primarily driven by African influences, Ayebatonye just wants to make you dance! Not one to stick to any particular genre, her unique sonic palette prances between disco, 90s house, Detroit techno, and hypnotising drum beats.
Wednesday 28 February 2018
5pm – 6pm
Location: Entrance court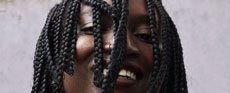 Fancy Piece
Fancy Piece is the unholy union of Holly Bennett and Simone Craswell—and they're coming for your soul. This queer performing arts duo have been stripping it off and whipping it out on stages from the Enmore Theatre to London's Royal Vauxhall Tavern and the glamorous guts of Sydney's queer wonderground. Rapturous MCs, they have hosted film festivals, fetish frenzies, circus spectaculars and queer club havens – celebrating community and challenging assumptions with an iron fist in a sequinned glove.
Wednesday 28 February 2018
5pm – 9pm
Wednesday 28 February 2018
6:45pm – 7pm
Location: Entrance court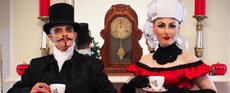 Coffee cup readings with Nicole Barakat
Nicole Barakat is a queer femme Arab artist who works to unpick the borders of art and life, re-examining intersections between drawing and textiles, collaboration and live work. Nicole approaches her practice as a form of meditation, with intentions to transform and conjure new ways of thinking and being. Her work is grounded in the practices of loving, listening and decolonising. Tonight have your coffee cup read by Nicole in an intimate art experience.
Wednesday 28 February 2018
5pm – 8pm
Location: Cafe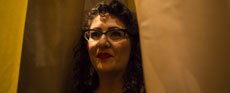 The Huxleys
The Huxleys create an iridescent hyperreal world, full of arresting shapes, lurid colour, extreme theatrics and an ethos of glamorous androgynous abandon. Their background in costume design, photography, video and performance has informed their practice, act is a living, ever-evolving collage of still and moving images. They've worked on exhibitions, fashion shows and festivals across the world, from Rome to New York to Sydney.
Wednesday 28 February 2018
5pm – 9pm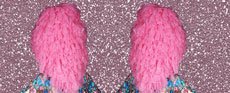 Brendan De La Hay
Best known for his larger than life cabaret personas, Brendan's performance work will this year tour to London, Helsinki, Paris, Hong Kong, Berlin and Sydney, and his installation, Bridal Variations, will feature at the Sherman Centre for Culture and Ideas' annual Fashion Hub at the Museum of Applied Arts and Sciences. Brendan has also worked as an actor in film and television (Carlotta, Love Child, Unbroken, Australia: The Story of Us). Tonight his Bleeding Bride will greet you on the front steps and reappear later to rejoice in a matrimonial celebration and perform a classic pride anthem for the congregation.
Wednesday 28 February 2018
5pm – 7pm
Wednesday 28 February 2018
8:15pm – 8:20pm
Location: Front of the Gallery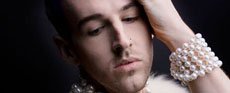 Verushka Darling: The art of debate
Verushka Darling is Australian Drag Royalty. She has changed the face of drag in Sydney and opened doors into the world of media, pop-culture and the mainstream through which others are now following. Tonight, she tells the hidden story of the Art Gallery of NSW's collection. To avoid the same iconoclastic fate as St. George Michael, the Gallery was forced to hide important artworks during the recent Marriage Equality Debate in its modern Australian art collection. Taking her life in her hands—and having daubed her face with anti-graffiti lacquer—Verushka Darling will finally reveal these hidden gems to the public.
Wednesday 28 February 2018
5:30pm – 6pm
Wednesday 28 February 2018
6:30pm – 7pm
Location: 20th & 21st c Australian art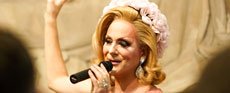 Rainbow Chan
Rainbow Chan is a singer, producer and multi-disciplinary artist. An eclectic mix of electronic and acoustic textures, Chan's music is a delicately-crafted gem. Live loops are created with music-boxes, thumb-pianos and vintage toys. Chan has toured extensively including performances at the Sydney Opera House, Iceland Airwaves, Vivid and Mona Foma. Most recently, she sound-tracked the ABC documentary, The Glass Bedroom and her song Let Me won FBi Radio's SMAC Award 2017 for Best Song.
Wednesday 28 February 2018
6pm – 6:25pm
Location: Entrance court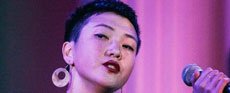 Dominatrix life drawing class with Mistress Tokyo
Mapplethorpe's take on fashion, gender and style, as well as fetish and queer culture, helped pave the way for a more open dialogue today. Mistress Tokyo is a professional Dominatrix in Sydney with over 18yrs experience in BDSM. She is an Educator, performer and member of the international leather community and has appeared in the fetish editions of Australian Penthouse, speak on Triple J's "The Hook Up", feature on ABC TV on "You Can't Ask That". Mistress Tokyo is the Australian Adult Industry Award Winner "Best for Fantasy and Fetish" in 2017. Tonight she will be your model for a life drawing class exploring themes of composition and power.
Wednesday 28 February 2018
6pm – 8pm
Location: Function space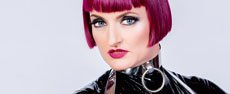 Marcus Whale
Marcus Whale is a musician and performer and he plays out dramas of desire and projection while disfiguring forms of pop, club and contemporary classical music. He is a member of duo Collarbones and trio BV, and makes work under his own name, releasing an album Inland Sea in June 2016.
Wednesday 28 February 2018
7:15pm – 7:45pm
Location: Entrance court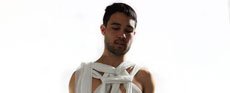 DJ Yung Brujo
Yung Brujo is a Sydney based DJ. Bringing diaspora to the dance floor, their audio aesthetic is heavily rooted in Latino and queer influenced sounds spanning the continent of America and beyond, from Tropical Bass to Grime, Ballroom to Baile Funk. They aim to a create an ever-evolving transmutation of music though the merging of cultural origin and queer cultural upbringing.
Wednesday 28 February 2018
7:45pm – 8pm
Wednesday 28 February 2018
8:45pm – 9:30pm
Location: Entrance court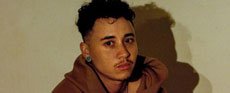 Betty Grumble
With ceremonial precision and deranged wit, performance artist Betty Grumble enslaves her audience with a powerful call to arms as she raptures in the complexity of the woman body as a political site.
A maniacal feminist contagion and ecosexual, her award winning work has been critically lauded across the board. From the polished stages of Belvoir St Theatre and Sydney Opera House, to the swampy dens of Sydney's queer underground, the reception of her relentless persona is unanimous- BETTY GRUMBLE is WOMAN. Hear her ROAR.
Wednesday 28 February 2018
8:10pm – 8:15pm
Location: Entrance court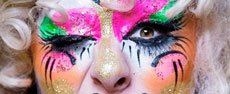 Gang of She
Born out of a desire to simultaneously celebrate and challenge bodies, beauty, space and time, Gang of She harness drag, surrealism, disco, theatre and queer histories. Caught in a time where apathy reigns supreme and empathy is out of fashion, they create performative worlds that beckon audiences into the possibility of social salvation. Gang of She is a moveable collective—the she-ness oozes to include all.
Wednesday 28 February 2018
8:25pm – 8:45pm
Location: Entrance court