Portraits film series
In conjunction with the Archibald Prize 2014
As Aristotle stated, The aim of Art is to present not the outward appearance of things, but their inner significance; for this, not the external manner and detail, constitutes true reality.
The Archibald Prize is awarded annually to the best portrait, 'preferentially of some man or woman distinguished in art, letters, science or politics, painted by any artist resident in Australasia'. However, portraiture is much more than posing a subject and then applying paint to canvas. Insightful portraits record the gestures, expressions and attitudes of the sitter and offer a deeper sense of the subject, capturing the spirit as well as the likeness.
Screening in conjunction with the Archibald Prize 2014, the feature films in our Portraits series can be viewed as intimate portraits of their central character. They reveal the essence of their subject by exploring their lives, their psychology and the motivations that initiate and guide their behaviour.
Image: Still from Broken flowers
Bob Roberts
Dir: Tim Robbins 1992 (US)
102 mins 35mm Colour Rated M
Tim Robbins, Giancarlo Esposito
The writing and directing debut of actor Tim Robbins is a mock-documentary portrait of a folk-singing, self-made millionaire and his corrupt, populist campaign for a seat in the US Senate. Bob Roberts is a charismatic, seemingly laid-back charmer whose political ambitions form the centre of his self-generated cult of personality. Robbins' clever comedy/satire features self-penned, hate-filled compositions with titles such as The times they are a-changin' back. His message to his supporters is that greed is good.
Wednesday 20 August 2014
2pm – 3:42pm
Wednesday 20 August 2014
7:15pm – 8:57pm
Sunday 24 August 2014
2pm – 3:42pm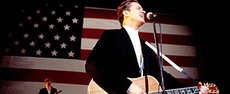 Capote
Dir: Bennett Miller 2005 (US)
114 mins 35mm Colour Rated M
Philip Seymour Hoffman, Catherine Keener
Researching and writing In cold blood, one of the most memorable and controversial books of the 1960s, had a profound impact on its author, Truman Capote. In Miller's intense, biographical film, Hoffman plays the critically acclaimed magazine writer who becomes fascinated by the slaying of an entire family in Kansas by a gang of petty criminals. Visiting Perry Smith, one of the convicted killers, in prison, Capote encountered a troubling kindred spirit. The film explores the peculiar tenor of Capote's relationship with Smith, in which the writer recklessly deceives the killer to get what he wants: a story. The resulting 'nonfiction novel' took six years to complete and is said to have been Capote's undoing.
Wednesday 27 August 2014
2pm – 3:54pm
Wednesday 27 August 2014
7:15pm – 9:09pm
Sunday 31 August 2014
2pm – 3:54pm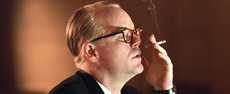 Downfall
Dir: Oliver Hirschbiegel 2004 (Germany)
155 mins 35mm Colour Rated MA15+
Bruno Ganz, Alexandra Maria Lara
German with English subtitles
Depicting the turbulent end of the Third Reich's reign over Nazi Germany in 1945, Hirschbiegel's acclaimed film is a chilling portrait of Nazi leader Adolf Hitler (Ganz). The dictator's final days, confined in his Berlin bunker, are seen through the eyes of a young woman who was employed as his personal secretary, Traudl Junge (Lara) who becomes an intimate eyewitness to Hitler's decay in body and mind.
Wednesday 3 September 2014
2pm – 4:35pm
Wednesday 3 September 2014
7:15pm – 9:50pm
Sunday 7 September 2014
2pm – 4:35pm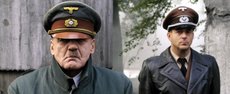 Vera Drake
Dir: Mike Leigh 2004 (UK)
125 mins 35mm Colour Rated M
Imelda Staunton, Richard Graham
In 1950s London, Vera Drake (Staunton) works as a charlady for upper-middle-class women. A kindly person, she is devoted to her family and willing to lend a hand to needy friends and neighbours. At a time when legal abortion is impossible for the very poor, she helps girls who are 'in trouble'. Leigh's finest film brings humanity and empathy to a controversial subject. Utterly compelling, its central character is an uncomplicated, selfless woman whose beliefs and practices clash with the mores of 1950s. Staunton was nominated for a Best Actress Oscar.
Wednesday 10 September 2014
2pm – 4:05pm
Wednesday 10 September 2014
7:15pm – 9:20pm
Sunday 14 September 2014
2pm – 4:05pm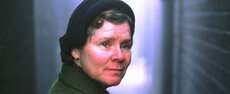 Half nelson
Dir: Ryan Fleck 2006 (US)
106 mins 35mm Colour Rated MA15+
Ryan Gosling, Shareeka Eeps
An intimate portrait of two intriguingly flawed characters, Fleck's film offers an authentic, unsentimental look at the lives of a Brooklyn middle-school history teacher, Dan Dunne (Gosling) and one of his troubled students, Drey (Eeps). Despite his dedication to his students, the idealistic Dan leads a secret life and struggles with addiction. When Drey finds him comatose in the girls' toilet, a strange and confronting friendship is tentatively established. A hit at the Sundance Film Festival, Gosling's superlative performance explores the conflict of a man with a strong mind and a weak will.
Wednesday 17 September 2014
2pm – 3:46pm
Wednesday 17 September 2014
7:15pm – 9:01pm
Sunday 21 September 2014
2pm – 3:46pm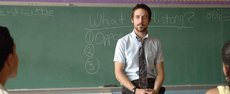 The conversation
Dir: Francis Ford Coppola 1974 (US)
113 mins 35mm Colour Rated M
Gene Hackman, John Cazale
Harry Caul (Hackman) is an obsessive sound engineer who specialises in surveillance. He is hired by a mysterious corporate executive to capture a conversation between a young couple walking in a noisy park. As he painstakingly pieces together the garbled recording, he suspects something tragic is about to occur. Hackman's paranoid character – private, internalised, lonely and detached – embodies the feelings of cynicism and dread in the zeitgeist of the US in 1974. Coppola's enigmatic masterwork, at once a conspiracy thriller and a brilliant character study, was conceived before the Watergate scandal broke and was released shortly before Richard Nixon's resignation.
Wednesday 24 September 2014
2pm – 3:53pm
Wednesday 24 September 2014
7:15pm – 9:08pm
Sunday 28 September 2014
2pm – 3:53pm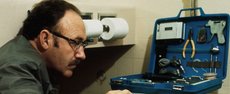 Broken flowers
Dir: Jim Jarmusch 2005 (US)
106 mins 35mm Colour Rated M
Bill Murray, Jessica Lange, Sharon Stone
Don Johnston (Murray) is a withdrawn, emotionally numb middle-aged man who lives a quiet, comfortable life. After splitting with his latest girlfriend, Don receives an anonymous letter informing him he fathered a son 19 years ago. Against his better judgement, he sets out on a road trip, searching for the mother of the son he didn't know he had. He calls on four former flames (Lange, Stone, Frances Conroy and Tilda Swinton) but each of these women hold new surprises for the hapless Don. Jarmusch's intriguing dead-pan comedy retains his signature outsider perspective: stripped down, closely observed, with a poetic, dreamlike aura.
Wednesday 1 October 2014
2pm – 3:46pm
Wednesday 1 October 2014
7:15pm – 9:01pm
Sunday 5 October 2014
2pm – 3:46pm