Film series: Pop fictions
Dark dreams of stardom
Two of modernity's defining art forms – cinema and popular music – have long shared a mutual fascination, from the early days of talkies to the excess of the MTV era and the recent resurgence in musical biopics like Bohemian rhapsody and Rocketman. Pop music and cinema are both concerned with the freedoms – and dangers – of artifice: performance, character, costume and appearance. There is nothing superficial about this. As queer icon and glam forerunner Oscar Wilde once said: 'It is only shallow people who do not judge by appearances. The true mystery of the world is the visible, not the invisible.'
Pop fictions samples the fantasies and phantasmagorias by which some of cinema's most daring filmmakers have imagined popular music across the decades, even when – or especially when – the real-life counterparts to these fictions are easily identified. The immediacy of pop music, its myth-making potential and its power to transform both individuals and crowds are qualities that filmmakers have coveted, imitated and at times reciprocated.
The series begins with a dystopian take on 1960s counterculture; a prescient vision of a pop star trapped in the industry machine. A cosmic ride through glam rock carries us through the 1970s and back into outer space. A rarely screened Black cinema classic revisits the emergence of Motown and the birth of an R'n'B girl group through the jaded eyes of Blaxploitation.
Snotty teenage girls challenge punk rock's machismo, only to flame out, disappear, and re-emerge in more potent form decades later. Hip-hop bum-rushes the show from the Bronx to Billboard. Rock'n'roll fades away while, beat by beat, new musical forms ascend, bringing with them the vision of a dance-floor future as the world rushes forward into a new millennium.
Join us as we take a trip through these sometimes shadowy but always spectacular filmic refractions of pop music, where, as the narrator of Velvet goldmine reminds us, 'Everything forgotten hangs in the dark dreams of the past, ever threatening to return'.
Guest curated by critics Anwen Crawford and Luke Goodsell with special introductions.
Saturdays 2pm
3 April - 29 May 2021
See listing for details
How to get your ticket
Tickets available outside the Domain Theatre from one hour before each screening.
Early-bird tickets can be booked in advance online via Qtix.
See: Film ticket FAQs

Location: Domain Theatre
Privilege
Dir Peter Watkins 1967 (UK)
103 mins 35mm-to-digital Colour Unclassified 18+
Paul Jones, Jean Shrimpton, Jeremy Child
In a near-future Britain, dreamy pop idol Steven Shorter (played by Manfred Mann singer Paul Jones) seems to have it all, but his widespread public adoration belies the fact that he's a puppet of a sinister right-wing state – a pawn used to placate the masses and suppress political protest. Released at the height of 1960s counterculture, British filmmaker Peter Watkins' dystopian tale takes aim at both the establishment and the counterculture itself: its commercialisation, and its naive promise of a social revolution led by pop musicians. Watkins' cinema verite approach, drawing on his background in television docudrama, would prove ahead of its time; his nightmare vision of fascist violence and pop spectacle influenced Stanley Kubrick's 1971 film A clockwork orange, and it still speaks, chillingly, to our present.
Introduced by Luke Goodsell, a critic and programmer who writes on film for ABC Arts and The Monthly, and works in programming at the Melbourne International Film Festival.
Saturday 3 April 2021
2pm – 3:43pm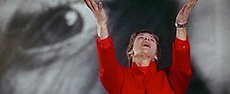 Velvet goldmine
Dir Todd Haynes 1998 (USA, UK)
123 mins 35mm-to-digital Colour Rated MA15+
Jonathan Rhys-Meyers, Ewan McGregor, Christian Bale, Toni Collette
Directed by New Queer Cinema auteur Todd Haynes (Carol, Safe ), Velvet goldmine is a kaleidoscopic glam-rock trip that embraces both the alien and the alienated. In the early 1980s, music journalist Arthur Stuart (Christian Bale) is attempting to unravel the mystery of Brian Slade (Jonathan Rhys-Meyers), a Bowie-esque superstar who vanished at the height of his fame a decade prior. Stuart's quest evokes memories of his own sexual awakening with the aptly-named Curt Wild (Ewan McGregor), a character modelled on indefatigable rock rebel Iggy Pop. With glittering costumes by Oscar-winning designer Sandy Powell, and a soundtrack that includes Roxy Music, Lou Reed and original music by Pulp, Thom Yorke and Jonny Greenwood, Velvet goldmine is a film both in and out of time, a cosmic celebration of glam's queer energies.
Introduced by Marcus Whale who lives and works on Gadigal land. As a musical artist under his own name and with the groups Collarbones and BV, his recorded output primarily forms an electronic world around his singing. Recent releases include solo album Lucifer (2020), and Collarbones' fourth album Futurity (2019), longlisted for the Australian Music Prize.
Saturday 10 April 2021
2pm – 4:13pm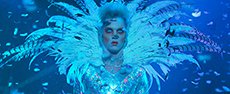 Sparkle
Dir Sam O'Steen 1976 (USA)
98 mins 35mm-to-digital Colour Rated M
Irene Cara, Philip Michael Thomas, Lonette McKee
Powered by Curtis Mayfield's soulful soundtrack – later covered by Aretha Franklin – and released during the era of Blaxploitation, this cult classic turns a downbeat, 1970s lens on the rise of a Supremes-style girl group during the late 1950s. Harlem-raised sisters Sparkle (played by future Fame and Flashdance star Irene Cara), Sister (Lonette McKee) and Delores (Dwan Smith) form an R'n'B trio, their talent taking them from amateur singing contests to Motown-level popularity. But their journey to fame is marred by internal conflict, drug use and domestic violence. With a screenplay adapted by Joel Schumacher (The Wiz, Car wash) from a treatment by Black playwright Lonne Elder, Sam O'Steen's film doesn't shy away from the underside of pop success or the exploitation of Black women within the music industry. A clear influence on the Broadway musical Dreamgirls, Sparkle was remade in 2012 starring pop queen Whitney Houston, who cited the original as her favourite film.
Introduced by Ayeesha Ash, a performer, theatre maker and co-founder of Black Birds Creative Arts Co.
Saturday 17 April 2021
2pm – 3:53pm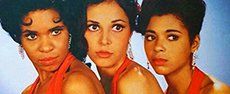 Ladies and gentlemen, the fabulous Stains
Dir Lou Adler 1982 (USA)
87 mins 35mm-to-digital Colour Unclassified 15+
Diane Lane, Laura Dern, Ray Winstone
Teenage trio the Stains, led out of their dead-end town by shock-haired provocateur Corrine Burns (Diane Lane), hit the tour circuit in support of glam rock has-beens and British punks, played by real-life members of The Clash and the Sex Pistols. Their DIY sound and attitude becomes an unexpected sensation with the teen girls who flock to their shows and begin to emulate them. Screenwriter Nancy Dowd had her name removed from the credits after clashing with music executive-turned-director Lou Adler, who tacked on an upbeat ending in a failed effort to salvage the movie's commercial prospects. But the film's long-term influence fulfilled the Stains' original prophecy: this once-forgotten tale found an audience in 1990s fans like Bikini Kill and Courtney Love, helping sow the seeds of the riot grrrl movement's 'revolution girl style now' a decade after its release.
Introduced by Neha Kale, a writer, journalist and critic based in Sydney. She's been writing about art, visual culture and society for over a decade and her essays, criticism and features have been widely published in Australia and internationally. Her writing has appeared in The Sydney Morning Herald, The Saturday Paper, Art Review, i-D, The Guardian, Vice, Running Dog, Griffith Review, ABC and many other places. She is a former SBS columnist and the former editor of VAULT magazine.
Saturday 1 May 2021
2pm – 3:42pm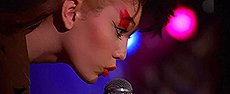 Krush groove
Dir Michael Schultz 1985 (USA)
97 mins 35mm-to-digital Colour Rated M
Sheila E, Run-DMC, Blair Underwood
Loosely based on the rise of influential record label Def Jam, and shot with infectious energy by Do the right thing cinematographer Ernest Dickerson, Krush groove captures the swelling confidence of New York's mid 1980s hip-hop scene. Starring Run-DMC as lightly fictionalised versions of themselves, and with appearances by Sheila E, Kurtis Blow, Rick Rubin, the Beastie Boys and more, Krush groove is an electrifying mix of live performance, backstage intrigue and industry hustle. With this film, Cooley High director Michael Schultz established the cinematic template for a rap-to-riches tale that would culminate in the success of 2015's NWA biopic Straight outta Compton. Keep your eye out for a teenage LL Cool J, whose breakthrough performance in this film has gone down in hip-hop legend.
Introduced by Bruce Koussaba, a Sydney-based filmmaker and writer from the Casula area. He's a member of the Sweatshop literary workshop, alumni of MIFF Critics Campus program and co-founder of his own production company. He is currently working on several film related projects simultaneously — will any ever release? Who knows.
Saturday 8 May 2021
2pm – 3:52pm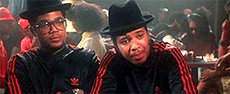 Josie and the Pussycats
Dirs Deborah Kaplan and Jonathan Elfont 2001 (USA)
98 mins 35mm-to-digital Colour Rated PG
Rachel Leigh-Cook, Rosario Dawson, Alan Cumming
Released at the turn of the new millennium, when boy bands and Britney Spears ruled the pop charts, Deborah Kaplan and Jonathan Elfont's film is a hyperactive, hyper-satirical take on a fictional pop trio who first appeared in a 1963 Archie comic, then a 1970s Hanna-Barbera cartoon series. Garage-band nobodies Josie and the Pussycats, played by Rachel Leigh-Cook, Rosario Dawson and Tara Reid, find themselves rapidly elevated to fame by an evil, omnipotent corporation – led by an irresistibly shrill Parker Posey – that literally controls young minds. With its unending meta-commentary and assaultive product placement, Josie is a takedown of consumerism that acknowledges its own complicit role in the same, at once skewering and celebrating the modern music industry's co-option of 'girl power'. Too smart for its own good, the film was a flop with its intended teen audience, but time has vindicated its winking, cynical vision.
Introduced by Michael Sun, an award-winning writer and broadcaster based on Gadigal land/Sydney whose work revolves around the intersections between queer and pop culture, memory, and technology. He has been published in Guardian Australia, The Monthly, ABC Arts, Vice and more. Currently, he's the Culture Editor at Netflix Australia and gasbags at FBi Radio in his spare time.
Saturday 15 May 2021
2pm – 3:53pm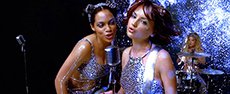 Eden
Dir Mia Hansen-Løve 2014 (France)
131 mins Digital Colour Rated MA15+
Félix de Givry, Pauline Étienne, Greta Gerwig
French with English subtitles
In Mia Hansen-Løve's Eden, the idea of the pop star is eschewed for the figure of the DJ as a conduit – a conductor – of the crowd's collective energy. Beginning in the early 1990s and spanning almost two decades, Eden tells the story of Paul (Félix de Givry), an ambitious young DJ who becomes a pivotal figure in the evolution of French house music from niche genre to global party soundtrack, thanks to the real-life success of Daft Punk. (The character is based on Hansen-Løve's own brother Sven, a DJ who co-wrote the film's script.) But Eden is as much a tale of failure as of triumph: a slow-burning meditation on growing up, growing older and giving yourself to the inevitable flow of life as well as music.
Introduced by Sarinah Masukor, a screenwriter living and working on Gadigal and Wangal land. Her short documentary, Polychromatic (2019), is currently streaming as part of the Sydney Opera House All About Women in Film program. Her book of stories and photographs, Scenes (for a pilot about…) was published by Running Dog in February 2021. She holds a PhD in Film from Monash University.
Saturday 22 May 2021
2pm – 4:21pm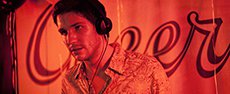 Last days
Dir Gus Van Sant 2005 (USA)
97 mins 35mm Colour Rated M
Michael Pitt, Asia Argento, Lukas Haas
Haunted by the distant spectre of Privilege and its disillusioned star, Gus Van Sant's cinéma à clef is an elegy for the alternative rock scene of the 1990s – perhaps for rock'n'roll itself. In a remote part of the Pacific north-west, Blake (Michael Pitt), a paranoid and drug-addled musician, wanders his dilapidated mansion and its surrounding woodland in a narcotic daze, occasionally summoning the energy to strum his guitar, eat breakfast cereal or chat with a visiting telephone book salesman. The film's long takes, inspired by Béla Tarr and shot by cinematographer Harris Savvides, create a hushed atmosphere in which even the living move like ghosts, while the central character, clearly based on Kurt Cobain, is one in a long line of disenfranchised drifters that inhabit Van Sant's films. With cameo appearances from Kim Gordon and Harmony Korine.
Introduced by Anwen Crawford, a critic who has written for publications including The Monthly, The New Yorker and Sydney Review of Books. Her book Live Through This, on the Hole album of the same name, was published in 2015 as part of Bloomsbury's 33 ⅓ series, and was named by Pitchfork as one of 'the 33 best 33 ⅓ books.' Her second book, No Document, is published in April 2021 by Giramondo.
Saturday 29 May 2021
2pm – 3:52pm