Film series: Neon gods
In association with the exhibition 'Heaven and earth in Chinese art: treasures from the National Palace Museum, Taipei'
Taoist spells cast in video game arcades, horoscopes for high-stakes business deals, deities graffitied on Taipei underpasses: welcome to the Gallery's new film season, Neon gods.
Our latest survey of Sinophone cinema features works by some of the most significant directors of the 20th century, including Hou Hsiao-hsien, Edward Yang, Ang Lee and Tsai Ming-liang.
In the midst of economic boom and rapid social change, a new wave of Taiwanese filmmakers revived the tradition of epic storytelling. From Homer's Iliad to Chinese folk tales such as The journey to the west, this longue durée form told sagas of societies in transformation.
Rest assured, the majority of films in this season are not epic in length. Rather, they inhabit the epic as a style: multigenerational and labyrinthine. Edward Yang's masterpiece Yi yi begins with a wedding, ends with a funeral, and runs the gamut of life in between. King Hu's A touch of zen morphs into a supernatural ghost story, political thriller and psychedelic landmark of 1970s cinema.
Epics spin the interconnections between humanity, nature and the gods into arcs as dramatic as the aerial ballet of Crouching tiger, hidden dragon. In Tsai Ming-liang's cult classic Rebels of the neon god, the main protagonist's mother is convinced he's the reincarnation of impish child deity Nezha.
In this season, the gods of modern cinema are not found on the temple altar. They cruise the neon-lit streets of nocturnal Taipei.
With a cast of rebels, action heroines and queer outsiders as our guides, join us on a journey through the best of Chinese-language cinema presented on imported 35mm prints.
Various Wednesdays, Saturdays, Sundays
20 February - 5 May 2019
See listing for details
Free
How to get your ticket
Tickets available outside the Domain Theatre from one hour before each screening. Arrive early to avoid disappointment.
A small number of early bird tickets can be booked in advance online via Qtix from Monday 11 February 10am.
See: Film ticket FAQs
Films start at the advertised time. Doors open 30 minutes before. Latecomers not admitted.

Location: Domain Theatre
Related exhibition: Heaven and earth in Chinese art
Rebels of the neon god / 青少年哪吒
Dir: Tsai Ming-liang 1992
106 mins 35mm Colour Unclassified
Lee Kang-sheng, Chen Chao-jung
Mandarin, Min Nan with English subtitles
Tsai Ming-liang's debut feature thrums with the energy of an iconoclast director coming into his own. Lee Kang-sheng plays Hsiao-kang, a cram school dropout living with his parents. After a chance encounter, Hsiao-kang grows obsessed with a trio of hoodlums, stalking them on their nightly prowls of Taipei. A revenge odyssey unfurls in the neon glow of the city's video arcades, roller discos and love hotels. Tsai inflects this universal story of disaffected youth with his own idiosyncratic vision. This electrifying debut contains many of the director's trademarks: long takes, tragicomic eroticism, rain, melons and his puckish muse, Lee.
Note: The Sunday 24 February screening will be introduced by Linda Jaivin, who is an author of 11 books (including seven novels), a cultural commentator and a literary translator from Chinese to English, specialising in film subtitles. The talk is in English only.
Wednesday 20 February 2019
2pm – 3:46pm
Wednesday 20 February 2019
7:15pm – 9:01pm
Sunday 24 February 2019
1:30pm – 3:45pm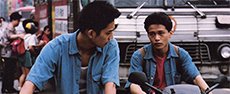 A summer at Grandpa's / 冬冬的假期
Dir: Hou Hsiao-hsien 1984
94 mins 35mm Colour Unclassified
Wang Chi-Kuang, Li Shu-Chen
Mandarin, Min Nan with English subtitles
In Hou's delightful coming-of-age story, two kids from Taipei are packed off to the countryside while their mother recuperates from illness. For four-year-old Ting-ting (Li) and her older brother Tung-tung (Wang), turtle races and wild swimming beckon. Shot from the children's perspective, this bucolic vision of play is soon tainted by darker realities lurking off-screen. Based on the childhood recollections of Hou's longtime screenwriting collaborator and leading female novelist Chu T'ien-wen, the film unfolds as a series of wide-eyed vignettes. Long takes, nonlinear narrative and everyday subjects heralded the stylistic innovations of the New Taiwan Cinema. In the early 1980s, a new generation of young filmmakers including Edward Yang, I-Chen Ko and Wang Tung burst onto the international festival circuit. With this humane portrait of innocence lost, the movement's poet laureate, Hou Hsiao-hsien, had arrived.
Wednesday 27 February 2019
2pm – 3:34pm
Wednesday 27 February 2019
7:15pm – 8:49pm
Sunday 3 March 2019
2pm – 3:34pm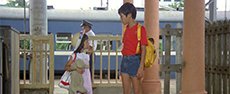 The end of the track / 跑道終點 / 跑道终点
Dir: Mou Tun-fei 1970
91 mins 35mm-to-digital B&W Unclassified
David Meyer, Donald Chua
Mandarin with English subtitles
Australian premiere! Once banned, newly restored, this trailblazing melodrama is a revelation of 1970s queer cinema. Where rolling dairy country meets the sea, Yung-shen (Chua) and Hsiao-tung (Meyer) spend their early teen years spelunking and skinny-dipping. Intimacy lingers between gentle jibes and brushed shoulders. Lyrical landscape photography and plaintive guitar conjure a tender mood of desire and despair. In a commercial industry dominated by kung-fu imports and frothy soap operas, this moving work was a daring artistic gesture. Confronting a taboo topic with observational realism a decade prior to the New Taiwan Cinema, Mou's film was banned due to its 'homosexual overtones'. It now stands as an important precursor to landmarks of queer East Asian cinema such as East palace, west palace (1996) and Happy together (1997).
Wednesday 6 March 2019
2pm – 3:31pm
Wednesday 6 March 2019
7:15pm – 8:46pm
Sunday 10 March 2019
2pm – 3:31pm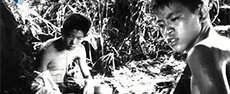 Terrorizers / 恐怖份子
Dir: Edward Yang 1986
109 mins 35mm Colour Rated M
Cora Miao, Lee Li-chun
Mandarin, Min Nan with English subtitles
Daybreak in Taipei: sirens, gunshot and a camera shutter trigger a series of chance events which will unite strangers by dusk. The acclaimed late director Edward Yang's third feature is his most enigmatic work. Unfolding in fragments of startling imagery, the narrative interlocks the lives of a lab technician (Lee) and his novelist wife (Miao), a photographer, a police detective and a dissolute teen known only as the 'White Chick'. This cast of bourgeois urbanites drift through a metropolis as alien as the huge, spherical water tower which looms on the skyline. Constructed like a puzzle, the film's pleasure lies in rearranging the relationships between characters before its explosive denouement. Famously described by Frederic Jameson as 'the postmodern film', this is cerebral cinema with bursts of violent energy. Or, in Yang's words, 'There may not be Baader-Meinhof gangs in this part of the world, but the bombs we plant in each other are ticking away'.
Wednesday 13 March 2019
2pm – 3:49pm
Wednesday 13 March 2019
7:15pm – 9:04pm
Sunday 17 March 2019
2pm – 3:49pm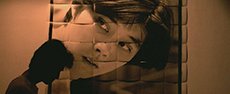 Three times / 最好的時光 / 最好的时光
Dir: Hou Hsiao-hsien 2005
120 mins 35mm Colour Unclassified
Shu Qi, Chang Chen
Mandarin, Min Nan with English subtitles
A trio of rapturous love stories, each starring the same actors, yet set in three different eras. In 1966, Shu Qi and Chang Chen play court in a Kaohsiung pool hall. In 1911, the pair explore love in its mercenary mode at a candle-lit brothel. In present day Taipei, Shu plays a nihilistic singer balancing the attentions of a man and a woman. Renowned cinematographer Mark Lee Ping-bing deftly manipulates light, shadow and colour to convey the possibilities for self-expression in each era. The film's sensuous mise-en-scène and tripartite form continue to influence filmmakers, most recently inspiring Barry Jenkins' Moonlight (2016). 'The resonance of these combined stories, their differences and similarities, their quietness and seeming simplicity, left me in a near dream-state—something that only happens to me after the most striking cinematic experiences,' observed the acclaimed American filmmaker Jim Jarmusch.
Wednesday 20 March 2019
2pm – 4pm
Wednesday 20 March 2019
7:15pm – 9:15pm
Sunday 24 March 2019
2pm – 4pm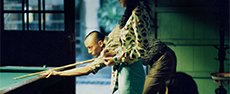 The hole / 洞
Dir: Tsai Ming-liang 1998
95 mins 35mm Colour Unclassified
Yang Kuei-mei, Lee Kang-sheng
Mandarin, Min Nan with English subtitles
Part Technicolor musical, part Y2K dystopia, Tsai's fourth feature begins a week shy of the new millennium. A mysterious virus grips Taipei. On the streets, infected residents scuttle like cockroaches. Inside a public housing block, two neighbours – the 'Man upstairs' (Lee) and the 'Woman downstairs' (Yang) – begin a courtship after a plumber accidentally creates a hole connecting their apartments. Tsai orchestrates their unlikely pas de deux with glum-funny glee. Trapped by concrete quarters and monsoonal rain, liberation comes in the form of camp, lip-synced musical interludes. Yang's reenactments of risqué song-and-dance numbers made famous by 1950s Chinese star Grace Chang (Ge Lan) soon draw Lee into her fantasy world. This wildly original reckoning with repressed desire via fifties Cantopop could only be a Tsai Ming-liang film.
Wednesday 27 March 2019
2pm – 3:35pm
Wednesday 27 March 2019
7:15pm – 8:50pm
Sunday 31 March 2019
2pm – 3:35pm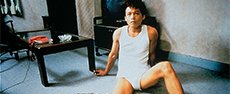 Crouching tiger, hidden dragon / 臥虎藏龍 / 卧虎藏龙
Dir: Ang Lee 2000
120 mins 35mm Colour Rated M
Michelle Yeoh, Zhang Ziyi, Cheng Pei-pei
Mandarin with English subtitles
Director Ang Lee took the revenge plot of 1960s Chinese wuxia pian ('heroic swordplay') films, added a feminist twist and created a timeless action classic. At the film's centre are three generations of female stars: Cheng, a 1960s screen heroine; Yeoh, the beauty queen turned 1980s stuntwoman; and 19-year-old newcomer Zhang. The theft of a magical sword sets in motion a series of gravity-defying duels which test the bonds of love, duty and sisterhood. The plot is simple but the treatment is lavish. Swooping cinematography, wirework wizardry and balletic choreography (courtesy of master Yuen Woo-ping) unite in a justly famous bamboo treetop scene. Upon its release, Crouching tiger achieved the rare trifecta of critical acclaim, box-office bonanza and 'gestalt shift' – introducing mainstream Western audiences to the visceral pleasures of wuxia.
Note: There will be a Saturday 2pm screening of this film rather than the usual Wednesday 2pm screening.
Wednesday 3 April 2019
7:15pm – 9:15pm
Saturday 6 April 2019
2pm – 4pm
Sunday 7 April 2019
2pm – 4pm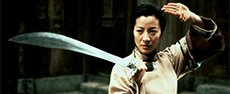 Eat drink man woman / 飲食男女 / 饮食男女
Dir: Ang Lee 1994
123 mins 35mm Colour Rated PG
Sihung Lung, Yang Kuei-mei, Chien-lien Wu
Mandarin with English subtitles
'Food and sex. Basic human desires. Can't avoid them.' Ang Lee's cult classic explores shifting Confucian ethics at the dinner table. Sunday night dinner at the Chu's is a family ritual. Widowed master chef Mr Chu (Lung) spends the day making dumplings, roasting pork belly and carving ornate watermelon bowls. For school teacher Jia-jen, high-flying executive Jia-chen and college student Jia-ning, the multicourse banquet is weekly torture. As the three daughters navigate new love, work and faith in the city, a shared bowl of shark fin soup can no longer bind this Taipei family together. Lee's gentle comedy of manners was the final instalment in his 'father knows best' trilogy. Featuring extravagant cooking sequences, it's the perfect entrée to a visit to the Heaven and earth in Chinese art exhibition's pièce de résistance, Meat-shaped stone (Qing dynasty, 1644–1911).
Wednesday 10 April 2019
2pm – 4:03pm
Wednesday 10 April 2019
7:15pm – 9:18pm
Sunday 14 April 2019
2pm – 4:03pm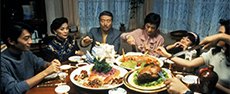 Yi yi / 一一
Dir: Edward Yang 2000
173 mins 35mm Colour Rated M
Wu Nien-jen, Elaine Jin
Mandarin, Min Nan, Japanese with English subtitles
Widely acclaimed as a masterpiece of 21st century cinema, Edward Yang's magnum opus begins with a wedding, ends with a funeral and runs the gamut of human experience in between. At the epicentre of this intimate epic is a middle-class Taipei family whose lives come together and pull apart between major life events. Whether chronicling the flirtations of father NJ (Wu) with an old flame, son Yang-yang's budding photography practice or Ting-ting's first forays into teenage love, Yang imbues each gorgeous frame with keen empathy. 'As I watched the final credits through bleary eyes, I struggled to identify the overpowering feeling that was making me tear up. Was it grief? Joy? Mirth? Yes, I decided, it was all of these. But mostly, it was gratitude' – A O Scott, New York Times.
Note: Due to its length, this film starts earlier than usual on Wednesday evening.
Wednesday 17 April 2019
2pm – 4:53pm
Wednesday 17 April 2019
6:30pm – 9:23pm
Sunday 21 April 2019
2pm – 4:53pm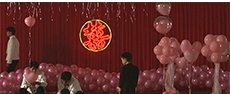 A touch of zen / 俠女 / 侠女
Dir: King Hu 1971
180 minutes 35mm-to-digital Colour Rated PG
Hsu Feng, Roy Chiao, Shih Chun
Mandarin with English subtitles
'When it comes to the wuxia film, all roads lead back to the great King Hu: supreme fantasist, Ming Dynasty scholar and incomparable aesthete.' Yang (Hsu), a fugitive noblewoman marked for execution by a corrupt eunuch seeks refuge in a mountain village. She joins forces with bumbling scholar Gu (Shih) and two aides, though she clearly doesn't need a man's help once the swords start clanging an hour in. What begins as a realist evocation of small-town China soon morphs into a supernatural ghost story and political thriller. The film's bravura visual style and Peking opera-inspired acrobatics revolutionised the martial arts genre. For Hu, who wrote, designed, directed and edited the film over two years, achieving his vision was demanding: 'I wanted to put all the resources of my art into this film. This struggle left me completely drained, spiritually and financially'. For his efforts, A touch of zen was the first Chinese film to win a prize at Cannes and remains a vital cinematic experience.
Note: Due to its length, this film starts earlier than usual on Wednesday evening.
Wednesday 24 April 2019
2pm – 5pm
Wednesday 24 April 2019
6:30pm – 9:30pm
Sunday 28 April 2019
2pm – 5pm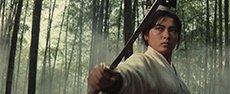 Small talk / 日常對話 / 日常对话
Dir: Huang Hui-Chen 2016
88 minutes Digital Colour Unclassified
Min Nan with English subtitles
'How many girlfriends have you had?' director Huang Hui-Chen asks her mother. The answer: 'Too many to count.' In this intimate documentary, filmmaker Huang confronts the past with her estranged mother Anu, a 'bad-ass' lesbian Taoist priestess. Shot in vérité-style, the pair journey back to ancestral sites and childhood homes, visiting Anu's siblings and ex-lovers along the way. Scenes of painful confrontation intersperse with VHS footage of Anu performing at funerals as a 'soul guider' and gambling with girlfriends ('Your mum swindled me!'). This exercise in remembrance reveals a richly ambivalent portrait of a life circumscribed by patriarchy, marriage and motherhood. Produced by Hou Hsiao-hsien, Small talk won the prestigious Teddy Award for Best Documentary Film at the 67th Berlin International Film Festival.
Wednesday 1 May 2019
2pm – 3:28pm
Wednesday 1 May 2019
7:15pm – 8:43pm
Sunday 5 May 2019
2pm – 3:28pm