Live music: ARTEXPRESS 2018
Celebrating young local musicians
In conjunction with ARTEXPRESS, we celebrate the talent of young musicians with performances by some of the leading bands and vocalists from Sydney.
Taj Ralph
Taj was first discovered busking on the streets of Sydney by Solo from the Australian hip hop duo Horrorshow. Impressed with Taj's voice and musical sensibility, he was featured as a vocalist on their single PUSH, which was released in late 2017. His big break came, at the age of 16, when Taj was selected as a finalist for Triple J radio's 2017 Unearthed High competition. Since then he has independently released three tracks and his laid-back RnB sounds and jazzy guitar hooks have been recognised by online music editorials such as Purple Sneakers and The Most Radicalist. He has played shows at The Record Crate in Glebe, as well as supporting Kim Churchill, Amy Shark and Horrorshow.
Wednesday 7 March 2018
7:30pm – 8:15pm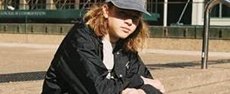 Rebecca Hatch
Sydney-based vocalist Rebecca Hatch blends hip hop and indie pop to create a unique sound. She was recently named the winner of Triple J Unearthed High Indigenous Initiative at the 2017 National Indigenous Music Awards. Being of Samoan and Indigenous Australia descent, Rebecca has performed at numerous events in both her local community and the wider community.
Wednesday 14 March 2018
7:30pm – 8:15pm