Live music: ARTEXPRESS 2014
Beautiful folk sounds
Up-and-coming Australian folk musicians Sam Buckingham and Kent Eastwood join us for this series and will collaborate in a special event.
Sam Buckingham and Kent Eastwood
Having traversed the last five years together performing at numerous festivals around Australia, Kent Eastwood and Sam Buckingham are a musical match made in heaven. Distinctive and accomplished solo artists in their own rights, Buckingham and Eastwood come together to share in a folk, pop and alt country collection of their original works and favourite cover songs. With Eastwood now calling Germany home and Buckingham about to embark on an open-ended overseas writing adventure, this is a rare performance not to be missed.
Wednesday 12 March 2014
7:15pm – 8pm
Wednesday 12 March 2014
8:30pm – 9:30pm
Sam Buckingham
Folk troubadour Sam Buckingham has become an enchanting solo performer and a leader in the independent movement of DIY Aussie artists. Since the release of her acclaimed independent offering I'm a bird in 2013 and two subsequent tours, Sam has played alongside some of the Australia's finest musicians, including Washington, Matt Corby, Kasey Chambers and Katie Noonan.
Wednesday 19 March 2014
7:15pm – 8pm
Wednesday 19 March 2014
8:30pm – 9:30pm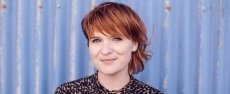 Kent Eastwood
Kent Eastwood is a multi-instrumentalist who has toured the country with many Australian artists, playing anything from piano to accordion, guitar, mandolin, banjo, harmonica and recently the cello. Some of the artists he has performed with include Mia Dyson, Brian Campeau, Claire Bowditch and Buffalo Tales. Currently based in Frankfurt, Germany, Kent has recently released his third studio album Travelin' tales.
Wednesday 26 March 2014
7:15pm – 8pm
Wednesday 26 March 2014
8:30pm – 9:30pm