Japanese Film Festival classics program 2017
Vision and subversion: the works of avant-garde filmmaker Seijun Suzuki
Japanese Film Festival Classics at the Art Gallery of NSW presents a selection of films from director Seijun Suzuki (1923-2017).
Suzuki was known for his subversive genre films and stylised pop art visuals which inspired the likes of Quentin Tarantino and Jim Jarmusch. Although he was employed by major studio Nikkatsu, his position as a B-movie director meant that he lacked resources to produce quality films and worked under restrictions imposed by the studio. These constraints led to the development of his increasingly inventive style and earned him a cult following. His subversive treatment of otherwise generic stories also cemented his reputation as a visionary amongst young cinephiles in the 1960s.
This free classics program is a satellite event of the annual Japanese Film Festival. The festival's main program is a ticketed event, which screens at Event Cinemas, George Street in November and offers the best in contemporary Japanese film across the genres, including fresh releases in the middle of their theatrical run in Japan.
Presented by the Japan Foundation, Sydney and made possible through the support of the Japan Foundation Film Library, in memory of the late Robert Herbert — film curator, cinema lover and friend of The Japan Foundation, Sydney
1—25 October 2017
See listing for details
Free
Films start at the advertised time. Doors open 30 minutes before. Tickets are issued at the Domain Theatre one hour before. Latecomers not admitted.
All films classified 18+ and screen in Japanese with English subtitles
Japanese Film Festival website

Location: Domain Theatre
Branded to kill
殺しの烙印
Dir: Seijun Suzuki 1967
91 mins 35mm B&W
© 1967 Nikkatsu
Yakuza hitman 'Number 3' opens a maelstrom of gunplay and bloodshed after botching an assassination. The ill-fated protagonist is caught between his treacherous (perpetually naked) wife, a cool femme fatale obsessed with death, and the ominous threat of the 'Number 1' hitman. Suzuki's anarchic cult treasure is packed with self-reflexive noir, gangster and B-movie genre clichés, revealing his sharp social commentary with a slick 60's pop art aesthetic.
Sunday 1 October 2017
2pm – 3:31pm
Wednesday 4 October 2017
7:15pm – 8:46pm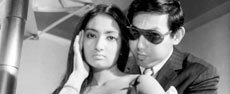 Tokyo drifter
東京流れ者
Dir: Seijun Suzuki 1966
83 mins 35mm Colour
© 1966 Nikkatsu
Tetsu seeks to leave the world of crime behind when his yakuza group disbands, but when a rival gang boss fails to recruit him, he's quickly swallowed into the underworld once more. Punctuated by the film's jazz theme, performed by ethereal siren Chiharu, the torrent of violence is staged in classic landscapes, wild night clubs and the dystopian minimal dens of evil honchos.
Wednesday 4 October 2017
2pm – 3:23pm
Sunday 8 October 2017
2pm – 3:23pm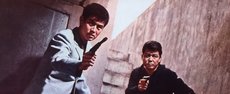 The bastard (aka The young rebel)
悪太郎
Dir: Seijun Suzuki 1963
95 mins 35mm B&W
© 1963 Nikkatsu
Thrown out of an elite Kobe school for fighting and womanising, Konno Togo is sent off to a new school in a rural town. Ever rebellious, Togo attempts to get expelled so he can pursue his passion, literature, in Tokyo instead. However he finds love in Emiko, the local doctor's daughter. The bastard is a uniquely lyrical account of a young couple caught between the conflicting trends of modernisation and militarism during the Taisho era, based on Kon Toko's semi-autobiographical novel.
Wednesday 11 October 2017
2pm – 3:35pm
Sunday 15 October 2017
2pm – 3:35pm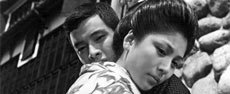 Carmen from Kawachi
河内のカルメン
Dir: Seijun Suzuki 1966
89 mins 35mm B&W
© 1966 Nikkatsu
Cheerful Tsuyuko is on her way home from a romantic rendezvous when malicious admirers abduct and take advantage of her. After her return home, her devastation intensifies when she finds her mother sleeping with the local priest in exchange for money. Disturbed by nightmarish memories of those recent events, she flees to Osaka where she wanders through a series of jobs and partners, each stranger than the last. Suzuki's button-pushing Carmen from Kawachi starts out like a misogynistic comedy. However, patient viewers are rewarded as it quickly transforms into a subversive critique of patriarchy and gender politics.
Wednesday 11 October 2017
7:15pm – 8:44pm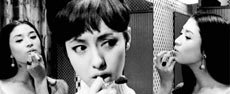 Detective Bureau 23: Down with the wicked
探偵事務所23 くたばれ悪党ども
Dir: Seijun Suzuki 1963
89 mins 35mm Colour
© 1963 Nikkatsu
An illegal US arms trade gone wrong lands gangman Manabe in police custody. Ultra-confident private detective Tajima comes along and proposes to use Manabe to infiltrate, and ultimately destroy, the yakuza. Shooting in widescreen colour, Suzuki turns a predictable hardboiled flick on its head to create an entertaining parody of the gangster genre, introducing the audience to a post-war Tokyo steeped in cultural colonialism. Down with the wicked stars the charismatic Jo Shishido and features delightful visuals set to an infectious soundtrack.
Saturday 14 October 2017
2pm – 3:29pm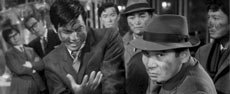 Fighting elegy (aka The born fighter)
けんかえれじい
Dir: Seijun Suzuki
B&W / 1966 / 35mm
86 mins
© 1966 Nikkatsu
Suzuki blends action and satire in this film, set in the 1930s, about a youth spent without regrets. Kiroku is torn between his instinct to fight and his love for the village beauty, Michiko. To vent his frustrations, he takes part in street brawls with a gang of local students. When he lands himself in trouble with the drill officer at school, where military exercises are compulsory, he is forced to transfer to a high school 700km away.
Wednesday 18 October 2017
2pm – 3:26pm
Saturday 21 October 2017
2pm – 3:26pm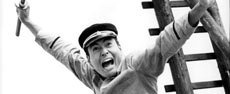 Youth of the beast
野獣の青春
Dir: Seijun Suzuki 1963
91 mins 35mm Colour
© 1963 Nikkatsu
With the police chief's recent murder, no-one is to be trusted. New mobster in town Jo Mizuno plays out ambivalent dealings with the police, while doublecrossing opposing gangs, leaving viewers wondering if he's an undercover cop or motivated by yakuza plunders. Watchable, stylish and highly entertaining, Youth of the beast signals a defining moment in Suzuki's long line-up of B-movies, with edgy voyeuristic camera angles and intelligent themes that push the boundaries of the genre.
Wednesday 18 October 2017
7:15pm – 8:46pm
Wednesday 25 October 2017
2pm – 3:31pm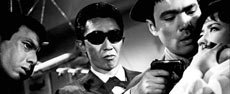 Zigeunerweisen
ツィゴイネルワイゼン
Dir: Seijun Suzuki 1980
145 mins 35mm Colour
© 1980 presented by LittleMore Co, Ltd
Mysteries and riddles prevail in this unusual film set in the Taisho era (1912-1926), also called Japan's 'Jazz Age', a time when democracy almost prevailed before the militarist tide of Showa (1926-1989) took over. It weaves an intricate story of love, hatred and suspicion between two friends, Professor Aochi and professor-turned-wanderer Nakasago. Suzuki transcends genre filmmaking with this independent production, incorporating experimental narratives and intellectual characters. Zigeunerweisen received an honourable mention at the 31st Berlinale and won four Japanese Academy Awards, including best director and best film.
Sunday 22 October 2017
2pm – 4:25pm
Wednesday 25 October 2017
7:15pm – 9:40pm