Harana poetry tours
Discover the art of the Philippines through performance poetry
Harana is the Filipino word for 'serenade'.
Join us for a series of alternative guided tours, led by Filipino-Australian performance poets, of the exhibition Passion and procession: art of the Philippines.
Interpreting visual art through poetry, this experience will provide a unique perspective on the vibrant contemporary artworks on display.
Meet at the information desk.
Mongrel tongues
Poet Eunice Andrada will probe the violence of displacement and the mosaic histories of the female body. Through poems both personal and political, Andrada will explore the stories fractured across the Pacific as she traces the points of collision between what remains and what has been lost. In her exploration of blood memory, Andrada's poems will question truths surrounding geography, nationhood and home.
Saturday 5 August 2017
2pm – 2:45pm
Saturday 12 August 2017
2pm – 2:45pm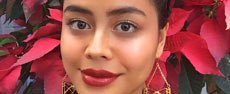 Re-membering shared histories
Artists and poets compose to recompose themselves and their histories. And when in conversation, the artwork and the poem can resonate and reframe each other as a new body. Poet Merlinda Bobis will consider body memory, and how as the body remembers, it also re-members to restore itself.
Saturday 19 August 2017
2pm – 2:45pm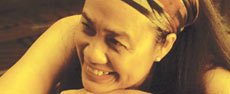 Sacrifice and love
Poet Gloria Demillo will explore the idea of sacrifice and love through the experience of women. She is drawn to both the religious concepts of female sacrifice, exemplified through the Virgin Mary, and the everyday constraints of gendered roles that mirror this sacrifice.
Saturday 26 August 2017
2pm – 2:45pm