Conquest of space future screen
Recent SF cinema
Cinematic science fiction has grown from a B-movie genre into a series of world-dominating entertainment franchises. But while the mainstream SF blockbuster is predictably conservative and presents variations on well-worn formulas, SF cinema over the last 15 years has also produced a series of intriguing and thoughtful films that revisit some of SF's most popular subgenres – from the giant monster movie to the time-travel puzzler, from the cutting satire to the romantic dystopia.
Curated by Dr Andrew Frost
Presented in association with COFA, UNSW in conjunction with the exhibition Conquest of space at Galleries UNSW, COFA.
As well as the films at the Art Gallery of NSW, the program includes a screening at COFA on 14 June 2014. More information on the COFA website
Image: Still from A scanner darkly
Saturdays 2pm
10-31 May, 21 June - 5 July 2014
Free
Films start at the advertised time. Doors open 30 minutes before. Tickets are issued at the Domain Theatre one hour before. Latecomers not admitted.

Location: Domain Theatre
Monsters
Dir: Gareth Edwards 2010 (UK)
94 mins 35mm Colour Rated M
Of all of SF's sub-genres the 'giant monster movie' is one most closely associated with the bad old days of B movies – monstrous ants, spiders, dinosaurs and 50-foot women. But with the 'war on terror' and global warming renewing dormant Cold War anxieties, the giant thing stirs once more. Monsters tells the story of an American photojournalist who must accompany his boss's daughter to the safety of the USA via a vast 'infected zone' – a stretch of northern Mexico where a crashed space probe has brought alien life to Earth. Along the way the film finds contemporary resonances for the monster, equating its creatures with our faltering understanding of nature, and our abiding fear of the unknown. Made for just $100,000 and featuring an all-amateur cast supporting its lead actors, this is a genuinely surprising and often beautiful film, mixing its SF visuals with an understated love story.
Saturday 10 May 2014
2pm – 3:34pm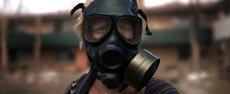 Looper
Dir: Rian Johnson 2012 (USA)
119 mins 35mm Colour Rated MA15+
In 2074 a crime syndicate uses time travel to dispose of its problems in 2044, Joe is a 'looper' – a hit man employed to kill those sent back in time and then dispose of the bodies. Things go awry when his loop is unexpectedly 'closed' as he encounters his older self sent back from the future. Young Joe botches the job and, on the run, he must find and kill Old Joe. Looper is a smart SF thriller with an intriguing interplay between concepts of the future, the present and personal responsibility – how do certain actions play out if other options are taken? Is Joe's future predetermined? And if not, can he change his destiny? With a gritty, lived-in world that effortlessly creates a visual backstory for its future setting, Johnson's screenplay nods to the work of Philip K Dick with a narrative that doubles back on itself in multiple variations, but with tightly plotted action that keeps the story moving forward.
Saturday 17 May 2014
2pm – 3:59pm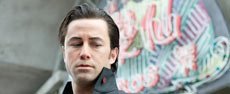 A scanner darkly
Dir: Richard Linklater 2006 (USA)
100 mins 35mm Colour Rated M
The nature of identity has been one of the most popular themes in science fiction cinema almost since its inception. A scanner darkly is one of the most faithful adaptations of the work of SF writer Philip K Dick's brand of existential terror, placing its action in an alternate reality Southern California. Undercover police officer Agent Fred is investigating a group of petty criminals while posing as a drug addict named Bob Arctor, in an effort to find the source of 'Substance D' – a highly addictive, mind-altering drug. Things get weird when Fred/Bob questions who he is – is he a police officer or a drug addict? To underscore Fred's estrangement, Linklater's movie uses rotoscoped animation that overlays original footage with a cartoonish, primary coloured skin, rather like the scramble suits of the story, setting the audience at one remove from the action, but right inside Bob Arctor's mind.
Saturday 24 May 2014
2pm – 3:40pm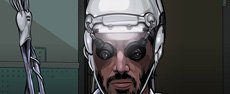 Dawn of the dead
Dir: Zack Snyder 2004 (USA)
101 mins 35mm Colour Rated MA15+
The 'zombie renaissance' is traced to two films – Danny Boyle's 28 days later (2002) and Zack Snyder's Dawn of the dead (2004). Although the modern zombie film had begun with George A Romero's Night of the living dead in 1968, the sub-genre had been in decline. Snyder's Dawn of the dead is a remake of the second sequel in Romero's own Dead series but, unlike most other recent remakes of SF classics, Snyder's movie improves and updates the action of the 1978 original. While the recent outbreak of zombie movies echoes the anxieties of a post-AIDS/SARS world, the sub-genre's themes of infection, panic, violence and the collapse of society itself date back to the time of Herodotus. Dawn of the dead compresses its themes down to a hectic pre-credits sequence, then sets headlong into a story of survival in an empty shopping mall.
Saturday 31 May 2014
2pm – 3:41pm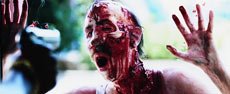 Renaissance
Dir: Christian Volckman 2006 (France)
105 mins 35mm Colour Rated M
Renaissance: Paris 2054 is an intriguing mix of ideas as the plot riffs on the detective genre, and contains a number of now classic cyberpunk themes such as its eye-popping future-city setting, mega corporations and high level governmental intrigue. The film owes elements of its setting to Ridley Scott's Blade runner (1982), but its startling visual style – motion-captured body movement with stylised faces rendered entirely in stark white-on-black – echoes similar approaches in Ghost in the shell (1995) and Sin City (2005). Produced in France but presented in English featuring the voices of Daniel Craig, Ian Holm and Jonathan Pryce, Renaissance comes into its own in a series of stunning set pieces – from a chase sequence through the sub-levels of future Paris to an imaginatively conceived and brilliantly executed gun fight in a 'virtual garden' set atop an apartment block. The look is stark and at times demanding, but the film stands as a memorable curiosity in recent SF cinema.
Saturday 21 June 2014
2pm – 3:45pm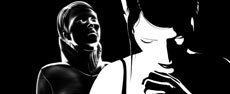 Starship troopers
Dir: Paul Verhoeven 1997 (USA)
129 mins 35mm Colour Rated MA15+
Loosely based on Robert A Heinlein's 1956 novel, Starship troopers is one of the most subversive mainstream SF films ever made, a broad satire on the clichés of World War Two recruitment and battlefield action films. Verhoeven's movie draws on the iconography of fascism for its visual stylings, and while its razor-sharp satire of mainstream media eerily predates the era of Fox News, the film offers a chillingly accurate depiction of the pro-war propaganda of the past decade. The film's narrative – the story of a platoon of grunts fighting the 'bugs' – is interrupted by newscasts, recruitment ads and live crosses to the battlefield where the blatant falsehoods of mainstream media contrasts sharply with the onscreen truth. Featuring actors cast from soap operas, and many with faces that look as if they had been sculpted from solid plastic, Starship troopers combines an utterly 'fake' look with a compelling blend of action and black humour, taking the largely moribund space opera sub-genre into the modern era.
Print courtesy National Film and Sound Archive of Australia
Saturday 28 June 2014
2pm – 4:09pm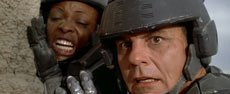 Never let me go
Dir: Mark Romanek 2010 (UK)
103 mins 35mm Colour Rated M
Courtesy 20th Century Fox
While science fiction is often thought of as genre solely concerned with technology and the future, Never let me go reminds us that SF can also be about the past. Based on Kazu Ishiguro's novel and adapted for the screen by Alex Garland (28 days later, Sunshine, Dredd),Never let me go presents the viewer with a world where medical breakthroughs have led to the eradication of cancer, motor neuron disease and other medical conditions while greatly extending life spans. The film follows Kathy H, Tommy and Ruth, three young people raised to ultimately die in a system of enforced organ donation, while their search for a 'deferral' – a three-year reprieve from their ultimate deaths – offers a faint ray of hope. Never let me go is romantic but offers no easy answers to its moral questions and is that rare SF film – a story about the ethics of the real world.
Print courtesy National Film and Sound Archive of Australia
Saturday 5 July 2014
2pm – 3:43pm