FOMArt: May
Presented by the Youth Collective
Fear of missing art? You've come to the right place! Join us on the last Saturday of the month when the Gallery's Youth Collective presents a kaleidoscope of experiences to engage young people with art and ideas.
FOMArt will feature a range of free events including interviews and talks with art professionals and artists, performances by young musicians, collaborative workshops… and more!
Bring your friends, meet like-minded art lovers and ignite your imagination and creativity.
Saturday 26 May 2018, 1- 4pm
Free
Related exhibitions: Adrienne Doig, The lady and the unicorn
Related program: FOMArt
Presenting partner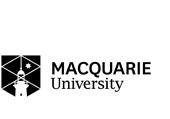 Casual chats with Adrienne Doig
This month the Youth Collective invites Australian artist Adrienne Doig to discuss her tapestries and archival works which are currently on display in the Gallery's Research library and archive. During her studio residency at the Cité Internationale des Arts in Paris, Doig spent considerable time engaging with The Lady and the Unicorn tapestries which became the source of inspiration for her series AD in Aracadia Ego.
Join the Youth Collective as they explore how the Lady and the Unicorn tapestries have sparked the curiosity of contemporary artists with its mystery and enigma.
Adrienne Doig AD Naturas et AD Mores et AD Omnem Vitae 2012, embroidery and appliqué on tapestry, 123 × 184 cm, courtesy of the artist and Martin Browne Contemporary, Sydney
Saturday 26 May 2018
1pm – 1:30pm
Location: Entrance court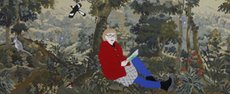 DIY for under 25s
Life can be busy sometimes. Take a moment for mindfulness and creativity at our drop-in embroidery workshop inspired by richness and the imaginative world of The Lady and the Unicorn exhibition. Create your own miniature artwork using experimental embroidery techniques and combine quirky off-cuts and found pieces of cloth to create an abstract, textural one-of-a-kind artwork.
This program is open to youth participants aged between 15 and 25. All levels and abilities welcome.
Saturday 26 May 2018
1:30pm – 3:30pm
Location: Function space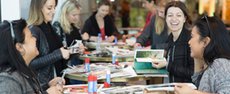 Open mic
Grab your friends, get a bite to eat and listen to the fresh sounds of talented young local performers at our monthly open mic sessions.
Paper Stranger are a pop duo from Sydney featuring Alana Patmore and Kaz Benson. Both currently studying at the Sydney Conservatorium of Music, they formed the band in 2017 after writing together for over a year. They combine their love of music and song-writing into a project that embodies youth, contemporary music and fun. Recently they have started to perform with multi-instrumentalist Oscar Gross to bring a mix of catchy top-lines, trap beats and lush pads to their live sets.
Saturday 26 May 2018
3pm – 4pm
Location: Cafe