FOMArt: March
Presented by the Youth Collective
Fear of missing art? You've come to the right place! Join us on the last Saturday of the month when the Gallery's Youth Collective presents a kaleidoscope of experiences to engage young people with art and ideas.
FOMArt will feature a range of free events including interviews and talks with art professionals and artists, performances by young musicians, collaborative workshops… and more!
Bring your friends, meet like-minded art lovers and ignite your imagination and creativity.
Image: 2018 Youth Collective members in front of Mikala Dwyer's The letterbox Marys 2015-17, installation detail at the Art Gallery of New South Wales © Mikala Dwyer. Photograph: Stephanie Barahona
Saturday 31 March 2018, 1-4pm
Free
Related exhibition: ARTEXPRESS 2018
Related program: FOMArt
Presenting partner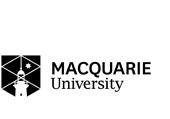 Casual chats
Youth Collective members speak to four exhibiting student artists from the 2018 ARTEXPRESS. What fuelled their creativity? What issues matter to them? What's next for these budding artists?
Hear from Amelia Turner, Spencer Clark, Jessica Sancataldo and Sarah Shore as they share their experiences during their final years of high school and what's next for these young adults.
Saturday 31 March 2018
1pm – 1:30pm
Location: Contemporary galleries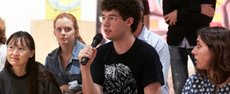 Art mash-ups for under 25s
Immerse yourself in the Gallery's collection on this interactive tour led by the Gallery's experienced artist educators. Our artist educators will create a unique tour and art-making activity based on a mash-up of themes and ideas developed by the Youth Collective.
This program is open to youth participants aged between 15 and 25.
Bookings required. Spaces are limited.
Saturday 31 March 2018
1:45pm – 3:15pm
Book via email Tertiary@ag.nsw.gov.au
Location: Contemporary galleries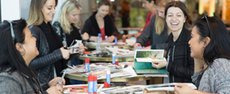 Open mic
Grab your friends, get a bite to eat and listen to the fresh sounds of talented young local performers at our monthly open mic sessions.
This month, we're joined by the talented Rebecca Hatch. Crowned the winner of Triple J Unearthed High Indigenous Initiative at the 2017 National Indigenous Music Awards, Sydney-based vocalist Rebecca Hatch blends hip hop and indie pop to create a unique sound. Being of Samoan and Indigenous Australia descent, Rebecca has performed at numerous events in both her local community and the wider community.
Saturday 31 March 2018
3:15pm – 4pm
Location: Cafe