Film series: Flim-flam
Cinema of fakes, cons, doubles
The Gallery's public programs have been suspended. More information
Doppelgangers, false identities and body swaps: each generation of filmmakers adapts these tropes to the anxieties of its era. This season proposes that our current fascination with the double pivots on questions of authenticity and deception. We're held rapt by the rise and fall of Instagram fraudsters, sham startups and deep fakes. In the space between the original and its counterfeit lurks the con. An exchange we thought was fair turns out to be unequal; two things we imagined alike bear little resemblance. We have been dazzled and distracted. We've been ripped off and we've even come to enjoy it.
In dialogue with the exhibition Shadow catchers, this series draws together compelling stories of swindles and fabricated realities. Scams exist on a spectrum from small-time rackets to structural inequalities that hide in plain sight. Featuring films from Iran, Senegal, Hong Kong, the USA and more, Flim-flam explores a collective vulnerability to lies that sound like truth. Across dark satire and neon thrillers, this series exposes cultural mythologies of quick profit, personal transformation and overnight fame.
To gain a victim's trust, a good con artist puts on a good show. These films make riveting viewing because they exploit the scammer's tools of comic distraction (F for fake), too-good-to-be-true coincidence (Being there) and sensationalist plot twists (Seconds, Despair). From two-hander gangster dramas (Mikey and Nicky, Good time) to classic mistaken identity comedies (The great dictator) and meta-movies (The watermelon woman, Salaam cinema), Flim-flam introduces cinema's fiendish grifters and credulous marks.
Accompanying the features are Australian premieres of recent short films by Wong Ping, Garrett Bradley, Alex da Corte, Maryam Jafri, Laresa Kosloff and Michelle Williams Gamaker.
Wednesdays 2pm & 7.15pm, Sundays 2pm
4 March - 3 May 2020
How to get your ticket
Tickets available outside the Domain Theatre from one hour before each screening.
A limited release of early bird tickets can be booked in advance online via Qtix from Thursday 6 February 10am.
See: Film ticket FAQs

Location: Domain Theatre
Related exhibition: Shadow catchers
F for fake + Mariam Jafri vs Maryam Jafri 
Dir. Orson Welles 1973 (UK)
90 mins 35mm-to-digital Colour Rated G
Orson Welles, Elmyr de Hory, Oja Kodar
Trickery. Fraud. Deception. In Welles' final completed work, the filmmaker (and self-described magician) revisits the central obsession of his career: the borderline between fact and fiction, art and lies. F for fake begins with a cunning promise: 'During the next hour, everything you'll hear from us is really true and based on solid facts.' Dressed in a cloak at his editing desk, Welles tells the story of notorious art forger Elmyr de Hory and his equally devious biographer, Clifford Irving, who later concocted a supposedly authorised biography of billionaire recluse Howard Hughes. Delighting in the exploits of these two great fakers of the 20th century, Welles recalls his own past infamies, including the 1938 'War of the worlds' radio broadcast which convinced America it was under attack by Martians. 'A love story, a crime story, a comedy, a picturesque travelogue, and a paean to art. In short, F for fake is as grand, multitudinous and original as Welles himself' – Richard Brody, The New Yorker.
Preceded by:
Mariam Jafri vs Maryam Jafri
Dir. Maryam Jafri 2019 (US)
9 mins Digital Colour Unclassified 12+
A humorous exploration of stock photo copyright and online image ownership.
Wednesday 4 March 2020
2pm – 3:39pm
Wednesday 4 March 2020
7:15pm – 8:54pm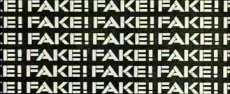 The great dictator
Dir. Charlie Chaplin 1940 (US)
126 mins 35mm B&W Rated G
Charlie Chaplin, Paulette Goddard
In his devastating lampoon of the Third Reich, Chaplin plays both an amnesiac Jewish barber and Adenoid Hynkel, the dictator of the fictional country Tomania. The striking resemblance between the barber and Herr Hynkel culminates in the characters crossing paths in a mistaken identity ruse. In 1940, America was yet to enter the war and much of the world was unaware of Jewish persecution by the Nazi regime. Chaplin stated that had he known the true extent of the Holocaust he would never have made the film. The great dictator is an essential re-watch in an age of burgeoning populism and political charlatanry.
Sunday 8 March 2020
2pm – 4:06pm
Being there
Dir. Hal Ashby 1979 (US)
130 mins 35mm-to-digital Colour Rated M
Peter Sellers, Shirley MacLaine
A TV-obsessed ignoramus becomes the next presidential candidate. Ashby's prescient comedy centres on Chance (Sellers), a gardener forced into the wilds of Washington, DC after his wealthy employer dies. Chance stumbles into celebrity when a billionaire tycoon mistakes his horticultural mumblings for the profundities of a future leader ('As long as the roots are not severed, all is well'). The film's double speak is a hilarious and distressing reminder of our collective credulity. True con artists don't compel us to do anything; they make us complicit in our own undoing. Ashby takes aim at the social privileges that enable Chance's spectacular ascent. As the African American woman who raised Chance reflects after seeing him on TV: 'I'll say right now he never learned to read and write. Shortchanged by the Lord and dumb as a jackass. Look at him now. All you've gotta be is white in America to get whatever you want.'
Wednesday 11 March 2020
2pm – 4:10pm
Wednesday 11 March 2020
7:15pm – 9:25pm
Sunday 15 March 2020
2pm – 4:10pm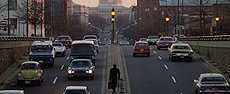 Mikey and Nicky CANCELLED
Dir. Elaine May 1976 (US)
119 mins 35mm-to-digital Colour Rated M
John Cassavetes, Peter Falk
Following the critical success of A new leaf and The heartbreak kid, May turned from comedy to the gangster film. Cassavetes is Nicky, a minor bookie on the lam after stealing from a mob boss. Holed up in a flophouse, he calls on old mate Mikey (Falk) to bail him out. Scripted to match the live-wire energy of its stars – and inspired by real-life characters from May's own childhood – this is a portrait of small-fry swindlers in crisis. The pair's non-stop dialogue careens between tender memories and shocking misogyny, revealing the rage and vulnerability behind their big-men schtick. Famous for shooting extraordinary amounts of film, May amassed over a million feet of footage (three times the amount shot for the four-hour Gone with the wind). Delivered over-budget and months after schedule, Mikey and Nicky almost ended her career. She returned in 1987 with Ishtar, and is making another comeback at the age of 87 with an upcoming film called Crackpot.
Wednesday 18 March 2020

2pm – 3:59pm


CANCELLED
Wednesday 18 March 2020

7:15pm – 9:14pm


CANCELLED
Sunday 22 March 2020

2pm – 3:59pm


CANCELLED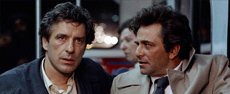 The sting CANCELLED
Dir. George Roy Hill 1973 (US)
129 mins 35mm Rated PG
Paul Newman, Robert Redford
Winner of the Academy Award for Best Picture (1973), The sting remains the definitive con artist caper. Redford and Newman star as professional grifters in 1930s Chicago, out to swindle the crime boss who killed their friend. With crackling on-screen charisma, the duo guide us through the anatomy of a long con from the 'put up' (the sizing up of the mark) through 'the play' and 'the rope' (hooking the victim) to the final sting. Director Hill merged old Hollywood style – replete with a Scott Joplin ragtime score and period costumes by Edith Head – with the popular 1970s buddy movie to create one of the most beloved films of the decade.
Wednesday 25 March 2020

2pm – 4:09pm


CANCELLED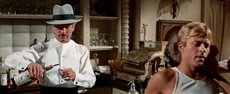 Good time + Wong Ping's Fables 2 CANCELLED
Dir. Josh and Benny Safdie 2017 (US)
100 mins Digital Colour Rated MA15+
Robert Pattinson, Jennifer Jason Leigh
The fifth feature from acclaimed filmmakers Josh and Benny Safdie (Uncut gems) plays out over the course of one night in Brooklyn and Queens. After a failed bank heist, Connie Nikas (Pattinson) tries to spring his brother from jail. Propelled by electronic musician Oneohtrix Point Never's breakneck synths, Connie embarks on an odyssey involving identity mix-ups, fairground rides and a missing bottle of liquid LSD. En-route Good time builds a portrait of the young, white millennial as scammer. He smooth-talks loved ones into maxing out their credit cards for bail money, preys upon strangers to facilitate one botched scheme after another, and gets away with it all as other characters take the fall. 'Of course he's charming, of course he's alluring; in his narrow, boastful arrogance, he is, of course, and unfortunately, an antihero of our times' – Richard Brody, The New Yorker.
Preceded by:
Wong Ping's Fables 2
Dir. Wong Ping 2019 (HK)
13 mins Digital Colour Unclassified 15+
Cantonese with English subtitles
Behind their retro-pop colours and video-game sound effects, Wong Ping's fables unpeel the social fabric of Hong Kong to expose the turbulence of a society inching towards hyper-consumerism and a police state. Completed before the pro-democracy protests of 2019, this fable centres on an ex-activist cow and a three-headed rabbit.
Courtesy of the artist and Edouard Malingue Gallery, Hong Kong / Shanghai; Tanya Bonakdar Gallery, New York / Los Angeles.
Wednesday 25 March 2020

7:15pm – 9:08pm


CANCELLED
Sunday 29 March 2020

2pm – 3:53pm


CANCELLED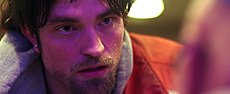 Seconds + Slow graffiti CANCELLED
Dir. John Frankenheimer 1966 (US)
107 mins 35mm B&W Rated M
Rock Hudson, John Randolph
Adored by Bong Joon-ho and Cindy Sherman alike, Seconds is a hallucinatory dispatch from the far-flung fringes of 1960s Hollywood. Depressed middle-aged banker Arthur Hamilton (Randolph) is approached by a syndicate offering to fake his death and 'rebirth' him as an all-improved version 2.0. He wakes up with the face of Rock Hudson, a dossier of fake degrees and a swinging new social life in Malibu. High-contrast, wide camera angles (courtesy of famed cinematographer James Wong Howe), fragmented editing and warped sound design refract the legend of Faust through the paranoia of the late sixties. Fifty years on, this cult story of a shady corporation preying upon our collective dreams of metamorphosis still resonates. As critic Dana Stevens reflects, 'Sometimes the person I'm recommending it to will already know the movie, and they'll get a wild look in their eyes for a moment and say "Seconds, oh my god, Seconds"'.
Preceded by:
Slow graffiti
Dir. Alex da Corte 2017 (US)
12 mins Digital Colour Unclassified 12+
A shot-for-shot remake of Jørgen Leth's canonical short The perfect human (1967) updated for the present with slime, prosthetics and a Devonté Hynes (Blood orange) score.
Wednesday 1 April 2020

2pm – 3:59pm


CANCELLED
Wednesday 1 April 2020

7:15pm – 9:14pm


CANCELLED
Sunday 5 April 2020

2pm – 3:59pm


CANCELLED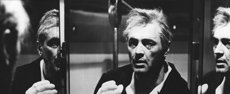 Despair CANCELLED
Dir. Rainer Werner Fassbinder 1978 (West Germany)
120 mins 35mm-to-digital Colour Rated M
Dirk Bogarde, Andréa Ferréol
Based on a novel by Vladimir Nabokov and scripted by Tom Stoppard, Fassbinder's first English-language feature is a deliciously camp film about resemblance, or the lack of it. Bogarde stars as Hermann Hermann, a Russian-Jewish émigré chocolatier living with his wife Lydia (Ferréol) in Weimar-era Berlin. Inspired by a film featuring twins and split-screen trickery, Hermann concocts a plan to escape the looming Nazi threat and claim his own life-insurance policy in the process. Key to the scheme is a homeless man whom he is convinced bears an uncanny (but in fact nonexistent) similarity to himself: 'We are as alike as two peas. It's a freak of nature. I stand before me.' What follows is an arch, often bizarre exploration of dissociation and delusion. 'Despair is like a homoerotic Vertigo filmed through a disco ball' – Time out.
Wednesday 8 April 2020

2pm – 4pm


CANCELLED
Wednesday 8 April 2020

7:15pm – 9:15pm


CANCELLED
Sunday 12 April 2020

2pm – 4pm


CANCELLED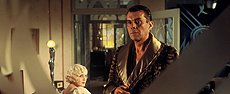 Hyenas CANCELLED
Dir. Djibril Diop Mambéty 1992 (Senegal)
113 mins 35mm-to-digital Colour
Unclassified 15+
Ami Diakhate, Mansour Diouf
Wolof with English subtitles
New 2K restoration. One of the treasures of African cinema, Senegalese master Mambéty's follow-up to his canonical Touki bouki (1973) reimagines Friedrich Dürrenmatt's play The visit. In Mambéty's adaptation, a wealthy woman (Diakhate) returns to her home village and offers her fortune in exchange for the death of the man who swindled her years earlier. Per its title, Hyenas unfolds as a dark satire of a nation encroached upon by neocolonialism and consumerism. The film dazzles with lush colour, bold costume design by renowned Senegalese fashion designer Oumou Sy and gorgeous tableaux. As the locals trade their souls for luxury condos, the director exposes the promise of progress and prosperity peddled by Western capitalism as a sham. 'My task was to identify the enemy of humankind: money, the International Monetary Fund, and the World Bank. I think my target is clear' – Mambéty.
Wednesday 15 April 2020

2pm – 3:53pm


CANCELLED
Wednesday 15 April 2020

7:15pm – 9:08pm


CANCELLED
Sunday 19 April 2020

2pm – 3:53pm


CANCELLED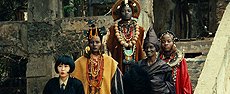 Adaptation + La perruque
Dir. Spike Jonze 2002 (US)
114 mins 35mm Colour Rated MA15+
Nicolas Cage, Meryl Streep, Chris Cooper
Following the success of Being John Malkovich, Jonze and screenwriter Charlie Kaufman reunited for another Mobius-strip meta-movie. Cage plays both 'Charlie Kaufman', a screenwriter suffering writer's block while adapting Susan Orlean's book The orchid thief, and Charlie's twin, Donald, a blind devotee of writing gurus and self-help manuals. The film is one of constant lens shifts, zooming in to Charlie's creative despair and out to reconstruct the encounters between Orlean (Streep) and John Laroche (Cooper), a Miami con man with a rare orchid obsession. At the film's midpoint, Charlie desperately asks Donald to help him finish the script, and Adaptation morphs from solipsistic drama to pulp thriller. 'This is epic, funny, tragic, demanding, strange, original, boldly sincere filmmaking. And the climax, the portion that either sinks the entire movie or self-critically explains how so many others derail, is bananas' – critic Wesley Morris.
Preceded by:
La perruque
Dir. Laresa Kosloff 2018 (AU)
4 mins Digital Colour Unclassified 15+
A story of writer's block constructed with commercial stock footage.
Wednesday 22 April 2020
2pm – 3:58pm
Wednesday 22 April 2020

7:15pm – 9:13pm


CANCELLED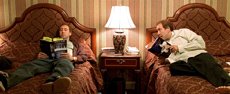 The watermelon woman + America CANCELLED
Dir. Cheryl Dunye 1996 (US)
90 mins 35mm-to-digital Unclassified 15+
Cheryl Dunye, Guinevere Turner
This watershed of '90s New Queer Cinema was one of the first features to explore black lesbian identity and the historical representation of women of colour in Hollywood. Dunye cast herself as Cheryl, a queer video-store clerk and aspiring filmmaker searching for African American actresses in 1930s and 1940s films. She becomes obsessed with an elusive 'mammy' figure credited only as 'the watermelon woman' and discovers that the off-screen life of the actress mirrors her own. A playful, irreverent portrait of the filmmaker as fabricator, The watermelon woman conjures a speculative history that blends fact and fiction, past and present. In Dunye's words: 'The idea came from the real lack of information about the lesbian and film history of African American women. Since it wasn't happening, I invented it.'
Preceded by:
America
Dir. Garrett Bradley 2019 (US)
29 mins Digital Colour
Unclassified 15+
Garrett Bradley's extraordinary new short imagines a lost lineage of African American cinema. Taking as its starting point the recently rediscovered Bert Williams feature Lime kiln club field day (1913) — the first known film to feature an all-Black cast — America is an ecstatic sensory experience that rewrites our visual history in the name of Black empowerment.
Sunday 26 April 2020

2pm – 3:59pm


CANCELLED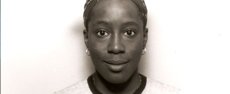 Salaam cinema + House of women CANCELLED
Dir. Mohsen Makhmalbaf 1995 (Iran)
70 mins 35mm Colour Unclassified 12+
M H Mokhtarian, Azadeh Zanganeh
Farsi with English subtitles
Tehran, 1995. Renowned director Mohsen Makhmalbaf begins casting a new film to celebrate the centenary of cinema. A newspaper ad calls for 100 actors; 5000 turn up. After calmly announcing, 'You are now both the subject and the actors in the film,' he begins auditions. A parade of rebellious young women, intellectuals and Paul Newman lookalikes sing, dance, imitate Elvis and cry on cue. Makhmalbaf exposes the smoke-and-mirror power of cinema to manipulate and deceive the populace, all the while channeling their collective desires. The film could only have been made by a director who was himself impersonated years earlier by a cinema-obsessed con man (resulting in a famous trial that was the subject of Abbas Kiarostami's Close-up, 1990). 'In our era of reality television and media stars who are desperate to make it… Salaam cinema is really prescient, and all the more amazing for being from Iran in the 1990s' – filmmaker Joshua Oppenheimer (The act of killing).
Preceded by:
House of women
Dir. Michelle Williams Gamaker 2017 (UK)
14 mins 16mm-to-digital Colour Unclassified 12+
Jasdeep Kandola, Arunima Rajkumar
In 1946, auditions were held for the character of the silent dancing girl Kanchi in venerated British directors Michael Powell and Emeric Pressburger's Black narcissus (1947). After a nationwide search, the coveted role went to Jean Simmons, a white actor who wore blackface to become the 'exotic temptress'. House of women recasts the role, auditioning only Indian ex-pat or first-generation British Asian women and non-binary individuals living in London. Unlike in the original role, the re-cast Kanchi speaks. Drawing on the tension between construction and illusion, Gamaker interrogates the colonial fantasies of the 1940s British studio system which often replaced Indian actors with British actors when representing the British Raj and its people.
Wednesday 29 April 2020

2pm – 3:24pm


CANCELLED
Wednesday 29 April 2020

7:15pm – 8:39pm


CANCELLED
Sunday 3 May 2020

2pm – 3:24pm


CANCELLED