Film series: Papua New Guinea stories
A rare chance to see these ground-breaking docos
From the mid 1970s to the early 1990s, some of Australia's most vital documentary filmmakers undertook a sustained, creative engagement with the people of Papua New Guinea.
Previous documentaries made during the first half of the 20th century by Australia's Commonwealth Film Unit were often highly didactic and usually represented the people of PNG in a paternalistic light. With PNG's independence proclaimed in 1975, a new breed of independent documentarians from Australia sought to reflect Papua New Guineans' complexity of thought, language, history and culture. These filmmakers included Bob Connolly, Robin Anderson, Dennis O'Rourke, Chris Owen, Jef Doring, Su Doring, Gary Kildea, Andrew Pike, Les McLaren and Annie Stiven.
Inspired by the American and Canadian direct cinema movement, they used a wide variety of filmic styles and techniques to take the art of the observational documentary to a higher level. Thriving in the cultural and geographic isolation of Papua New Guinea, they produced a series of films, which together form an intimate portrait of a unique country and an immensely rich and vibrant culture.
Films will be screened using 16mm and 35mm prints courtesy National Film and Sound Archive of Australia.
Image: Still from Joe Leahy's neighbours
Wednesdays 2pm & 7.15pm, Sundays 2pm
11 June - 27 July 2014
except 15 June
Free
Films start at the advertised time. Doors open 30 minutes before. Tickets are issued at the Domain Theatre one hour before. Latecomers not admitted. When two films screen with an interval, people will be admitted for the second film if seats are available.

Location: Domain Theatre
Related exhibition: Plumes and pearlshells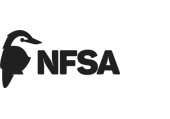 Yumi yet, Ileksen: politics in Papua New Guinea
Yumi yet
Dir: Dennis O'Rourke 1976 (Aust)
54 mins 16mm Colour
Highlighting a culture of astonishing juxtapositions and contradictions, O'Rourke's brilliant documentary records Independence Day in Papua New Guinea in 1975. Unfolding casually, with a loose observational structure, the film compares the pageantry of local celebrations with the official ceremony in the capital and offers a vivid tapestry of a country hovering uneasily between traditional culture and Western modernisation. 'O'Rourke uses music, voices, radio broadcasts and found imagery to fashion a witty, politically hip portrait of Independence Day in Papua New Guinea…' – John Powers, LA Weekly.
Ileksen: politics in Papua New Guinea
Dir: Dennis O'Rourke, Gary Kildea 1978 (Aust)
59 mins 16mm Colour
A companion to Yumi yet, O'Rourke and Kildea's Ileksen (derived from the English 'election') documents Papua New Guinea's first general election in 1977. The film records a broad cross-section of candidates who, without an extended media network at their disposal, rely on relentless campaigning, ingenuity and personal charisma to attract votes. Emphasising the divide between coastal people and highlanders, Ileksen looks at the election campaign, election day and the political manouvering that goes with the formation of a government.
There will be a five-minute interval between the two films.
Wednesday 11 June 2014
2pm – 3:53pm
Wednesday 23 July 2014
2pm – 3:53pm
Wednesday 23 July 2014
7:15pm – 9:08pm
Sunday 27 July 2014
2pm – 3:53pm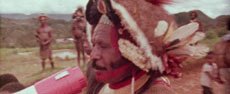 First contact
Dir: Bob Connolly, Robin Anderson 1983 (Aust)
55 mins 35mm Colour
Nominated for an Academy Award for best documentary feature, First contact is the initial instalment in Connolly and Anderson's celebrated Highlands trilogy – a series that also includes Joe Leahy's neighbours and Black harvest. The documentary is based on film footage shot in the 1930s by gold prospector Michael Leahy. Along with his brothers Daniel and James, Leahy was the first white person to venture into the vast New Guinean interior. The brothers were searching for gold in what they thought was an uninhabited part of the remote Western Highlands. Instead they discovered thousands of highlanders who had never encountered 'white' men. This landmark documentary incorporates astonishing footage of first contact between the highland tribes of New Guinea and Australian explorers, as well as interviews with the two surviving Leahy brothers and some of the highlanders who witnessed their arrival.
Wednesday 11 June 2014
7:15pm – 8:10pm
Wednesday 18 June 2014
2pm – 2:55pm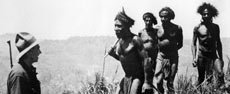 Joe Leahy's neighbours
Dir: Bob Connolly, Robin Anderson 1988 (Aust)
93 mins 16mm Colour
Focusing on Michael Leahy's son, Joe, this second film in Connolly and Anderson's Highlands trilogy concerns itself with the complexity of first and third world relations. Joe is a successful businessman who runs a coffee plantation in the Papua New Guinea highlands. His mixed race (Joe's mother was highlander Jiga Amp Marpa) and affluence set him apart from his neighbours – the Ganiga – who eke out a traditional subsistence lifestyle. He is an economic liberal, the Ganiga a communal society. The negotiations between Joe and the clans are far from simple. Made with tenacity, courage and sensitivity, the film presents a portrait of a community painfully adjusting to the demands of the modern world – between ancient tribal loyalties and the sharp business practices of the 20th century.
Wednesday 18 June 2014
7:15pm – 8:48pm
Sunday 22 June 2014
2pm – 3:33pm
Wednesday 25 June 2014
2pm – 3:33pm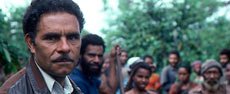 Black harvest
Dir: Bob Connolly, Robin Anderson 1992 (Aust)
90 mins 16mm Colour Rated M
Black harvest, the final film in the Highlands trilogy, charts the progress of coffee planter Joe Leahy in convincing his volatile neighbours, the Ganiga people, to join him in a coffee-growing venture. He provides the expertise and raises the money; they supply the land and labour. But on the eve of success, market fluctuations and the demands of tribal alliances put the project in jeopardy. A complex story of shared ambition, the film focuses on Joe's delicate alliance with Popina Mai, the leader of one of the four clans that constitute the Ganiga. Winning numerous awards at international film festivals, Anderson and Connolly spent a year filming this extraordinary story which is often cited as one of the most engaging examples of direct cinema. '...perhaps the best documentary of all at Sundance (1993) was the Australian Black harvest. With the scale and richness of classical tragedy, Bob Connolly and Robin Anderson's movie records the clash between tribalism and capitalism, the ancient and the modern, and the downfall of a man caught between two cultures… The audience is witness to a spectacle few fiction writers could rival.' – Newsweek
Wednesday 25 June 2014
7:15pm – 8:45pm
Sunday 29 June 2014
2pm – 3:30pm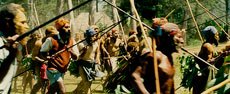 'Cannibal Tours'
Dir: Dennis O'Rourke 1988 (Aust)
69 mins 35mm Colour
One of Australia's most respected and acclaimed documentary filmmakers, O'Rourke spent many years documenting the changing lives of Pacific islanders. In 'Cannibal Tours' his camera follows a group of Western tourists on a trip up the Sepik River, observing the holidaymakers taking photos, making home movies and bargaining for native artefacts. With wry humour and acute observation, the film explores the chasm between the visitors and the traditional Sepik River people, each expressing their bemusement at the behaviour of the other. Revealing the condescension and corruption of 'cultural tourism', the film wrestles with the bind of the native people who, whilst being exploited, stand to gain materially from the presence of the crass tourists. 'A dryly funny, perceptive, and terribly disturbing documentary masterwork.' – John Hinde, ABC Radio (Sydney)
Wednesday 2 July 2014
2pm – 3:09pm
Wednesday 2 July 2014
7:15pm – 8:24pm
Sunday 6 July 2014
2pm – 3:09pm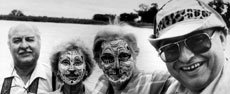 Sharkcallers of Kontu, Tidikawa and friends
Sharkcallers of Kontu
Dir: Dennis O'Rourke 1982 (Aust)
55 mins 16mm Colour
To learn more about the tradition of sharkcalling and the disruptive outside forces affecting their village, O'Rourke spent six months living with the people of Kontu on the remote west coast of New Ireland, PNG. Sharkcalling is a ritual believed to emanate directly from the gods: a magic power passed on through generations, which enables men to kill sharks with their bare hands. But with the encroachment of the modern world the magic is disappearing, replaced by an individualist, rationalist economic system.
Tidikawa and friends
Dir: Jef Doring & Su Doring 1972 (Aust)
84 mins 16mm Colour
Jef and Su Doring's ground-breaking documentary provides the only existing record of the Bedamini people of the Great Papuan Plateau rainforest. At the time of filming in 1971, they were cut off from the rest of the world and, as a result, their traditional lifestyle remained relatively intact. With little spoken commentary, the film portrays the tempo and tenor of their daily life and emphasises the role played in the lives of the people by their spiritual medium, Tidikawa. It won a Gold Award at the 1973 American Film Festival and an ACS Golden Tripod award.
There will be a five-minute interval between the two films.
Wednesday 9 July 2014
2pm – 4:19pm
Wednesday 9 July 2014
7:15pm – 9:34pm
Sunday 13 July 2014
2pm – 4:19pm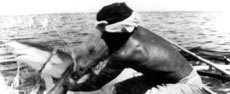 Cowboy and Maria in town, Man without pigs
Cowboy and Maria in town
Dir: Les McLaren, Annie Stiven 1991 (Aust)
59 mins 16mm Colour
Exploring individual responses to rapid social change, Cowboy and Maria in town follows the parallel lives of its two central characters. Cowboy and Maria have independently landed in Port Moresby, negotiating ways to survive urban life in a city ranked as one of the most dangerous in the world. Cowboy is an ex-raskol (urban bandit) and Maria an inhabitant of a squatter settlement. Unemployed and with a jail record, Cowboy has constructed an electric guitar out of scrap materials and plays on street corners. Maria lives an equally precarious existence, cultivating a seasonal garden in an urban settlement inflamed by frustration and intertribal conflicts. Far from being third world victims, they go about their daily lives with humour and imagination, rising to the challenge of enormous cultural upheaval.
Man without pigs
Dir: Chris Owen 1990 (Aust)
62 mins 16mm Colour
'John Waiko is the first Papua New Guinea man to graduate with a PhD and be appointed a professor. He returns to the Binandere clan and his small village of Tabara in the Northern Province of PNG. Once there, he has to organise a celebration for his achievements with his family's help. Since he has been away for most of his life, he has no recognised wealth in the village (the pigs used for gift giving), nor a network of supporters or knowledge of the preparation and rituals for having such a celebration. He wants the event to happen quickly but that's not the way it works in Tabara. Man without pigs focuses on the antagonism aroused by the clash between traditional customs and Western values in this remote PNG community.' – Pat Fiske, Australian Screen
There will be a five-minute interval between the two films.
Wednesday 16 July 2014
2pm – 4:01pm
Wednesday 16 July 2014
7:15pm – 9:16pm
Sunday 20 July 2014
2pm – 4:01pm