Film series: Nude and naked
Representations of nudity in cinema
Art historians and critics have ventured to make a distinction between the nude and the naked. In his 1956 book The nude: a study in ideal form, Kenneth Clark suggests that the naked human body is often self-conscious and may even be an embarrassment to the onlooker – shy, exposed and unprotected. 'The word "nude", on the other hand, carries, in educated usage, no uncomfortable overtone. The vague image it projects into the mind is not of a huddled and defenceless body, but of a balanced, prosperous and confident body.' In his 1972 book Ways of seeing, John Berger wrote a rejoinder to Clark: 'To be naked is to be oneself. To be nude is to be seen naked by others and yet not be recognised for oneself. A naked body has to be seen as an object in order to become nude… Nakedness reveals itself. Nudity is placed on display'.
Twentieth-century movies portray the unclad body in significantly different ways. Nakedness may help to define a character, suggesting his or her authenticity, lack of guile or pretension, or intense vulnerability. Candid nudity may signal spontaneity, daring and desirability, implying that a character is carefree, uninhibited, manipulative or something of an exhibitionist. However it is an undeniable fact that in the majority of movies partial or complete undress is exploited for sheer box-office value.
This film series explores nudity and nakedness in cinema – actual or implied – and registers the shifting moral, social and political forces that defined the limits of on-screen 'states of undress'. Screening in conjunction with the exhibition Nude: art from the Tate collection, it encompasses world cinema, showcasing some of the key films of the 20th century which dared break with moral convention, challenging, polarising and scandalising their audiences.
Image: Still from Tarzan and his mate
Various Wednesdays, Saturdays, Sundays
9 November - 18 December 2016
4 January – 5 February 2017
See listing for details
Free
Films start at the advertised time. Doors open 30 minutes before. Tickets are issued at the Domain Theatre one hour before. Latecomers not admitted. Babes in arms not permitted.

Location: Domain Theatre
Related exhibition: Nude
The blue angel
Dir: Josef Von Strenberg 1930 (Germany)
108 mins 35mm B&W Rated PG
Marlene Dietrich, Emil Jannings
German with English subtitles
The first major sound film produced in Germany was The blue angel. Searching for an actor who would exude the raw sexuality of a vamp, director Von Sternberg discovered Dietrich playing a bit part in a Berlin theatre. He co-starred her with the immensely popular German actor Jannings, in a film that has retained its hold on the public imagination for more than 80 years. The blue angel is an unsparing account of a straight-laced, bourgeois schoolteacher, Professor Rath, and his obsession with Lola Lola, a cabaret dancer. One of the earliest 'talkies', this technically dazzling film traces an 'upright' man's folly as it exploits the radiant sensuality of Dietrich. As the political situation in Germany worsened with the rise of Nazism, along with many German intellectuals and artists, Dietrich and Sternberg fled to America. The blue angel was banned in Nazi Germany in 1933 but Hitler viewed it often in his private cinema. Although never appearing fully naked, Lola's libidinousness was a revelation to 1930s moviegoers, challenging the limits of on-screen sexuality and placing Dietrich at the forefront of principal female actors. In the US city of Pasadena, the censor banned the film, then – upon appeal – relented and removed 'offensive scenes'. The contemptuous audience at the premiere staged a raucous verbal protest in reaction to the film being slashed.
Wednesday 9 November 2016
2pm – 3:48pm
Wednesday 9 November 2016
7:15pm – 9:03pm
Sunday 13 November 2016
2pm – 3:48pm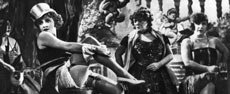 Age of consent
Dir: Michael Powell 1969 (Australia)
103 mins 35mm Colour Rated PG
James Mason, Helen Mirren
Director Powell (The red shoes) embarked on his final feature film during a period of self-imposed exile in Australia. Age of consent explores the intense and obsessive nature of artist Bradley Moraham (Mason) as he faces the sunset of his career – taking stock of his life and ultimate worth. Retiring from the bustle of New York, he seeks the tranquility of Australia's Great Barrier Reef. Bradley meets an innocent young woman, Cora (Mirren), who provides him the impetus to paint again. Their passionate, erotically charged encounter reveals the power of the mesmerising young woman and the tortured soul of the artist. Whilst not considered one of Powell's great films (unfortunately lumbered with moments of overcooked humour), this romantic drama has genuine charm and poignancy and screened for months in Sydney cinemas in 1969. Overseas it faced critical and commercial indifference with distributors, nervous at the amount of nudity, removing six minutes of the most contentious material. Presented in the original director's cut, this fully restored version features the original score by Peter Sculthorpe which was removed when Age of consent was first released.
Wednesday 16 November 2016
2pm – 3:43pm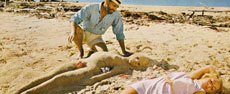 Tarzan and his mate
Dir: Cedric Gibbons 1934 (US)
104 mins 35mm B&W Rated PG
Johnny Weismuller, Maureen O'Sullivan
A product of pre-code Hollywood – the brief era of 'immorality' in the American film industry before the enforcement of censorship guidelines – Tarzan and his mate's cult status is largely due to Maureen O'Sullivan wearing one of the most revealing costumes to be seen on screen at that time. The Irish actor was eager to be cast as the intrepid English girl who falls in love with the jungle man. 'I felt Jane was pretty much me,' she later revealed. 'I was pretty adventurous without any particular ambition except for more adventure.' O'Sullivan plays the thrill-seeking Jane as self-assured, confident and defiant of conventional gender roles. Tarzan and his mate was banned in Germany by the National Socialist Party on the grounds that it depicted a Nordic man in 'primitive' surroundings, but was otherwise a huge international success. This rare 35mm print is complete with the sequence which caused considerable commotion in 1934, and was later removed by censors: a lyrical 'underwater nude ballet' featuring Olympic swimmer Josephine McKim. The best in the cycle of 1930s and '40s Tarzan movies, the US Library of Congress deemed the film 'culturally, historically or aesthetically significant' and selected it for preservation in the National Film Registry. Print courtesy of the Academy Film Archive (Academy of Motion Picture Arts and Sciences).
Wednesday 16 November 2016
7:15pm – 8:59pm
Sunday 20 November 2016
2pm – 3:44pm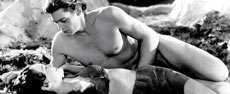 Summer with Monika
Dir: Ingmar Bergman 1953 (Sweden)
96 mins 35mm B&W Rated R (unclassified)
Harriet Andersson, Lars Ekborg
Swedish with English subtitles
A disillusioned young city-dweller Harry (Ekborg) is frustrated with his menial job. He meets a sultry beauty, the spirited and spontaneous Monika (Andersson), and together they give up their banal life for an erotic summer spent on an island. Summer with Monika sparked controversy in many countries for its frank depiction of nudity and – along with another Swedish film, Arne Mattsson's One summer of happiness from the previous year – helped to create the reputation of Sweden as a sexually liberated utopia. The bold eroticism of Bergman's first international success heralded a wave of cinematic liberation in the 1950s. The brief nude scenes of Andersson are mild by today's standards, but in 1953 it endured heavy moral scrutiny. In America the film was sold on the exploitation circuit emblazoned with the provocative tagline 'The story of a bad girl!' Soon after opening in LA, the vice squad seized the prints and charged the distributor with selling an indecent product. In France Summer with Monika became a model for French New Wave directors; a personal, intimate cinema they aspired to create. 'The most original film by the most original of filmmakers,' wrote Jean-Luc Godard, while François Truffaut made an overt homage in The 400 blows (1959), when Antoine steals the infamous publicity image of Andersson from a cinema lobby. Print courtesy Swedish Film Institute and Embassy of Sweden.
Wednesday 23 November 2016
2pm – 3:36pm
Wednesday 23 November 2016
7:15pm – 8:51pm
Sunday 27 November 2016
2pm – 3:36pm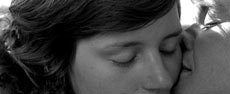 La dolce vita
Dir: Federico Fellini 1960 (Italy)
175 mins 35mm B&W Rated M
Marcello Mastroianni, Anouk Aimée, Walter Santesso, Anita Ekberg
Italian with English subtitles
Simultaneously drawn to, and repelled by, the decadent lifestyles he records, a jaded society journalist (Mastroianni) takes us on a surreal journey through Rome. He navigates a world in which surface realities, fame and notoriety are all important. The now widely used term 'paparazzi' derives from the name of his ruthless photographer colleague, Paparazzo (Santesso). Before the sanctioning of full nudity in modern cinema, films such as La dolce vita were obliged to use other strategies to convey their eroticism. Celebrated scenes such as Hollywood starlet Sylvia (Ekberg) in a low-cut black evening gown cooling off in the water of Rome's Trevi Fountain were cause for much controversy. Such explicit sexuality was revolutionary for its time. Fellini placed the female figure at the centre of the drama and recognised the importance of women with his focus on relationships. His rejection of linear narrative was also revolutionary and La dolce vita's meandering modernist structure proved exhilarating for audiences.
Note: Due to its length, this film starts earlier than usual. Includes a ten-minute intermission.
Wednesday 30 November 2016
1:30pm – 4:35pm
Wednesday 30 November 2016
6:30pm – 9:35pm
Sunday 4 December 2016
1:30pm – 4:35pm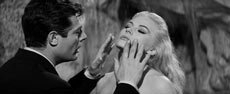 Who's that knocking at my door?
Dir: Martin Scorsese 1968 (US)
90 mins 35mm B&W Rated M
Harvey Keitel, Zina Bethune
The obsessional concerns of Scorsese's later films are evident in his first feature. JR (Keitel) is a typical Anglo-American on the streets of New York. Smitten with a local girl, he decides to get married and settle down. Attempting to shed the shackles of Catholicism, he fumbles through a stormy relationship with a free-thinking, elusive young woman played by Bethune. A micro-budget, independent feature made over a four-year period (1965-68), Who's that knocking at my door? was recently critiqued by the director as 'a rough sketch'. It offers a fascinating glimpse of what was to come from the modern cinema master. Describing the genesis of the the film's stylised sex scene, Scorsese revealed that the only marketing agent he could find was 'a sex film distributor' who insisted on the inclusion of a nude scene. Scorsese complied and devised an episode which he shot out of sequence in Holland where he was directing a commercial. 'We flew Harvey over,' Scorsese said, 'and we got the young ladies there and we did this nude scene. I came back, kind of smuggled it into the country in my raincoat, put it in the middle of the film and then the film was released.'
Wednesday 7 December 2016
2pm – 3:30pm
Wednesday 7 December 2016
7:15pm – 8:45pm
Sunday 11 December 2016
2pm – 3:30pm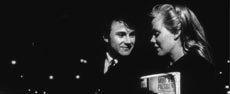 Un chant d'amour / Mala noche
Un chant d'amour
Jean Genet 1950 (France)
26 mins 16mm B&W Rated R
Silent and shot in grainy black and white, Genet's transgressive film presents a passionate relationship between male inmates, separated from each other by the prison walls. The prisoners express their estranged desire for each other in increasingly sensual ways. Genet's explicit, languid eroticism was initially forbidden in France, and only available in the US in censored form and through underground distribution.
Mala noche
Dir: Gus Van Sant 1985 (US)
78 mins 35mm B&W Rated
Tim Streeter, Doug Cooeyate
Van Sant's low-budget first feature, shot in lush black and white, foreshadowed a provocative new voice in American independent film and the New Queer Cinema of the 1990s. Streeter plays Walt, a manager stuck behind the cash register of a seedy liquor store in Portland, Oregon. He becomes infatuated with Johnny (Cooeyate), a Mexican teenager and illegal immigrant who doesn't speak English. Johnny is unmoved by Walt's attentions and not willing to reciprocate. Forlornly romantic, Walt lives dangerously with Johnny, satisfying his desires with Pepper, one of Johnny's friends, as he bides his time. The refusal of Van Sant's actors to appear naked or engage in explicit sexual positions led to the use of meticulously edited close-ups of faces and indiscernible flesh to create scenes of stilted intimacy between Walt and Pepper. An honest uncritical movie about a subject that mainstream Hollywood would never countenance, this tale of a twisted love triangle is based on Beat poet Walt Curtis' provocative autobiographical novella.
Saturday 10 December 2016
2pm – 3:44pm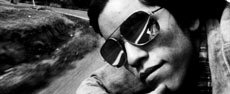 In the realm of the senses
Dir: Nagisa Oshima 1976 (Japan)
107 mins 35mm Colour Rated R (18+)
Kichizo Ishida, Sada Abe
Japanese with English subtitles
A graphic portrayal of insatiable sexual desire, director Oshima's explosive story is based on a true incident which occurred in 1936. It concerns a servant, Eiko Matsuda (Abe), who becomes sexually obsessed with her employer, Tatsuya Fuji (Ishida). The pair are consumed by a transcendent yet destructive love. Set in an era of ever-escalating militarism and governmental control, In the realm of the senses is a taboo-breaking milestone. Containing scenes of unsimulated sexual activity, during shooting, the daily negatives had to be secretly shipped out of Japan to France for developing. Initially banned upon its premiere in the United States at the 1976 New York Film Festival, a similar fate awaited its release in Germany. Intended as a work of politics rather than eroticism, the controversy assisted its commercial success. Still censored in Japan, In the realm of the senses remains one of the most contentious films of all time.
Wednesday 14 December 2016
2pm – 3:47pm
Wednesday 14 December 2016
7:15pm – 9:02pm
Sunday 18 December 2016
2pm – 3:47pm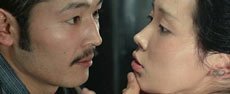 Two films by Barbara Hammer
Barbara Hammer is renowned as a pioneer of lesbian cinema, creating the earliest and most extensive body of experimental films on lesbian life and sexuality. She designed her 'lost queer history' trilogy – which includes Nitrate kisses and History lessons – to speak specifically to a LGBTI audience. The films will be introduced by Ruby Arrowsmith-Todd – film history doctoral candidate at the University of Canberra
Nitrate kisses
Barbara Hammer 1992 (US)
67 mins 16mm B&W Rated R (18+)
Using the hidden eroticism of movies, Hammer's taboo-busting documentary focuses on the marginalisation of lesbian and gay sexuality in the 20th century. Working with an optical printer she re-constitutes old 'found' film material, manipulating it to confound perception and explore hidden aspects of homosexual history. The film focuses on the life of lesbian novelist Willa Catha and the treatment of lesbians by the Third Reich, and includes rare footage from the 1933 homoerotic film Lot in Sodom. This striking material is freely interwoven with grainy black-and-white Super 8 footage, shot by Hammer, which forms extended sequences of explicit, intimate lovemaking by couples, including two elderly lesbians, a gay male couple and an S&M lesbian couple. Unashamedly fragmented in form, Hammer's approach eschews a singular idea of what constitutes as queer identity and emphasises the importance of articulating history's silences.
History lessons
Barbara Hammer 2000 (US)
66 mins 16mm Colour Rated R (18+)
History lessons is a hilariously irreverent romp through the annals of archival cinema. Hammer appropriates footage of women from newsreels, early stag and porn films, 1950s educational films and other historical clips, reclaiming the source material – which was originally shot by men – and subverting the original intent. Edited across time and out of context, the resulting free-wheeling pastiche creates a provocative, alternative history constructed of farcical visual puns and cheeky sexual innuendo. 'All of my films have a social purpose, even though you may not think of it when you watch them,' states Hammer. History lessons was the final installment in the filmmaker's trilogy of experimental documentaries on lesbian and gay histories (which also includes Nitrate kisses).
Note: Includes a ten-minute intermission.
Saturday 17 December 2016
2pm – 4:33pm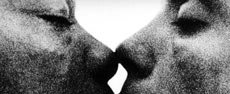 That obscure object of desire
Dir: Luis Buñuel 1977 (France)
102 mins 35mm Colour Rated M
Fernando Rey, Carole Bouquet, Angela Molina
French with English subtitles
Buñuel's final film explodes with eroticism, expanding on the director's lifelong preoccupation with the darker side of desire. Rey plays Mathieu, an urbane widower, tortured by his lust for the elusive Conchita. With subversive flare, Buñuel uses two different actresses in the lead – Bouquet, a sophisticated French beauty, and Molina, a Spanish coquette. Drawn from La femme et le pantin, Pierre Louÿs's 1898 novel, That obscure object of desire is a dizzying game of sexual politics that harkens back to the director's brilliant surrealistic beginnings.
Wednesday 4 January 2017
2pm – 3:42pm
Wednesday 4 January 2017
7:15pm – 8:57pm
Sunday 8 January 2017
2pm – 3:42pm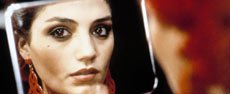 Blue velvet
Dir: David Lynch 1986 (US)
120 mins 35mm Colour Rated R (18+)
Isabella Rossellini, Kyle MacLachlan, Laura Dern, Dennis Hopper
In Lynch's electrifyingly original neo-noir horror/thriller, MacLachlan and Dern play youngsters who become involved in the mystery surrounding a nightclub singer and are plunged into the dark, surreal depths of small-town America. Described by one reviewer at the time of release as 'the sickest movie ever made', Blue velvet is now regarded as one of the most influential American films of the 1980s. Initially mainstream distributors were too timid to acquire the film and producer Dino De Laurentiis was forced to establish his own company to release it. The biggest uproar concerned the casting of Rossellini – daughter of celebrated actor Ingrid Bergman and director Roberto Rossellini – as the troubled singer. Dorothy is a sexual slave to a violent, psychotic criminal played by Hopper. In an infamous scene where she stumbles shocked, battered and naked onto a suburban front lawn, it was Rossellini's decision not to cover herself with her arms. 'It was very important to come out with a gesture of total helplessness,' she said during one interview. 'When I came out of the bushes totally naked, I felt like a slab of beef hanging. There was nothing sexy about it.' The scene was inspired by a traumatic incident Lynch and his brother witnessed as children.
Wednesday 11 January 2017
2pm – 4pm
Wednesday 11 January 2017
7:15pm – 9:15pm
Sunday 15 January 2017
2pm – 4pm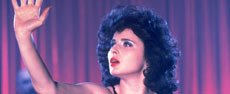 Law of desire
Dir: Pedro Almodóvar 1987 (Spain)
102 mins 35mm Colour Rated R (18+)
Eusebio Poncela, Antonio Banderas, Miguel Molina, Carmen Maura
Spanish with English subtitles.
A film director, Pablo (Poncela), is frustrated by his relationship with his straight-acting lover, Juan (Molina), and reluctantly agrees to spend 'time apart'. The handsome Antonio (Banderas), an obsessive fan of Pablo's homo-erotic movies, is only too happy to fill the gap left in Pablo's life. One of Almodóvar's most autobiographical films, Law of desire is a comic thriller depicting the complex relationship between filmmaker and fan. As the possessive young fan, Banderas delivers an edgy, more sexually charged performance than anything that followed in his Hollywood career, while Maura rises magnificently to the challenge of playing Pablo's emotionally vulnerable, transsexual sister. Unconventional and defiant of taboo, Law of desire features nudity, sex, violence and subversive humour in its affection for misfits and the marginalised. The film was revolutionary at the time of release, with Almodóvar debating questions of gender long before the subject gained mainstream acceptance.
Wednesday 18 January 2017
2pm – 3:42pm
Wednesday 18 January 2017
7:15pm – 8:57pm
Sunday 22 January 2017
2pm – 3:42pm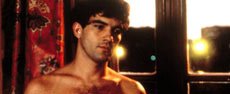 Experimental film collection
A collection of experimental films, which, from the 1960s to the 1990s, pushed nudity and erotica to new and confounding limits.
Bottoms
Yoko Ono 1966 (US)
4 mins 16mm B&W Rated R
The first of two films made by Ono in 1966, Bottoms is a montage of anonymous buttocks, made in collaboration with David Cox.
Fly
Yoko Ono 1966 (US)
25 mins 16mm B&W Rated R
Ono's infamous Fly, made with John Lennon, features a common house fly exploring a nude body.
Removed
Naomi Uman 1999 (US)
7 mins 16mm Colour Rated R (unclassified)
Using 'found' fragments of an old celluloid porn film, nail polish remover, bleach and a magnifying glass, filmmaker Uman has physically erased the image of the nude woman from a standard pornographic scenario. In her hilarious deconstructed version, only the leering men (who now respond to a pulsating blank space on the film strip) and the original, predictable dialogue track remain.
7362
Patrick O'Neill 1970 (US)
7 mins 16mm Colour Rated R (unclassified)
A barrage of contrasting, vividly coloured negative-positive images juxtapose the rigid movements of machines (oil derricks in Southern California) with the supple movements of a nude figure – distorted in a fusion of colour, form and motion. The soundtrack is devised by Joseph Byrd and Michael Moore from instruments and mechanical sounds. The title refers to the Kodak high-contrast camera stock on which the film was made.
Cosmic Ray
Bruce Conner 1961 (US)
4 mins 16mm B&W Rated R (unclassified)
Exploiting the spellbinding effect of old film footage, artist Conner ransacked documentaries, newsreels and instructional films, carefully editing the 'found footage' into dynamic, experimental montages. One of the first filmmakers to use pop music as a soundtrack, he marries his constantly shifting collage of girlie films, countdown leader, cartoons and newsreels with Ray Charles' pop song What'd I say. When Conner was asked about his obvious impact on music videos, he replied, 'Don't blame me.'
Ten-minute intermission
La belle cérébral
Peter Foldes 1967 (France)
14 mins 16mm Colour Rated R (unclassified)
An indifferent young woman daydreams, plays with her jewels, dances, eats a pear; out of shot, a dispute between two men develops, news of mass shootings and catastrophes – are these events real? Objects come to life; a wig emerges from a drawer to caress the woman, flowers bloom in her hair. Budapest-born Foldes was one of a number of Hungarian émigrés drawn to animation. Relocating to Britain after World War II, he continued his pioneering work in France and Canada, receiving a special jury prize at Cannes, a Bafta and a Silver Hugo for his work.
If the unconscious revolts
Alfredo Leonardi 1967 (Italy)
19 mins 16mm B&W Rated R (18+)
A lyrical film-poem chronicling the relationship between filmmaker Leonardi and the politically radical Living Theater Group. Founded in 1947, based in New York, in the mid-1960s Living Theater was unable to perform in its home city due to the closure of the performance space. For the rest of the 1960s the group toured chiefly in Europe. Leonardi uses superimposition to convey the confusion and complexity of the situation, with intimate moments of the group living an itinerant, communal existence. The result is a wonderful furioso of images. The hand-held camera catches snippets of rehearsals, conversations without sound, bits of theatre and intimate daily life. Leonardi was a leading figure of the 1960s Italian underground cinema movement centred on the Cooperative Cinema Indipendente (1967-69) which inspired several intense years of production of Italian avant-garde films.
Saturday 21 January 2017
2pm – 3:30pm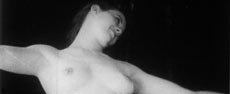 The cook, the thief, his wife and her lover
Dir: Peter Greenaway 1989 (US)
124 mins 35mm Colour Rated R (18+)
Richard Bohringer, Michael Gambon, Helen Mirren, Alan Howard
Greenaway's most infamous film shocked audiences at the 1989 Cannes Film Festival. A churlish mobster, Albert Spica (Gambon), entertains nightly in an upscale French restaurant he has recently purchased. His wife, Georgina (Mirren), tired of her oafish husband, begins an affair with a restaurant guest (Howard). Georgina organises liaisons with silent permission from the resentful cook (Bohringer). A self-conscious construct, featuring deadly passions reminiscent of Jacobean revenge tragedies of the early 17th century, this brutal yet elegant film explores the connections between eating and sex, love and death. It features Sacha Vierny's brilliant camerawork, Jean-Paul Gaultier's gaudily stylised costumes and Michael Nyman's somber, pulsating music. With scenes of sacrifice and cannibalism, it is a potent meditation on greed and widely interpreted as an allegory for Thatcherism. Audience reaction ranged from outraged and disgusted to fascinated and mesmerised. Critics labeled the political satire daring, the story grotesque and the design and photography a sumptuous feast for the ears and eyes.
Wednesday 25 January 2017
2pm – 4:04pm
Wednesday 25 January 2017
7:15pm – 9:19pm
Sunday 29 January 2017
2pm – 4:04pm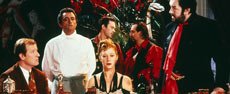 Beau travail
Dir: Claire Denis 1999 (France)
92 mins 35mm Colour Rated
Denis Lavant, Michel Subor
French with English subtitles
A military man, Galoup (Lavant) – an officer at an outpost in the Gulf of Dijbouti – finds his position of prominence questioned when a new recruit wins the commander's favour. Herman Melville's novella Billy Budd, Benjamin Britten's 1951 opera of the same name, and Jean-Luc Godard's 1960 film, Le petit soldat, resonate in Denis' rapturous Beau travail. Fragments can be heard in snatches of music, snippets of dialogue and sections of poetry. Set within the anonymity of the French Foreign Legion – depicted as an archaic remnant of empire – this 1998 exploration of male identity-in-crisis examines sentimental notions of comradeship and solidarity. Foregrounding male beauty, Beau travail explores the asceticism and severity of the soldier's life – reliant on rank and military structure – where young men prepare for imaginary battles that will never occur. Uncovering male codes and rituals, it examines tensions at the heart of a military society – the primal bonding and resistance to intimacy – and the distress and disorientation that occurs when these conventions are disrupted.
Wednesday 1 February 2017
2pm – 3:32pm
Wednesday 1 February 2017
7:15pm – 8:47pm
Sunday 5 February 2017
2pm – 3:32pm