Film series: Asian new waves
Films from China, Taiwan and Iran
Having embraced cinema with enthusiasm, the diverse and vibrant cultures of Asia have produced some of the most vital film industries in the world.
Every nation's cinema is influenced by its social and political history. For China, Taiwan and Iran, the 20th century was often a time of political turmoil. The resulting ferment provoked writers, directors and producers to re-examine history along with bureaucratic and social conventions. As the political climate shifted during the 1980s and 90s, filmmakers took advantage of a relaxation in censorship laws and a decrease in government scrutiny to tackle previously forbidden subjects. Emphasising a personal and artistic vision, they produced stories rich in symbolic meaning, highlighting ironies and absurdities rather than directly challenging political regimes.
Embracing an eclectic range of stories and genres drawn from decades of production – intimate, epic, historical, domestic, international and local – this series of films registers the climate of 25 years of filmmaking in China, Taiwan and Iran. It screens in association with the exhibition Beyond words: calligraphic traditions of Asia, on display until April 2017.
Image: Still from The white balloon
Wednesdays 2pm & 7.15pm, Sundays 2pm
8 February – 28 May 2017
Free
These sessions are very popular and fill quickly. Seating is limited and allocated on arrival.
Films start at the advertised time. Doors open 30 minutes before. Tickets are issued at the Domain Theatre one hour before. Latecomers not admitted. Babes in arms not permitted.

Location: Domain Theatre
Related exhibition: Beyond words
Related gallery: Asian galleries
The white balloon
Dir: Jafar Panahi 1995 (Iran)
85 mins 35mm Colour Rated G
Aida Mohammadkhani, Mohsen Kafili
Persian with English subtitles
A classic of the Iranian new wave and one of the most acclaimed to be released internationally, Panahi's film is a striking example of post-revolutionary Iranian cinema. Razieh (Mohammadkhani), a strong-willed little girl in Tehran, wants to buy a lucky goldfish for the upcoming Iranian New Year celebration. Hindered by adult interference, she struggles to obtain the 500-toman banknote needed to purchase the fish. A precursor to the director's equally outstanding and more overt social commentary The circle (screening 8 and 12 March), The white balloon depicts the world of children with all its joys, fears and threats – including anxieties of financial ruin and punishment – from a subtle political perspective. Written by fellow director Abbas Kiarostami and shot on location in the streets and alleys of a small section of Tehran, the film seeks to uncover the humanity of the everyday with a simply-told story about children and the life of local neighbourhoods.
Wednesday 8 February 2017
2pm – 3:25pm
Wednesday 8 February 2017
7:15pm – 8:40pm
Sunday 12 February 2017
2pm – 3:25pm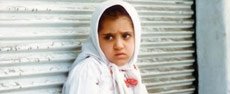 The runner
Dir: Amir Naderi 1984 (Iran)
94 mins 35mm Colour Rated G
Majid Niroumand
Persian with English subtitles
Director Naderi's filmmaking career, like those of many of his Iranian contemporaries, has stretched over a long period, encompassing pre-revolutionary and post-revolutionary Iran, constantly adapting to the constraints on the film industry that these turbulent decades imposed. The runner, his most acclaimed film, shows the world of a young orphan boy, Amiro (Niroumand), who has to scrounge for his living along the waterfront of a Gulf seaport. He lives in a rusty hulk, earning a meagre living by shining shoes, selling water and collecting empty bottles washed ashore from passing cruise ships. The title refers to a game where he and his friends race against each other to try to touch the end of an accelerating train as it leaves the station. Shot in a simple neorealist style, The runner was very successful internationally, winning several major awards and arousing the suspicions of Iranian authorities, which eventually led to the director settling in the US.
Wednesday 15 February 2017
2pm – 3:34pm
Wednesday 15 February 2017
7:15pm – 8:49pm
Sunday 19 February 2017
2pm – 3:34pm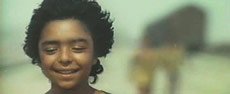 Bashu: the little stranger
Dir: Bahram Beizai 1989 (Iran)
121 mins 35mm Colour Rated PG
Susan Taslimi, Adnan Afravian
Persian with English subtitles
A young Iranian boy, Bashu (Afravian), loses his home and family in an air raid during the Iran-Iraq War. He instinctively flees, sneaking onto a truck that transports him to a northern region far away from the battlefront. The mountainous rural area is an alien environment where everything seems strange to the boy. A local woman, Naï (Taslimi), finds Bashu on her farm and gives him shelter. After Bashu tells her of his past, Naï accepts him as a son and attempts to initiate him into the ways of life in the region. Painting a unique portrait of Iranian rural life, director Beizai offers a vivid, moving story of a resilient boy who eventually finds his way into a new family after his tragedy.
Wednesday 22 February 2017
2pm – 4:01pm
Wednesday 22 February 2017
7:15pm – 9:16pm
Sunday 26 February 2017
2pm – 4:01pm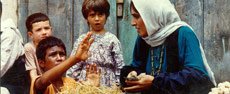 The colour of paradise
Dir: Majid Majidi 1999 (Iran)
90 mins 35mm Colour Rated PG
Hossein Mahjoub, Mohsen Ramezani
Persian with English subtitles
The hero of this fable of a child's innocence is Mohammed (Ramezani), a young, sight-impaired boy who is acutely attuned to the nuances of the world around him. He loves his lessons at the school for the blind and is loved by his grandmother and two sisters. However, Hashem (Mahjoub), his ambitious, widowed father, fears that having a disabled son will reduce his chances of remarriage into a prosperous family. He takes Mohammed back to his home village in the lush, green Caspian area of Iran in the hope that he will serve as a carpenter's apprentice. The natural world, now teeming around him, takes on mystical implications for Mohammed. Winning the Best Picture award at Montreal International Film Festival, The colour of paradise is made with delicacy and beauty, infused with the themes and æsthetics of Sufi poeticism, which has shaped much of Iran's contemporary cinema, in particular the work of popular auteur Majidi.
Wednesday 1 March 2017
2pm – 3:30pm
Wednesday 1 March 2017
7:15pm – 8:45pm
Sunday 5 March 2017
2pm – 3:30pm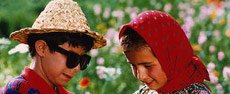 The circle
Dir: Jafar Panahi 2000 (Iran)
90 mins 35mm Colour Rated PG
Maryiam Palvin Almani, Nargess Mamizadeh
Persian with English subtitles
With a poetic, circular structure, The circle links the misfortunes and fates of five young women, who, struggling to function in the oppressive society of contemporary Iran, have committed unlawful acts under the laws of the Ayatollah. Exploring the courage and resilience that grows from a deep yearning for freedom, in many ways the film encapsulates the struggle of Iranian filmmakers who contend with the severe restrictions imposed on them by government censors. While Panahi's work is celebrated in the world's art houses, it is outlawed in Iran, where the regime considers his gritty, socially critical productions to be subversive. He has been under house arrest and officially banned from filmmaking since 2010 on the grounds of political dissent.
Wednesday 8 March 2017
2pm – 3:30pm
Wednesday 8 March 2017
7:15pm – 8:45pm
Sunday 12 March 2017
2pm – 3:30pm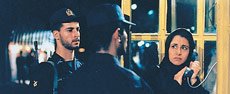 A separation
Dir: Asghar Farhadi 2011 (Iran)
123 mins 35mm Colour Rated PG
Peyman Moaadi, Leila Hatami, Sarina Farhadi, Ali-Asghar Shahbazi
Persian with English subtitles
The first Iranian film to win the coveted Golden Bear at the Berlin Film Festival as well as the Academy Award for Best Foreign Language Film, A separation is a fascinating, complex and painful portrait of fractured family relationships. After 14 years of marriage, Simin (Hatami) and Nader (Moaadi) want to separate. They live with their intelligent, sensitive 11-year-old daughter Termeh (Farhadi) and Nader's elderly father (Shahbazi), who is in need of constant care. Depicting the shifting power struggles within a modern family, the film explores themes of disparity between the rich and the poor and the traumatic transition from an old society to a new. This captivating drama was one of the most critically acclaimed films of 2011 and provided an insight for audiences around the world into Iranian culture and identity.
Wednesday 15 March 2017
2pm – 4:03pm
Wednesday 15 March 2017
7:15pm – 9:18pm
Sunday 19 March 2017
2pm – 4:03pm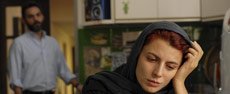 Dust in the wind
Dir: Hou Hsiao-hsien 1986 (Taiwan)
109 mins 35mm Colour Rated PG
Shu-Fang Chen, Shu-fen Hsin
Mandarin, Cantonese, Minnan with English subtitles
Dust in the wind marks Hou's transition from journeyman filmmaker to celebrated auteur. His wistful autobiographical story about lost love and innocence among Taiwan's working class shows the distinguished director at the height of his creative powers. Written by Nien-jen Wu, one of the driving forces for the New Taiwanese Cinema Movement of the early 1980s, it is the story of two high school sweethearts living in a down-and-out mining community in Taiwan's backwaters. Too poor to continue their education, they drop out of school and move to Taipei to find employment. The film, the first in a trilogy, explores the modernisation of Taiwan and how it affects the lives of the country's youth. Hou's characteristic minimal style is on full display with loosely accumulated scenes providing a minimum of exposition and weeks or months passing in a single cut. For Hou, the facts of the narrative are less important than the overriding emotion – love, loneliness, loss, heartbreak, fear – and its effect on individuals who suffer during difficult times.
Wednesday 22 March 2017
2pm – 3:49pm
Wednesday 22 March 2017
7:15pm – 9:04pm
Sunday 26 March 2017
2pm – 3:49pm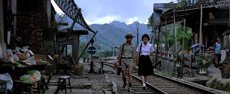 A time to live and a time to die
Dir: Hou Hsiao-hsien 1985 (Taiwan)
138 mins 35mm Colour Rated PG
Chia-bao Chang, Neng Chang
Mandarin, Hakka with English subtitles
The second instalment in Hou's groundbreaking trilogy of coming-of-age stories revisits the world of the director's youth in the small town of Fengshan in rural Taiwan. Hou chronicles a family's struggle to acclimate to life in Taiwan following their reluctant relocation from the mainland in the aftermath of the Chinese Civil War. The elders of the family find meagre solace in unrealistic hopes, while the teenage Ah-ha (Neng), exhilarated and daunted by a new and unfamiliar world, becomes a lout with a gambling obsession. Ah-ha is haunted by the death of his father, his inner turmoil exacerbated by the threat of war which lends menace to his daily existence. The film vividly recreates time and place, with minimal stylistic flourish, and events unfold in a verité, fly-on-the-wall manner with utter frankness: gang violence, family burdens, authoritarian schooling, broken romance and abject poverty. 'A superbly controlled piece of classical filmmaking, full of warmth and emotion' – Derek Malcolm, The Guardian.
Wednesday 29 March 2017
2pm – 4:18pm
Wednesday 29 March 2017
7:15pm – 9:33pm
Sunday 2 April 2017
2pm – 4:18pm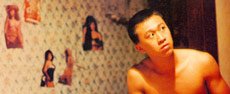 A city of sadness
Dir: Hou Hsiao-hsien 1989 (Taiwan)
157 mins 35mm Colour Rated M
Tony Leung Chiu Wai, Shu-fen Hsin
Mandarin, Minnan, Japanese, Cantonese with English subtitles
Probably the most significant film to have emerged out of Taiwan's New Cinema, A city of sadness – the final instalment in Hou's trilogy – interweaves two storylines based upon the complex lives of four brothers. One story involves small-time gangster activities as the first and third Lin brothers become entangled in a turf war with recently-arrived smugglers from Shanghai. The other follows the fourth brother, who falls in love with his friend's sister – a nurse who also narrates the film. There is also a perplexing array of supporting characters – wives, children, concubines, grandparents and friends – who, while often difficult to keep track of, enhance the overall sweep and beauty of the work. The narrative of A city of sadness is embedded in long, complex scenes designed to be deciphered by the viewer. Hou has developed a characteristic style marked by slow pacing, minimal plot development, wide shots, long takes and painstaking counterpoint between sound and image. With a haunting ambience and a strong sense of time and place, this complex family drama details a crucial moment in Taiwanese history between 1945, when Japanese colonial rule came to an end, and 1949, when the Kuomintang government relocated to Taiwan.
Wednesday 5 April 2017
2pm – 4:37pm
Wednesday 5 April 2017
7:15pm – 9:52pm
Sunday 9 April 2017
2pm – 4:37pm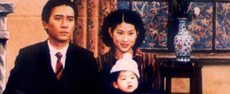 Raise the red lantern
Dir: Zhang Yimou 1991 (China)
124 mins 35mm Colour Rated M
Gong Li, Ho Saffei
Mandarin with English subtitles
Set in the enclosed world of a Northern China manor house, Songlian (Gong), the fourth wife of a rich landowner, struggles for power, position and survival within a ruthless household. The difference between Songlian and the other three spouses is that she is educated and has been forced to marry. Her life is suddenly reduced to a small compound: an artificial and cloistered world where the only people she sees are her husband, his family and servants. Fifth Generation director Zhang's fourth film exposes life within a closed, dictatorial social community and reveals the ever-shifting balance of power between the various concubines. It shows a system that rewards those who play within the rules and destroys those who violate them. At the time of release it was understood as veiled political criticism cross-examining the entrenched patterns of Chinese society. Visually stunning, Raise the red lantern represents the full development of Zhang's expressionistic visual style, emphasising colour with its predominance of rich reds and oranges, augmented by the director's early experiences working as a cinematographer.
Wednesday 12 April 2017
2pm – 4:04pm
Wednesday 12 April 2017
7:15pm – 9:19pm
Sunday 16 April 2017
2pm – 4:04pm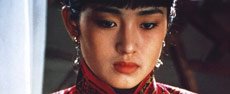 To live
Dir: Zhang Yimou 1994 (China)
125 mins 35mm Colour Rated PG
Ge You, Gong Li
Mandarin with English subtitles
This sweeping saga of modern China covers the period from the turbulent Civil War through to the Cultural Revolution. It follows the lives of one couple and reveals their capacity to endure in the unpredictable reality of 1940s China. Persistent hardship is met with tenacious will as the personal fortunes of Fugui (Ge) and Jiazhen (Gong) shift from wealthy landownership to peasantry. Fugui loses everything due to gambling debts – including his wife, child and ancestral estate. He struggles to live, reduced to selling needles at a local market and working on the streets as a puppeteer, and is eventually pressed into military service. Highlighting the resilience of the Chinese people in the face of hardship and adversity, To live is one of the masterpieces of Chinese cinema; a rich and intricate human drama with magnificent performances from the two leads.
Wednesday 19 April 2017
2pm – 4:05pm
Wednesday 19 April 2017
7:15pm – 9:20pm
Sunday 23 April 2017
2pm – 4:05pm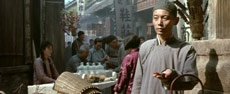 The black cannon incident
Dir: Huang Jianxin 1985 (China)
94 mins 35mm Colour Rated G
Liu Zifeng
Mandarin with English subtitles
A key Fifth Generation work, this robust black comedy satirises the bureaucracy and paranoia of authority in modern China. It chronicles the Kafkaesque predicament of a hapless engineer and translator Zhao Shuxin (Liu) who is suspected of industrial espionage after sending an innocent telegram that comes under covert investigation by the Party committee at his factory. His demotion to a less sensitive work area sparks a series of absurd and hilarious meetings among party chiefs. They refuse to reinstate Zhao despite the reality that he is desperately needed for his valuable translation skills. First-time director Huang matches the daring of his subject with a bracing mixture of naturalistic performance and stylised set design.
Wednesday 26 April 2017
2pm – 3:34pm
Wednesday 26 April 2017
7:15pm – 8:49pm
Sunday 30 April 2017
2pm – 3:34pm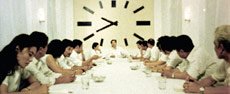 Ermo
Dir: Zhou Xiaowen 1994 (China)
98 mins 35mm Colour Rated M
Ai Liya, Liu Peiqi
Mandarin with English subtitles
Ermo (Ai) is a rural woman living in a small village in northern China. She struggles to support her children and invalid husband by selling home-made dry noodles. When her neighbour buys a television she decides she must have one too, only larger. In the hands of Fifth Generation filmmaker Zhou, Ermo's relentless pursuit of the biggest TV set in the county becomes the story of a poor woman's quest for independence, fulfilment and modernity. With irony and biting black humour, the director portrays the clash of traditional socialist value systems with the emerging commercial culture. His concise storytelling and contemporary subject matter, matched by his actors' superb deadpan performances, ensured the film's commercial success internationally.
Wednesday 3 May 2017
2pm – 3:38pm
Wednesday 3 May 2017
7:15pm – 8:53pm
Sunday 7 May 2017
2pm – 3:38pm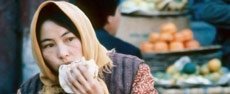 Life on a string
Dir: Chen Kaige 1991 (China)
120 mins 35mm Colour Rated PG
Liu Zhongyuan, Lei Huang
Mandarin with English subtitles
Writer-director Kaige's mystical fable was adapted from the novel by Shi Tiesheng. A blind sanxian player and his young apprentice travel through the mountainous region of western China. As a child, the master musician was promised by his own mentor that, when he had broken his thousandth string, he would discover a prescription to restore his sight. As the moment for the fulfilment of the prophecy draws near – he is currently on string 995 – the apprentice, who is entranced by a young village girl, becomes sceptical of his master's beliefs. Chronicling the widening of a gulf between master and student, Kaige advocates for a revival of the hope and beauty that spirituality imparts and offers a compassionate and unflinching view of the lives of the Chinese people.
Wednesday 10 May 2017
2pm – 4pm
Wednesday 10 May 2017
7:15pm – 9:15pm
Sunday 14 May 2017
2pm – 4pm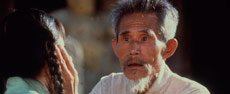 Blush
Dir: Li Shaohong 1995 (China)
115 mins 35mm Colour Rated PG
Wang Ji, Wang Zhiwen
Cantonese with English subtitles
The close friendship of two women who work at the Red Happiness Inn, a Shanghai brothel, is tested with the communist victory of 1949. They are taken onto canal boats to be moved to a 're-education centre'. Director Li, the only female member of China's celebrated Fifth Generation of filmmakers, follows the shifting fortunes of the two women over many years and paints a compelling, emotionally complex picture of the effect of the revolution on the lives of ordinary people. Adapting a novel by Su Tong, author of the source material for Raise the red lantern (screened on 12 and 16 April), Li borrows from the aesthetics of traditional Chinese scroll painting with her elegant one-shot scenes which avoid a reliance on dramatic close-ups. Shunning sentimentality, she skillfully employs melodramatic aspects of the plot to reveal the contradictions, ambiguities and strengths of the women's unspoken bond, at no time judging or offering simple conclusions.
Wednesday 17 May 2017
2pm – 3:55pm
Wednesday 17 May 2017
7:15pm – 9:10pm
Sunday 21 May 2017
2pm – 3:55pm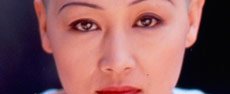 The road home
Dir: Zhang Yimou 1999 (China)
89 mins 35mm B&W/Colour Rated PG
Zhang Ziyi, Sun Honglei
Mandarin with English subtitles
A young engineer, Luo Yusheng (Sun), who works in a distant city, returns to his home village in Northern China to console his mother after the sudden death of his father. When the funeral arrangements are discussed, his mother reveals her strong convictions, insisting that the village honour her husband – who had been the teacher in the one-room schoolhouse – with a traditional, but logistically impossible, mourning ritual. As the son grapples with his mother's demand, he begins to remember the story of his parents' courtship and successful marriage and realises that his mother's wishes must be respected. Director Zhang's lyrical simplicity and acute sensitivity to the pace and rhythm of village life evoke the small, human things that make life worthwhile: the power of first love and the profound effect the life of one person can have on a community.
Wednesday 24 May 2017
2pm – 3:29pm
Wednesday 24 May 2017
7:15pm – 8:44pm
Sunday 28 May 2017
2pm – 3:29pm