Film series: Joyride
Let's have a bit of fun
Dolly Parton, David Bowie, Joan Crawford, Mad Max. Join us to celebrate pop icons and kungka kuṉpu (strong women).
This mini series takes its cue from Joy, a forthcoming exhibition featuring short films by artists from Indulkana in the Aṉangu Pitjantjatjara Yankunytjatjara (APY) Lands in South Australia.
From a revisionist spaghetti western to a homage to Wonder Woman, Joy showcases artists whose work is informed by their love of Hollywood movies and music videos. In artist Kaylene Whiskey's words, 'I'm from the generation that grew up with Coca-Cola and TV, as well as tjukurpa (cultural stories) and bush tucker, so I like to have a bit of fun with combining those two different worlds'.
Delve into the artists' pop sensibilities with a selection of classic films about rebels, aliens and misfits which inspire their artmaking.
Special thanks to Peter Mungkuri, Alec Baker, Kaylene Whiskey, Jeannie Walatinna, Vicki Cullinan, Emily Cullinan, Betty Muffler, Maringka Burton and Beth Conway of Iwantja Arts, an Aboriginal-owned and governed community art centre in Indulkana.
Image: Kaylene Whiskey, still from Kungka Kuṉpu, Iwantja Young Women's Film Project. Courtesy Iwantja Arts
Wednesdays and Sundays 2pm
30 September - 25 October 2020
Free, bookings required
WHAT YOU NEED TO KNOW
For all the details including what, when and how you can book, read our Film ticket FAQs

Location: Domain Theatre
Related exhibition: Joy
The man who fell to Earth
Dir Nicolas Roeg 1976 (UK)
138 mins 35mm-to-digital Rated R 18+
David Bowie, Rip Torn
Catch the original starman on the big screen. Bowie stars as Thomas Jerome Newton, an alien humanoid who crash lands to the New Mexico desert in search of resources to save his drought-stricken planet. Adrift and lost on Earth, the space traveller's mission is waylaid by gin and tonics and TV. Apart from a few SFX scenes, Roeg makes no overt attempt to show Newton as particularly otherworldly. He simply draws upon Bowie's ethereal presence. According to Bowie: 'I actually was feeling as alienated as that character was. It was a pretty natural performance'.
Wednesday 30 September 2020
2pm – 4:18pm
Sunday 4 October 2020
2pm – 4:18pm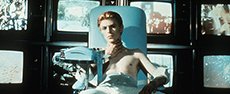 9 to 5
Dir Colin Higgins 1980 (US)
110 mins 35mm-to-digital Rated M
Dolly Parton, Lily Tomlin, Jane Fonda
Three working women – Lily Tomlin, Jane Fonda and Dolly Parton – plot revenge against their 'sexist, egotistical, hypocritical' boss in this classic comedy. Stoned fantasies and hostage hijinks ensue, but it's all about the trio's exuberant camaraderie. 9 to 5 marked Parton's screen debut and launched one of the most popular hits of the decade. She wrote the theme song on set after discovering that she could use her acrylic nails to mimic the sound of a typewriter. Dolly's music and bling are inspirations for artist Kaylene Whiskey, whose painting Dolly visits Indulkana is a finalist in the Archibald Prize 2020. In Kaylene's words: 'Once I had finished the painting I thought, "You know what? Dolly needs more sparkles", so I added the plastic jewels as the finishing touch!'
Wednesday 7 October 2020
2pm – 3:50pm
Sunday 11 October 2020
2pm – 3:50pm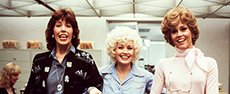 Mad Max
Dir George Miller 1979 (AU)
96 mins 35mm-to-digital Rated R 18+
Mel Gibson, Joanne Samuel
George Miller's low-budget, high-octane action thriller revolutionised 1970s Australian cinema. Set in a post-apocalyptic future, an unhinged policeman (Gibson) becomes embroiled in a feud with a savage motorcycle gang. The film's vision of societal collapse was inspired by witnessing the effect of the 1973 oil crisis on local motorists. For screenwriter James McCausland, the fuel shortages 'revealed the ferocity with which Australians would defend their right to fill a tank'. It was also influenced by Miller's childhood on the flat plains of Chinchilla in rural Queensland. For artists at Iwantja, who love the Mad Max series, the film's landscape is reminiscent of their own Country: 'Mad Max is filmed in the outback and looks just like Indulkana'.
Wednesday 14 October 2020
2pm – 3:36pm
Sunday 18 October 2020
2pm – 3:36pm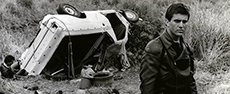 Johnny Guitar
Dir Nicholas Ray 1954 (US)
111 mins 35mm-to-digital Rated PG
Joan Crawford, Sterling Hayden
Joan Crawford is imperious as Vienna, a gun-toting saloonkeeper, locked in a battle of wills with townsfolk in the Arizona dustbowl. With its mannered sets, garish colour and brimming sexual tension, Johnny Guitar is one of Hollywood's most arresting, melodramatic westerns. The film was chosen by senior artists and renowned former stockmen Alec Baker and Peter Mungkuri, whose ongoing love for cowboy flicks and country music inspired them to create their own spaghetti western, Never stop riding. The senior men's painting Nganampa Ngura (our Country) is a finalist in the Wynne Prize 2020.
Wednesday 21 October 2020
2pm – 3:51pm
Sunday 25 October 2020
2pm – 3:51pm