Essential Australian women directors: selected by David Stratton
Part of the Sydney Film Festival 2019
The key woman director of the late silent and early sound period in Australia was Paulette McDonagh (1901-1978) who made four features between 1926 and 1933, one of which, The cheaters (1930), is included in this Sydney Film Festival retrospective.
After Two minutes silence (1933), the last of McDonagh's films, we had to wait 46 years for another feature to be directed by a woman in this country – the film was My brilliant career (1979), and the director was Gillian Armstrong. Armstrong has gone on to a brilliant career, and this retrospective includes High tide (1987), the film that reunited her with Judy Davis.
In the years since Armstrong's trailblazing debut, a great many very talented women have directed important and enduring films in this country. This retrospective is a tribute to all of them, and not just to the ten women represented here.
The recurring theme of the ten films in this retrospective is that of family. Mother and daughter are reunited in High tide, sisters feature in both Sweetie (1989) and Love serenade (1996), mothers and children of both sexes in Blessed, mother and son in The babadook (2014). Beautiful Kate (2009) is about a family reunion, Waiting (1991) is a film in which close friends become surrogates for family, and in Malcolm (1986), two very different men form an almost fraternal relationship.
David Stratton will be introducing many of the sessions.
This is a Sydney Film Festival 2019 event, hosted by the Art Gallery of NSW.
Image: Still from High tide
The cheaters
Paulette McDonagh's pioneering romantic silent melodrama, set in Sydney, stars the director's sister, Marie Lorraine, as the daughter of a criminal mastermind.
Presented by the National Film and Sound Archive's digital restoration program – NFSA Restores – reviving our cinema icons.
Wednesday 5 June 2019
7:15pm – 8:48pm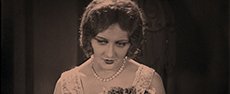 Malcolm
The first feature by director Nadia Tass is a delicious comedy starring Colin Friels as an introverted inventor and John Hargreaves as a resourceful criminal.
Saturday 8 June 2019
10:15am – 12:10pm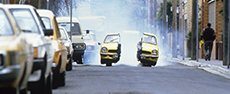 High tide
Gillian Armstrong and Judy Davis collaborated for the second time on this emotionally rich multi-generational drama. Claudia Karvan plays Davis' daughter and Jan Adele is the grandmother.
Saturday 8 June 2019
12:30pm – 2:39pm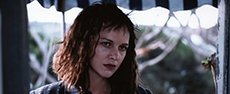 Sweetie
One of the most original films ever made in this country, Jane Campion's story about a pair of very eccentric sisters caused a sensation at Cannes.
Saturday 8 June 2019
2:55pm – 4:57pm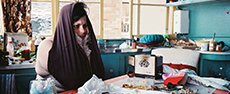 Waiting
Noni Hazlehurst plays a surrogate mother about to give birth, who welcomes her closest friends to her isolated rural shack. Jamie McKimmie's second feature is a gem.
Sunday 9 June 2019
10:15am – 12:15pm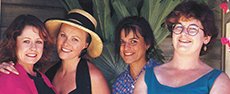 Bedevil
Indigenous artist and photographer Tracey Moffatt's only feature to date consists of three ghost stories told in a thrillingly original, highly stylised fashion.
Sunday 9 June 2019
12:30pm – 2:22pm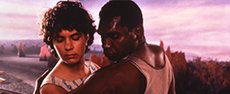 Love serenade
Winner of the Camera d'Or at Cannes, Shirley Barrett's whimsical and very offbeat comedy stars Miranda Otto and Rebecca Frith as small-town sisters.
Sunday 9 June 2019
2:45pm – 4:53pm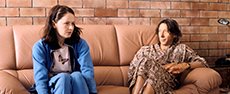 Blessed
This achingly moving, harshly powerful film from Ana Kokkinos takes us into the world of four mothers whose children are in serious trouble. Frances O'Connor leads a fine cast.
Monday 10 June 2019
10:15am – 12:23pm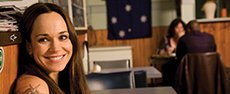 Beautiful Kate
In Rachel Ward's feature debut, Ben Mendelsohn plays a man who returns to the isolated property where he grew up, to see his dying father (Bryan Brown).
Monday 10 June 2019
12:45pm – 2:50pm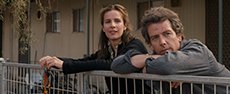 The Babadook
In Jennifer Kent's thrilling debut, a single mother (Essie Davis) and her six-year-old son (Noah Wiseman) are haunted by the mysterious 'Mr Babadook'.
Monday 10 June 2019
3pm – 4:58pm