Film series: Dark arts
In association with Japan supernatural
Imagine this film series as a procession of fantastic beings. Witches join folk creatures, ghouls and a magical Czech cat in a global survey of supernatural cinema. From '70s French new wave comedy to Italian magic neorealism and Thai avant-pop, Dark arts brings together 12 tales of the wondrous and macabre.
Cinema is a ghostly medium. Early filmmakers delighted in double exposures, dissolves and trick effects to summon unseen worlds. In 1896, Maxim Gorky described the Lumière brothers' films as a kingdom of shadows, where 'the grey silhouettes of the people, as though condemned to eternal silence and cruelly punished by being deprived of all the colours of life, glide noiselessly along the grey ground'. There are spectres in this season, yet many run riot in Technicolor.
This is phantasmagoric cinema. Our opening week double bill – Dario Argento's Suspiria and Jacques Rivette's Céline and Julie go boating – invites viewers down the rabbit hole into otherworldly realms conjured by witchcraft (and skilful cinematographers).
This is cinema that quickens the pulse. The season continues with a selection of psychological thrillers in which supernatural explanations help characters make sense of inexplicable events. In Nicolas Roeg's Don't look now, a grieving couple experience premonitions amidst the labyrinthine canals of Venice.
This is cinema that bends time. Ancestral spirits and the living co-exist in Julie Dash's landmark of African-American storytelling, Daughters of the dust, while the titular character of Alice Rohrwacher's Happy as Lazzaro falls headfirst into present-day Italy.
This is a cinema of play, where masks and musical instruments possess a life force. Apichatpong Weerasethakul's Palme d'Or-winning Uncle Boonmee populates a bedside farewell with shapeshifting creatures inspired by the eerie aesthetics of low-budget Thai film.
This is cinema celebrating its own dark arts.
Image: Still from Céline and Julie go boating
6 November - 15 December 2019
8 January - 2 February 2020
See listing for details
How to get your ticket
Tickets available outside the Domain Theatre from one hour before each screening.
A limited release of early bird tickets can be booked in advance online via Qtix from Wednesday 23 October 10am.
See: Film ticket FAQs
Films start at the advertised time. Doors open 30 minutes before. Latecomers not admitted.

Location: Domain Theatre
Related exhibition: Japan supernatural
Principal patron and public program patron


Suspiria
Dir: Dario Argento 1977 (Italy)
100 mins 35mm Colour Rated R (18+)
Jessica Harper, Alida Valli, Joan Bennett
Original version with English dub
The sensuous pleasures of Suspiria are many: an iconic Goblin synth score, eye-popping set design and occult thrills. A young American dancer, Suzy Bannion (Harper), arrives at a German ballet academy. After a series of weird occurrences, she realises that the school is a front for a witches' coven. Suspiria is the most famous example of giallo cinema, a distinctive brand of '60s – '70s Italian horror featuring high style and pulp twists. Director of photography Luciano Tovoli was inspired by the Technicolor hues of Walt Disney's Snow White (1937). Argento knew he had a hit on his hands after witnessing the opening-night response: 'People came running out, screaming, telling people in the queue "Don't go in! Don't go in! It's all witches!" It just made everyone in line want to get in even more'.
Wednesday 6 November 2019
2pm – 3:40pm
Wednesday 6 November 2019
7:15pm – 8:55pm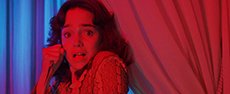 Céline and Julie go boating
Dir: Jacques Rivette 1974 (FR)
183 mins 35mm-to-digital Colour Rated M
Juliet Berto, Dominique Labourier
French with English subtitles
Arrive early and settle in: we're thrilled to offer this rare screening of a French new wave classic. While sitting on a Montmartre park bench drawing pentagrams in the sand, librarian Julie (Labourier) strikes up a friendship with stage magician Céline (Berto). Traipsing across Paris, the pair discover a gated mansion. Inside, a quartet of ghosts endlessly act out a gothic melodrama drawn from a Henry James novella. With the aid of a Proustian lozenge, Céline and Julie return time and again to spy upon and eventually upstage the murder mystery. Co-written by Eduardo de Gregorio and the leading actresses, Rivette's film celebrates the theatrical artifice and doublings of cinema itself.
Sunday 10 November 2019
1:30pm – 4:33pm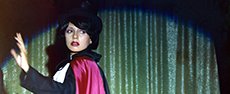 Carnival of souls
Dir: Herk Harvey 1962 (US)
84 mins 16mm B&W Rated PG
Candace Hilligoss, Sidney Berger
Welcome to the spooky side of mid-century, mid-western America. A young woman Mary (Hilligoss) survives a drag-race accident and relocates to Utah to take a job as a church organist. She is haunted by ghoulish apparitions which compel her toward an abandoned carnival pavilion on the shores of the Great Salt Lake. The first and only feature by industrial filmmaker Herk Harvey, this B-movie classic was intended to have 'the look of a Bergman and the feel of a Cocteau' – and, with its dream sequences and eerie organ score, it succeeds. The film's famous finale – a danse macabre in the old ballroom – is a masterclass in composition and sound design with limited means (the film's budget was $30,000). Harvey's unlikely masterpiece gained a cult following on late-night TV and inspired directors including David Lynch, George A Romero and Lucrecia Martel, who called Carnival of souls 'my school of cinema'.
Preceded by:
Ghosts before breakfast
Dir: Hans Richter 1928 (DE)
9 mins 16mm B&W Unclassified 15+
Note: No screening on Sunday 17 November.
Wednesday 13 November 2019
2pm – 3:33pm
Wednesday 13 November 2019
7:15pm – 8:48pm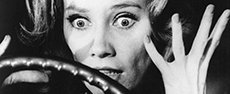 Séance on a wet afternoon
Dir: Bryan Forbes 1964 (UK)
115 mins 35mm B&W Rated M
Kim Stanley, Richard Attenborough
This British psychological thriller features tour-de-force performances by two of the finest actors of the 1960s. Kim Stanley stars as Myra Savage, a medium who lives with her husband Billy (Attenborough) in suburban London. Desperate for public recognition of her spiritual gift, Myra concocts a plan to abduct a child and offer her 'services' to the police to help solve the crime. Attenborough is compelling as the milquetoast husband turned kidnapper, but it's all about Stanley's portrayal of diabolic delusion. Trained as a method actor and renowned on the Broadway stage, Stanley was praised by her peers as a once-in-a-generation talent. In the words of Marlon Brando, 'When people ask about Kim, I talk about…passion, genius, truth, danger, fearless exploration'. Her performance dares viewers to differentiate psychic insight from mundane cunning.
Wednesday 20 November 2019
2pm – 3:55pm
Wednesday 20 November 2019
7:15pm – 9:10pm
Sunday 24 November 2019
2pm – 3:55pm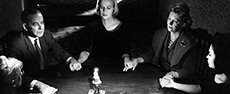 NFSA Restores: Celia
Dir: Ann Turner 1989 (AU)
99 mins 35mm-to-digital Colour Rated M
Rebecca Smart, Nicholas Eadie
Is there a more demonic child in Australian film history? Director Ann Turner's debut feature centres on Celia, a nine-year-old living in 1950s Melbourne. Shaken by the death of her grandmother and a school lesson on the Hobyahs (olde English folk creatures), Celia's fantastic imagination conjures the dark side of white-picket-fence suburbia. Through her eyes, the communist bogeys and rabbit plague of the adult world seem alien and ominous. Yet this is no ordinary coming-of-age tale of innocence lost and experience won. Turner lets the supposed 'magic of childhood' take over and we watch on, aghast. Celia's school holiday hijinks are menacing: masks become talismans, blood promises are exchanged and voodoo rituals staged in an old quarry. 'Transfixing, assured, extremely lucid…Celia recalls the deceptive serenity of Blue velvet' – New York Times.
Courtesy of the National Film and Sound Archive's digital restoration program – NFSA Restores – reviving our cinema icons.
Followed by Reel Deal #3, a film discussion club for people aged 15–25. Join us for snacks and a post-screening chat hosted by a guest critic.
Wednesday 27 November 2019
2pm – 3:39pm
Wednesday 27 November 2019
7:15pm – 8:54pm
Sunday 1 December 2019
2pm – 3:39pm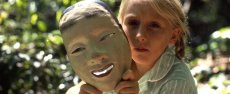 Happy as Lazzaro
Dir: Alice Rohrwacher 2018 (IT)
125 mins 16mm-to-digital Colour Rated M
Adriano Tardiolo, Alba Rohrwacher, Luca Chikovani
Italian with English subtitles
Happy as Lazzaro magically prolongs time. Based on a true story where 1980s agricultural workers were discovered labouring under feudal conditions, the film begins on a tobacco estate in central Italy. Lazzaro, a holy fool (untrained actor Tardiolo), lives with a clan of sharecroppers. He becomes mixed up in a scheme to swindle the landowner, Marchesa Alfonsina de Luna, devised by her son Tancredi (Chikovani). Rather than break the cycle of exploitation on the estate, their plan mysteriously catapults Lazzaro to the present. While other characters have aged, Lazzaro remains the same. On the outskirts of a city wracked by financial crisis, the sharecroppers are now a band of homeless thieves. The miracle of this film is the lightness of Rohrwacher's touch. Cinematographer Hélène Louvart's sun-flared Super 16mm photography along with spontaneous refrains of Baroque church organ make Happy as Lazzaro a work of rare vision. 'This modern fairy tale is an instant classic' – New York Times.
Wednesday 4 December 2019
2pm – 4:05pm
Wednesday 4 December 2019
7:15pm – 9:20pm
Sunday 8 December 2019
2pm – 4:05pm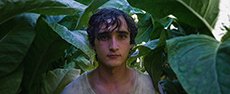 When the cat comes
Dir: Vojtěch Jasný 1963 (CZ)
101 mins 35mm-to-digital Colour Unclassified 12+
Jan Werich, Emília Vášáryová
Czech with English subtitles
A cat with sunglasses that reflect one's true colours? Yes, such is the plot of this psychedelic Czech new wave parable. A Bohemian village descends into anarchy when a magician arrives with his tabby companion. The unfaithful turn yellow, thieves are grey, lovers turn red and liars are violet. Cinematographer Jaroslav Kučera showcases the experimental photography that would make Vera Chytilová's Daisies so transfixing three years later. Jasný – dubbed the 'spiritual father of the new wave' by filmmaker Miloš Forman – uses allegory to illuminate the hypocrisies of life under authoritarianism. Winner of the 1963 Cannes Special Jury Prize, the film was 'banned forever' by Czech censors. If you're a feline fan, we recommend a visit to the many nekomata (magical cats) lurking in the Japan supernatural exhibition.
Wednesday 11 December 2019
2pm – 3:41pm
Wednesday 11 December 2019
7:15pm – 8:56pm
Sunday 15 December 2019
2pm – 3:41pm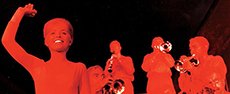 Don't look now
Dir: Nicolas Roeg 1973 (UK)
110 mins 35mm Colour Rated MA 15+
Julie Christie, Donald Sutherland
Don't look now is a milestone of British horror cinema. In the words of one character, the film takes place in a 'city in aspic left over from a dinner party, and all the guests are dead and gone'. Donald Sutherland and Julie Christie play a grieving couple who retreat to Venice following a family tragedy. When a stranger's second sight warns of danger, the pair experience premonitions amidst the city's labyrinthine canals and laneways. Roeg adapts Daphne du Maurier's chilling short story with his trademark use of elliptical editing (the most famous example of this fragmented approach is the film's controversial sex scene). Flashbacks and flash-forwards cycle through recurring motifs – broken glass, doppelgängers and glimmers of red – as the couple's shared grief plays tricks of the mind.
Wednesday 8 January 2020
2pm – 3:50pm
Wednesday 8 January 2020
7:15pm – 9:05pm
Sunday 12 January 2020
2pm – 3:50pm
Daughters of the dust
Dir: Julie Dash 1991 (US)
113 mins 35mm-to-digital Colour Rated M
Cora Lee Day, Barbara O Jones
New restoration! An inspiration for Beyoncé's visual album Lemonade (2016), Daughters of the dust was the first theatrically released feature by an African-American woman. Set on St Simons island off the coast of Georgia, the film follows a Gullah family – descendants of West African slaves – on the eve of their northward migration. An intergenerational drama plays out between tableaux of leave-taking: dancing on the beach, posing for portraits, sharing gumbo. Matriarch Nana Peazant (Lee Day) practises the Yoruba spiritual traditions preserved since her ancestors worked on the indigo plantations. She is determined to stay on the island. Younger relatives are impatient to escape to the mainland. With cinematographer Arthur Jafa – a Biennale of Sydney 2020 exhibiting artist – Dash developed a lush aesthetic inspired by cosmology, folklore and dreams. In her words, 'I let the story unravel and reveal itself in a way in which an African griot would tell the story, because that's our tradition. It's a different way of telling a story. It's totally different, new'.
Wednesday 15 January 2020
2pm – 3:53pm
Wednesday 15 January 2020
7:15pm – 9:08pm
Sunday 19 January 2020
2pm – 3:53pm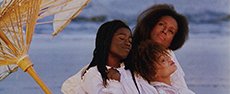 BeDevil
Dir: Tracey Moffatt 1993 (AU)
90 mins 35mm Colour Rated PG
Jack Charles, Mawuyul Yanthalawuy
A supernatural triptych by one of Australia's most celebrated artists. Moffatt translates ghost stories told by her Indigenous and Irish relatives into ecstatic cinematic form. In the first episode, a young boy is haunted by the spirit of an American GI who drowned in a swamp. The neon and fog effects were inspired by the artificial set design of Japanese '60s horror cinema, in particular Masaki Kobayashi's Kwaidan (1964). The second tale transposes gothic England to the plains of outback Queensland, as Ruby (played by Moffatt herself) encounters the paranormal on train tracks. In the final episode, the spirits of a doomed Torres Strait Islander couple linger in a warehouse. The film's visual bravura is matched by its wit: ghosts appear alongside a real estate ad for Bribie Island and an instructional cooking show. 'I come from a family of drama queens, so while the stories are tinged with reality, you never know just how much they are made up' – Moffatt.
Wednesday 22 January 2020
2pm – 3:30pm
Wednesday 22 January 2020
7:15pm – 8:45pm
Sunday 26 January 2020
2pm – 3:30pm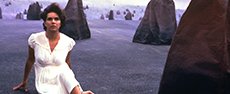 Uncle Boonmee who can recall his past lives
Dir: Apichatpong Weerasethakul 2010 (TH)
113 mins 35mm Colour Rated M
Thanapat Saisaymar, Geerasak Kulhong
Thai and Isan with English subtitles
Winner of the Palme d'Or at Cannes in 2000, this Thai elegy centres on the last days of its title character. Boonmee (Saisaymar) is joined by the spectres of his dead wife and long-lost son, who appears as a forest monkey. His story unfolds in the Isan region of Thailand's northeast, a landscape animated by the ghosts of a 1965 crackdown on communist sympathisers. The film also revisits the past lives of Thai cinema. Its six reels summon different cinematic styles, from the stiff acting of early actualities to costume dramas. To conjure the film's shapeshifting beings, Weerasethakul drew on memories of low-budget Thai TV: 'Monsters were always in the dark to hide the cheaply made costumes. Their eyes were red lights so that the audience could spot them'. In this enchanted cosmos, Buddhist understandings of the transitory nature of forms coexist with animist beliefs in the supernatural power of rocks, waterfalls and catfish. 'It's barely a film, more a floating world' – critic Sukhdev Sandhu.
Wednesday 29 January 2020
2pm – 3:53pm
Sunday 2 February 2020
2pm – 3:53pm