Film series: Cosmic futures
Visionary Russian cinema
In 1915, Russian artist Kazimir Malevich's Black square heralded a beginning and end for modern art. Cosmic futures asks, where to from here? In the wake of the Russian Revolution in 1917, cinema became a new testing ground for bold aesthetic experimentation. Malevich's impulse to free art from the 'dead weight of the real world' migrated from the black square to the white screen. A new utopian state needed a new film language.
Screening in conjunction with the exhibition Masters of modern art from the Hermitage, this film series unites early Soviet slapstick, Moscow high melodrama and sci-fi masterpieces. Cosmic futures begins with filmmakers who trained their cameras on the cities and skies. Revolutionary energy spills over in the formal daring of Vertov (Man with a movie camera) and the zany humour of Medvedkin's New Moscow. The freewheeling experimentation of the 1920s halted under a new regime. How to explore avant-garde horizons when Stalin was supposedly the only one able to see the future? Mid-century filmmakers looked inward to stories of personal transformation through romance (The cranes are flying) and heroism (The ascent).
With a mini Tarkovsky retrospective, we delve further into the mysteries of deep space only to find that the future reflects the here and now. The season concludes with contemporary Russian master Andrey Zvyagintsev who reckons with the political realities of a disappointed dream.
Don't miss the opening special event!
On Sunday 4 November 2pm, acclaimed musician and sound artist Lucy Cliché will perform an original live score to accompany the first Soviet sci-fi film, Aelita: Queen of Mars. Find out more
Image: Still from Stalker
7 November - 16 December 2018
9 January - 10 February 2019
See listing for details
How to get your ticket
Tickets available outside the Domain Theatre from one hour before each screening. Arrive early to avoid disappointment.
A small number of early bird tickets can be booked in advance online via Qtix.
See: Film ticket FAQs
Films start at the advertised time. Doors open 30 minutes before. Latecomers not admitted.

Location: Domain Theatre
Related exhibition: Masters of modern art from the Hermitage
Russian ark
Dir: Alexander Sokurov 2002 (Russia)
96 mins 35mm Colour Rated G
Sergei Dreiden, Leonid Mozgovoy
Russian with English subtitles
Sokurov's Russian ark consists of a single tracking shot through St Petersburg's famed Hermitage museum. In 96 minutes – the longest uninterrupted Steadicam shot in cinema history – we're taken on a journey through Russian imperial history and culture. The film's unseen narrator (Sokurov himself) meets another mystified arrival on the grounds of the Hermitage, the mercurial Marquis de Custine (Dreiden), a 19th-century French diplomat. Together, they wander through the Winter Palace's grand galleries and encounter a historical pageant from Catherine the Great to the Romanovs. This bravura feat of mass choreography – which involved 22 assistant directors, 850 professional actors and 1000 extras – culminates in a recreation of the last great royal ball held at the Hermitage under Tsar Nicholas II in 1913. Described by Sokurov as a 'film in a single breath,' this finale is both an exultant exhale and the last gasp of a society on the cusp of revolution.
Wednesday 7 November 2018
2pm – 3:36pm
Wednesday 7 November 2018
7:15pm – 8:51pm
Sunday 11 November 2018
2pm – 3:36pm
Saturday 8 December 2018
2pm – 3:36pm
Saturday 15 December 2018
2pm – 3:36pm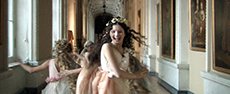 Man with a movie camera plus short
Man with a movie camera
Dir: Dziga Vertov 1929 (USSR)
69 mins 35mm B&W Rated G
Mikhail Kaufman, Elizaveta Svilova
Dziga Vertov (a pseudonym meaning 'spinning top') revolutionised cinema with this portrait of the 1920s metropolis. From the opening shot, Man with a movie camera dazzles with all the tricks of the trade. Using superimpositions, split screens, double exposures and dissolves, Vertov merges footage shot across Moscow, Kiev and Odessa into a dawn-to-dusk city symphony. Traffic, crowds and machinery hurtle with electric optimism toward a radiant Soviet future. For Vertov and his contemporaries, editing – or montage – was the key to reinventing cinema for a new society. Where Hollywood cinema strove for continuity, 1920s Soviet filmmakers created friction between each shot. One early fan was Malevich who praised 'the man who edited the film' for 'marvelously grasping the idea or task of the new montage.' In fact, it was not Vertov but his wife Elizaveta Svilova who edited Man with a movie camera, a film that now ranks as one of the greatest documentaries of all time. Screens with a score by composer Michael Nyman.
Man with a movie camera will screen with a short: The cameraman's revenge on Wednesday 14 November and Woman with an editing bench on Sunday 18 November. The Gallery apologises for any inconvenience caused by this change in schedule.
Screening on 14 November:
The cameraman's revenge
Dir: Wladyslaw Starewicz 1912 (USSR)
12 mins 16mm B&W Unclassified
Man with a movie camera as told by animated beetles.
Screening on 18 November, with an introduction by the filmmaker:
Woman with an editing bench
Dir: Karen Pearlman 2016 (Australia)
16 mins 35mm Colour Rated G
Leeanna Walsman, Richard James Allen
Inspired by the editor of Man with a movie camera. In Stalinist Russia, a woman navigates politics, bureaucracy and the impetuous outbursts of collaborators to create something extraordinary despite the odds.
Wednesday 14 November 2018
2pm – 3:21pm
Wednesday 14 November 2018
7:15pm – 8:36pm
Sunday 18 November 2018
2pm – 3:30pm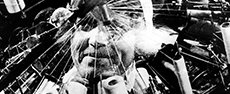 New Moscow
Dir: Alexander Medvedkin 1938 (USSR)
96 mins Digital B&W Unclassified
Daniil Sagal, Nina Alisova
Russian with English subtitles
Part Marx Brothers' slapstick, part Soviet sing-a-long, New Moscow defies classification. The film follows Alyosha (Sagal), a bumbling engineer who travels from his Siberian village to exhibit a 'living model of Moscow' in the capital. The country bumpkin stumbles through a series of misadventures in love, mistaken identity and runaway piglets. Filmed as Stalin's Grand Plan for the Reconstruction of Moscow was rearranging the city like Tetris, New Moscow mocks the state's architectural hubris. Its daring climax sees Alyosha's model malfunction, returning the gleaming Soviet city to a medieval settlement. Not surprisingly, New Moscow offended the censors (Stalin personally watched every film) and immediately disappeared from view. Director Medvedkin – who described his creative life as 'driven by the hate, or simply the enmity, of the leadership' – was largely forgotten until Chris Marker's 1993 documentary The last Bolshevik. This rarely screened comedy is testament to the artistry of a renegade Soviet visionary.
Wednesday 21 November 2018
2pm – 3:36pm
Wednesday 21 November 2018
7:15pm – 8:51pm
Sunday 25 November 2018
2pm – 3:36pm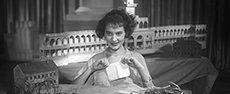 The ascent
Dir: Larisa Shepitko 1977 (USSR)
110 mins 35mm B&W Unclassified
Vladimir Gostyukhin, Boris Plotnikov
Russian with English subtitles
Have you heard of Larisa Shepitko? In the 1970s, this gifted and glamorous Soviet filmmaker attracted the same international acclaim as her celebrated male contemporaries. Born in Ukraine in 1938, Shepitko studied direction at the Moscow Film School (VGIK), a few years behind Tarkovsky. Her fourth and final film, The ascent opens with the monochrome palette of a deep blizzard in German-occupied Belarus. Two Soviet partisans come into focus: Sotnikov (Plotnikov) and Rybak (Gostyukhin). Cut off from their troop, the starving pair are soon captured by German soldiers. The drama shifts from the earthbound to the spiritual. Framed in close-ups like Orthodox icons, Rybak and Sotnikov face a harrowing decision: collaborate with the enemy or achieve transcendence. This mesmerising work won the Golden Bear at the 1977 Berlin International Film Festival. A few years later, Shepitko was killed in a car crash outside Leningrad, at age 40. The Soviet Union lost a revelatory, humanist filmmaker.
Wednesday 28 November 2018
2pm – 3:50pm
Wednesday 28 November 2018
7:15pm – 9:05pm
Sunday 2 December 2018
2pm – 3:50pm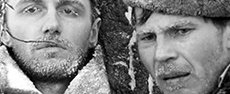 The cranes are flying
Dir: Mikhail Kalatozov 1957 (USSR)
97 mins 35mm B&W Rated M
Tatyana Samoilova, Aleksey Batalov
English-language dubbed version
Winning the Palme d'Or at Cannes in 1958, The cranes are flying eschews social realism for high Hollywood romance. In 1956, Nikita Krushchev's denunciation of his predecessor Stalin's 'cult of personality' liberated Soviet filmmakers from decades of artistic repression. Director Kalatozov tells the saga of Veronika (Samoilova) and her fiancé, Boris (Batalov), whose relationship is torn asunder during World War Two. Kalatozov's 'emotional camera' – his term for handheld techniques to express characters' affective states – translates melodramatic excess into formal daring. The black-and-white cinematography, by Sergei Urusevsky, features off-kilter compositions and striking, Bauhaus angles. For Western audiences, the film arrived like a bolt from the blue. 'Believe it or not,' wrote film critic Bosley Crowther in the New York Times, 'it is a picture about two young people romantically in love – in love with each other, that is, and not with a tractor or the Soviet state.'
Note: Due to a distributor error, this film will screen in an English-language dubbed version not subtitled as previously advertised. The Gallery apologises for any inconvenience.
Wednesday 5 December 2018
7:15pm – 8:52pm
Sunday 9 December 2018
2pm – 3:37pm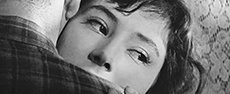 Solaris
Dir: Andrei Tarkovsky 1972 (USSR)
164 mins 35mm Colour and B&W Rated M
Natalya Bondarchuk, Donatas Banionis
Russian with English subtitles
Psychologist Kris Kelvin (Banionis) is sent to investigate mysterious events on a space station orbiting Solaris, a planet covered by a sentient ocean. The long-running scientific mission has fallen into chaos with the crew reporting strange occurrences. Upon arrival at the station, Kris encounters a doppelganger of his wife, Hari (Bondarchuk), who killed herself years before. Kris is given a second chance with the woman he loved, but is this uncanny creature really his former wife? In Tarkovsky's metaphysical vision, the cosmos confronts mankind with its own conscience. As one cosmonaut reflects: 'We don't want to conquer the cosmos, we want to extend the boundaries of Earth to the cosmos. We are only seeking Man. We don't want other worlds, we want mirrors.' Released a few years after the 1969 Apollo moon landing struck a devastating blow to the Soviet space program, Solaris reckons with vulnerability in an era of hubris. Winner of the Grand Prix at Cannes in 1972, this is Tarkovsky's most accessible work and certainly the only film to feature Bach and Bruegel in outer space.
Wednesday 12 December 2018
2pm – 4:44pm
Wednesday 12 December 2018
7:15pm – 9:59pm
Sunday 16 December 2018
2pm – 4:44pm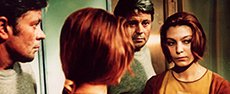 Stalker
Dir: Andrei Tarkovsky 1979 (USSR)
165 mins 35mm Colour Rated PG
Alexander Kaidanovsky, Anatoly Solonitsyn, Nikolai Grinko
Russian with English subtitles
If you've never seen Tarkovsky's haunting masterpiece on 35mm on the big screen, don't miss this chance. Based on the novel Roadside picnic by the Strugatsky brothers, Stalker has a simple plot. A writer (Solonitsyn) and professor (Grinko) engage the special skills of a 'stalker' (Kaidanovsky) to guide them into the forbidden Zone. At the epicentre of this wasteland lies the Room, a place rumoured to fulfil one's innermost desires. Composer Eduard Artemyev's wobbly synthesizers draw you into an immersive universe. The post-apocalyptic Zone was shot in a dilapidated ship repair yard, hydroelectric station and oil processing plant around Tallinn, Estonia. Tarkovsky's command of mise-en-scène transforms these industrial ruins into a spiritual badland. Hypnotic long takes, widescreen composition and artificial lighting fill each frame with a sense of wonder and terror. 'The Wizard of Oz adapted by a disciple of Dostoevsky and Kafka…possibly Tarkovsky's finest work' – Philip French, The Guardian.
Wednesday 9 January 2019
2pm – 4:45pm
Wednesday 9 January 2019
7:15pm – 10pm
Sunday 13 January 2019
2pm – 4:45pm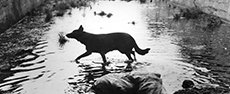 The mirror
Dir: Andrei Tarkovsky 1975 (USSR)
108 mins 35mm Colour Rated PG
Margarita Terekhova, Philip Yankovsky
Russian with English subtitles
Tarkovsky's fourth feature is the great director's most personal and poetic film. The mirror offers an idiosyncratic history of 20th-century Russia, in the form of a dying poet's fragmented reflections on three generations of his family. For Tarkovsky, the film was an attempt to 'use the means of cinema to talk of all that was most precious to me.' We hear the poetry of his father, Arseny Tarkovsky and catch glimpses of his ex-wife and mother. Memories of a childhood in the countryside, growing up during World War Two and married life merge with the collective dreams of the Soviet Union. A stuttering boy is cured through hypnosis. A mother levitates. A barn combusts in a rain storm. Enigmatic sequences intertwine with archival newsreel footage in a moving work of remembrance.
Wednesday 16 January 2019
2pm – 3:48pm
Wednesday 16 January 2019
7:15pm – 9:03pm
Sunday 20 January 2019
2pm – 3:48pm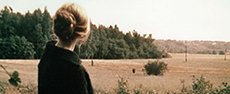 From the East: D'Est
Dir: Chantal Akerman 1993 (France)
107 mins 16mm Colour Unclassified
One year after the collapse of the Soviet Union, the great Belgian filmmaker Chantal Akerman ventured from East Germany to Moscow. In her essay on D'Est, Akerman declared that she felt the need to make the film 'while there's still time.' This impressionistic travelogue shows a world in suspense. On the verge of an unknown future, ordinary life goes on. Akerman's signature long takes capture the textures and patterns of the everyday: socialising by the seaside, planting crops on the farm, dancing at a rock concert and, everywhere, queuing. What are they waiting for? Without any commentary, dialogue or subtitles, D'Est is a film of hypnotic rhythm which rewards patience. Still moments of melancholy alternate with exuberant tracking shots of faces and landscapes. 'If I have a reputation for being difficult,' Akerman once said, 'it's because I love the everyday and want to present it. In general people go to the movies precisely to escape the everyday.' Courtesy of the Institut Français.
Wednesday 23 January 2019
2pm – 3:47pm
Wednesday 23 January 2019
7:15pm – 9:02pm
Sunday 27 January 2019
2pm – 3:47pm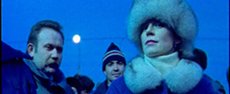 The return
Dir: Andrey Zvyagintsev 2003 (Russia)
110 mins 35mm Colour Rated M
Ivan Dobronravov, Vladimir Garin, Konstantin Lavronenko
Russian with English subtitles
Winner of the Golden Lion at Venice Film Festival, Zvyagintsev's debut feature is a psychological thriller set in the northern Russian wilderness. A father (Lavronenko) returns home after a 12-year absence and takes his adolescent sons on a fishing trip. A former actor, Zvyagintsev draws remarkable performances from his young male leads. Dobronravov is outstanding as 12-year-old Vanya, unconvinced by this stranger who demands to be called papa. His taciturn rebellion contrasts with older brother Andrey's desire for approval from their secretive father. On their journey, small trials of masculinity forge an atmosphere of unbearable tension which crescendos in disaster on a desert island. Zvyagintsev's mythological vision of nature and moving portrayal of childhood experience earned him immediate comparisons to Tarkovsky.
Wednesday 30 January 2019
2pm – 3:50pm
Wednesday 30 January 2019
7:15pm – 9:05pm
Sunday 3 February 2019
2pm – 3:50pm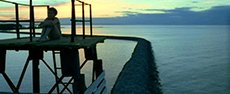 Leviathan
Dir: Andrey Zvyagintsev 2014 (Russia)
141 mins 35mm Colour Rated M
Aleksey Serebryakov, Elena Lyadova, Roman Madyanov
Russian with English subtitles
Leviathan transposes the ancient trials of Job to the far-flung northern Russian peninsula. An individual wrestles with a monstrous power. Serebryakov is the beleaguered Kolya whose ancestral home is seized by corrupt local mayor Vadim (Madyanov). When Kolya resists the eviction, this 'little man' of post-Soviet Russia is crushed by the state, church and judiciary. One scene shows Kolya and his friends taking potshots at framed photos of former presidents. Yet as a practical course of action, opposition is pointless. Set on the shoreline, Leviathan leaves us with an allegory of transience. In the hulks of abandoned boats and beached whales, Zvyagintsev shows the ruins of once monumental forces.
Wednesday 6 February 2019
2pm – 4:21pm
Wednesday 6 February 2019
7:15pm – 9:36pm
Sunday 10 February 2019
2pm – 4:21pm