Film series: Cinema '68
A globetrotting snapshot of a year that shook the world
It is 50 years since the events of 1968 radically reshaped the social, political and cultural landscape. From Hong Kong to Helsinki, Mexico City to Malaysia, protests, strikes and revolution ripped apart the East-West divide. Decolonisation movements, civil rights marches, mass opposition to Vietnam and rebellions against dictatorships reverberated across the globe. Prague was invaded. Tokyo students took to the streets. Paris burned.
In this moment of worldwide reinvention, cinema experienced a parallel overhaul. Under the banner of New Wave movements, exciting new filmmaking talents boldly decentralised international cinema's established centres of gravity. In Latin America and Africa, the first stirrings of Third Cinema decried colonialism; in Eastern Europe, artists rebelled against the strictures of social realism; and in South East Asia, the national cinemas of Singapore and Cambodia entered their golden ages. Filmmakers looked beyond national and aesthetic borders, drawing succour as much from arte povera, situationism and pop art as the now decade-old French nouvelle vague.
Apart from their production date, the selected films share a fascination with memory. These stories about mythology, zombies and lost arts remind us that – even in 1968 – the present moment was never immediately at hand but rather expectant with its future and haunted by the past.
Bringing together ten landmark films released in 1968, this season showcases the singular visions of post-revolutionary Cuban cinema, Japanese nūberu bāgu, the Italian spaghetti western and more. Cinema '68 offers a genre-spanning cross-section of a remarkable moment in time.
Wednesdays 2pm & 7.15pm, Sundays 2pm
28 February - 25 April, 6 May 2018
Free
No advance bookings. Films start at the advertised time. Doors open 30 minutes before. Tickets are issued at the Domain Theatre one hour before. Latecomers not admitted. Babes in arms not permitted.

Location: Domain Theatre
Rat life and diet in North America / Night of the living dead
Rat life and diet in North America
Dir: Joyce Wieland 1968 (Canada)
13 mins 16mm Colour Rated PG
'I can tell you that Wieland's film holds. It may be about the best (or richest) political movie around. It's all about rebels (enacted by real rats) and police (enacted by real cats). After long suffering under the cats, the rats break out of prison and escape to Canada. It is a parable, a satire, an adventure movie, or you can call it pop art or any art you want – I find it one of the most original films made recently.' – Jonas Mekas, 1968.
Night of the living dead
Dir: George A Romero 1968 (US)
96 mins 16mm B&W Rated M
Duane Jones, Judith O'Dea
Romero's groundbreaking classic introduced audiences to the zombie – a figure of the undead which cut to the quick of late 1960s America. When a state of national emergency is declared, a group of strangers take refuge in an isolated Pittsburgh farmhouse. As the property is descended upon by ravenous corpses, a parable of the times unfolds within its besieged walls. Romero cast African-American actor Jones as Ben, a lone voice of calm in a hothouse of hysteria. The film was radical not only in casting choices but in its terrifying depiction of mob psychology. Order gradually disintegrates as the hostages struggle with each other and the zombies to survive the night. Romero was driving to New York with a final cut of the film when a radio broadcast announced the assassination of Martin Luther King Jr and turned the film's shocking ending into a cultural touchstone. The final confrontation between survivor Ben and law enforcement presents a vision of racial politics in the US still resonant today.
Wednesday 28 February 2018
2pm – 3:49pm
Wednesday 28 February 2018
7:15pm – 9:04pm
Sunday 4 March 2018
2pm – 3:49pm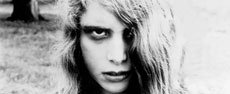 The swimmer
Dir: Frank Perry 1968 (US)
95 mins 35mm Colour Rated M
Burt Lancaster, Janice Rule
Based on John Cheever's short story, this is late 1960s Hollywood at its most eccentric. Lancaster plays Neddy Merrill, an ageing New York advertising executive who turns up in speedos at his neighbour's poolside cocktail hour. Apropos of nothing, he makes a declaration: he'll 'swim' home via the pools in his country-club friends' backyards. So begins this strangest of odysseys across the Connecticut valley. With each passing pool, Neddy's buoyancy begins to flag. Trips down memory lane with old acquaintances reveal his gung-ho swimming quest to be part and parcel of larger delusions of grandeur. Screenwriter Eleanor Perry brilliantly expanded one man's identity crisis into a broader meditation on the divided mood of homo americanus at a time of profound social upheaval. The use of Technicolour constructs a fantasy world where the clink of hi-ball glasses prevails over the din of nationwide protests and riots occurring just outside the frame.
Wednesday 7 March 2018
2pm – 3:35pm
Wednesday 7 March 2018
7:15pm – 8:50pm
Sunday 11 March 2018
2pm – 3:35pm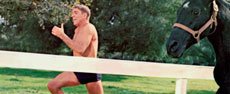 Once upon a time in the west
Dir: Sergio Leone 1968 (Italy/US)
165 mins 35mm Colour Rated M
Claudia Cardinale, Henry Fonda, Jason Robards, Charles Bronson
Following the success of the 'Dollars' trilogy – which launched the wildly popular wave of '60s Italian-Spanish 'spaghetti western' gun operas – Leone declared he was done with the genre he had almost singlehandedly revitalised. Paramount lured him back with the promise of creative freedom and Fonda. Leone cast his favourite actor against type as Frank, a ruthless gunslinger on a collision course with escaped bandit Cheyenne (Robards) and the enigmatic Harmonica (Bronson). All roads lead to Sweetwater, a piece of land owned by widower Jill McBain (Cardinale) which is the region's only water source. While the themes are textbook Hollywood western – the battle over natural resources, the coming of the railway – the execution is astonishingly original. It is an exposé of cinema's role in Old West mythmaking: a vision of the past refracted through the cinematic memories of three Italian scriptwriters (Leone, Dario Argento and Bernardo Bertolucci) who grew up on John Wayne epics confected in 1930s California backlots. From the famous opening set piece, Leone cites the canon only to subvert its look and feel with inimitable bravura. Balletic widescreen cinematography, minimalist dialogue and Ennio Morricone's extraordinary score unite in this revisionist masterpiece by a maestro of mise-en-scène.
Wednesday 14 March 2018
2pm – 4:45pm
Wednesday 14 March 2018
7:15pm – 10pm
Sunday 18 March 2018
2pm – 4:45pm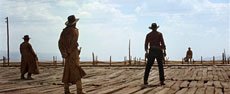 Lucía
Dir: Humberto Solás 1968 (Cuba)
159 mins 35mm B&W Unclassified
Raquel Revuelta, Eslinda Núñez, Adela Legrá
Spanish with English subtitles
Lucía is a crowning achievement of the golden age of Cuban cinema. It tells the story of modern Cuba through three generations of women, each called Lucía, across three historical epochs: the war of independence from Spain (1895), struggles again the Machado dictatorship (1933) and the 1960s. Each third of the triptych unfolds in a distinctive cinematic style. Lucía 1895 is shot with operatic gusto. Solás' camera encircles Lucía (Revuelta) and her wealthy companions in the dying days of the Havana aristocracy. Lucía 1933 shifts from baroque to domestic melodrama. Here, Lucia (Núñez) is a bourgeois schoolgirl who takes off with Aldo, a young guerilla fighter. The final section, set on a collective farm in Castro's Cuba, captures attempts by Lucía (Legrá) to break free from a backward husband with vital, slapstick energy. In the late 1960s, Solás – alongside fellow directors Tomás Gutiérrez Alea and Sara Gómez – sought a new cinematic language adequate to the new Cuba. With state funding, the first generation of post-revolutionary filmmakers unleashed a stream of formally innovative, politically urgent works which upended the image of Cuba as exotic island backdrop to Hollywood fantasies.
Wednesday 21 March 2018
2pm – 4:39pm
Wednesday 21 March 2018
7:15pm – 9:54pm
Sunday 25 March 2018
2pm – 4:39pm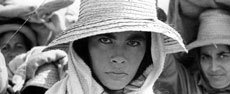 Stolen kisses
Dir: François Truffaut 1968 (France)
90 mins 35mm Colour Rated PG
Jean-Pierre Léaud, Delphine Seyrig, Claude Jade
French with English subtitles
Léaud returns as Antoine Doinel in Stolen kisses, the delightful third instalment of the celebrated coming-of-age cycle. Truffaut's doppelgänger is now in his early twenties, older yet instantly recognisable as the hapless hero of The 400 blows. Dishonourably discharged from the army, Doinel stumbles through a series of romantic and professional misadventures in Paris. With a loving eye and absurdist touch, Truffaut chronicles Doinel's earnest attempts to hold down a job and court sometime sweetheart Christine (Jade). The film bounces along as Doinel winds up as a private eye, takes an undercover assignment at a shoe shop and falls for his new boss's wife, Madame Tabard (Seyrig). Two days into filming, Truffaut received news that Henri Langlois, legendary founder of the Cinémathèque Française, had lost his post. The director, alongside fellow nouvelle vague luminaries, led mass protests often considered the dress rehearsal to the events of May '68. Langlois was reinstated and Truffaut dedicated Stolen kisses to the 'Langlois affair' and the spirit of youthful rebellion.
Wednesday 28 March 2018
2pm – 3:30pm
Wednesday 28 March 2018
7:15pm – 8:45pm
Sunday 1 April 2018
2pm – 3:30pm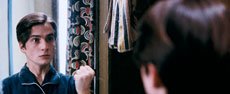 Reconstruction
Dir: Lucian Pintilie 1968 (Romania)
100 mins 35mm B&W Unclassified
George Mihăiţă, Vladimir Găitan
Romanian with English subtitles
Reconstruction is widely considered the best Romanian film of all time. Set against the backdrop of the stunning Carpathian Mountains, the story is based on an actual event in which two young men were forced by a local magistrate to reenact a drunken brawl on camera for an educational film. The delinquents, Vuică (Mihăiţă) and Nicu (Găitan), find themselves on a set presided over by a corrupt prosecutor, an alcoholic professor and a bumbling militiaman. Bystanders watch on as the film shoot slides from farce to tragedy and this fictional reconstruction turns into a radical deconstruction of life in communist Romania. With signature black wit, Pintilie derides an authoritarian power that veils reality and conjures its own new topsy-turvy order. Local censors weren't laughing: the film was banned soon after release despite its box-office popularity and its director was forced into exile in 1972. Pintilie now stands as the godfather of the recent renaissance of Romanian cinema.
Wednesday 4 April 2018
2pm – 3:40pm
Wednesday 4 April 2018
7:15pm – 8:55pm
Sunday 8 April 2018
2pm – 3:40pm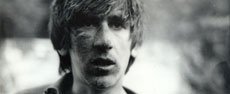 Kuroneko
Dir: Kaneto Shindô 1968 (Japan)
99 mins 35mm B&W Unclassified
Nobuko Otowa, Kiwako Taichi, Nakamura Kichiemon II
Japanese with English subtitles
Following the international success of Onibaba (1964), Kuroneko confirmed Shindô as a master of poetic horror. As civil war rages in Heian-era Japan, a group of marauding samurai emerge from a bamboo grove and descend upon an isolated farmhouse. They rape and kill its occupants, widow Yone (Otowa) and her daughter-in-law, Shige (Taichi), whose husband Hachi (Kichiemon) has been conscripted. Here, as elsewhere across his oeuvre, Shindô's is an elemental cinema: base human instincts (violence, sex, hunger) unfold across luminously shot, animate landscapes. The story shifts from earthbound to spectral when Yone and Shige rematerialise as avenging black cats. Hikaru Hayashi's score – a marvel of taiko drums and chilling meows – gives hypnotic rhythm to the women's ritualistic killing of passing samurai. When Hachi returns, this cat-and-mouse game is complicated: he must destroy the spirits. An unforgettable showdown between moral codes, both natural and supernatural, ensues.
Wednesday 11 April 2018
2pm – 3:39pm
Wednesday 11 April 2018
7:15pm – 8:54pm
Sunday 15 April 2018
2pm – 3:39pm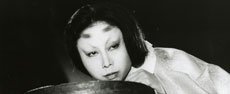 The arch
Dir: Tang Shu Shuen 1968 (Hong Kong)
94 mins 35mm B&W Unclassified
Lisa Lu, Roy Chiao
Mandarin with English subtitles
This debut feature by a feminist trailblazer was one of the first Chinese-language arthouse films to achieve international acclaim. The arch teamed Satyajit Ray's cinematographer Subrata Mitra and celebrated editor Les Blank with a young Tang, the only female filmmaker working in Hong Kong in the '60s. Set in Qing Dynasty China, it tells the story of a virtuous widow (Lu) who must subordinate her own sensuous desires for a visiting soldier (Chiao) to the expectations of her village and the hopes of her daughter. Tang's brilliant exploration of the traditional burdens of so-called 'feminine' virtues unfolds with the formal daring of the nouvelle vague. The arch received worldwide praise on release from such unlikely sources as Anaïs Nin ('a film of poetic beauty') and Fritz Lang ('one of the most charming films I have ever seen').
Wednesday 18 April 2018
2pm – 3:34pm
Wednesday 18 April 2018
7:15pm – 8:49pm
Sunday 22 April 2018
2pm – 3:34pm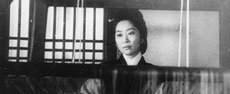 Pas de deux / Innocence unprotected
Pas de deux
Dir: Norman McLaren 1968 (Canada)
13 mins 16mm B&W Unclassified
Margaret Mercier, Vincent Warren
A mesmerising experiment in optical printing and one of the finest dance films ever made.
Innocence unprotected
Dir: Dušan Makavejev 1968 (Yugoslavia)
78 mins 16mm Colour Unclassified
Dragoljub Aleksić, Ana Milosavljević
Serbian with English subtitles
Celebrated iconoclast Makavejev brings us one of cinema history's most unforgettable protagonists, Aleksić the acrobat. In 1942, under the nose of the Nazis, Aleksić directed and starred in the first Serbian talkie, Innocence unprotected. This pioneering melodrama – replete with footage of Aleksić wooing his sweetheart with outrageous daredevil stunts – was banned during the Occupation and literally buried underground. In 1968, Makavejev rediscovered the original and remixed it with wartime newsreels and interviews with surviving cast members. The resulting film gleefully reassembles Yugoslavia's tumultuous recent history. In trademark collage style, Makavejev juxtaposes found footage of bombed-out Belgrade with scenes of a now-aged Aleksić, still triumphantly flexing his muscles. The tragicomic figure of the acrobat stands as an icon for the Yugoslav Black Wave, a short-lived film movement which emerged in the late 1960s in a moment of state liberalisation. Filmmakers produced a remarkable burst of darkly comic explorations of life under socialism and the irrepressible possibilities of artistic freedom.
Wednesday 25 April 2018
2pm – 3:31pm
Wednesday 25 April 2018
7:15pm – 8:46pm
Sunday 29 April 2018
2pm – 3:31pm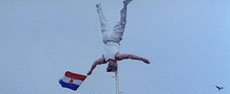 Shame
Dir: Ingmar Bergman 1968 (Sweden)
103 mins 35mm B&W Rated M
Liv Ullmann, Max von Sydow
Swedish with English subtitles
Shame begins with a foreboding soundscape of battle cries and gunfire garbled by static on the airwaves. The shrill of an alarm bell rouses Eva (Ullmann) and Jan (Von Sydow) who recounts a dream of their former lives as symphonic musicians. They've since abandoned their careers and retreated to a stone house on a remote island. Life on Fårö has not been all foraged lingonberries: the pair have escaped not only from the realities of military conflict on the mainland but from the breakdown of their own relationship. Uncharacteristically for Bergman, the film's major conflict does not derive from within but outside of his protagonists. The war on the radio soon reaches Fårö. As the carnage closes in, cinematographer Sven Nykvist's devastating close-ups of stricken faces and long shots of ruined landscapes begin to merge. What's left is the image of two figures adrift at sea, clinging for life in Bergman's most powerful, apocalyptic vision of 20th-century traumas and those yet to come.
Note: Due to the hosting of an international diplomatic event, the Art Gallery of NSW will close early on Wednesday 2 May 2018. More information
Wednesday 2 May 2018

2pm – 3:43pm


CANCELLED
Wednesday 2 May 2018

7:15pm – 8:58pm


CANCELLED
Sunday 6 May 2018
2pm – 3:43pm