Film series: Choreomania
Cinema, dance, contagion
How does a dance scene make you feel? Dance on screen has eruptive energies: sensuous, social, sudden. Exuberant physicality can make you hold your breath or want to join in. Choreomania brings together Hollywood high-gloss fantasias, new-age musicals, a lost disco film and acclaimed contemporary cinema from around the globe.
In this series, dance exudes an optimism that is sometimes contagious, sometimes cruel. For every frothy chorus line, there's a backstage meltdown. For every shimmy towards the good life, there's a cynical wink.
In these films, high kicks and hair flips are infectious. Friends, lovers and strangers meet, and when they do their bodies seem to catch fire. The flash-dancing Nicholas brothers vie to outdo each another in all-Black MGM musical Stormy weather. Bodies assemble en masse in set pieces ranging from Busby Berkeley's showstoppers to Uday Shankar's rarely screened celebration of Indian dance traditions, Kalpana. There is call and response between films across decades. Chantal Akerman's Golden eighties pays tribute to Jacques Demy's Young girls of Rochefort, which is in turn a pastel-hued homage to Gene Kelly in On the town.
When do dancers spin out of control? There's a fine line between euphoric release and unwilled compulsion. The series takes inspiration from 'choreomania', a term given to an uncontrollable urge to dance, often in a frenzied and convulsive manner. Throughout the middle ages, outbreaks of dancing plagues saw people moving involuntarily for days or even weeks on end. Mysterious somatic ailments arise throughout the series from a 17th-century Polish convent (Mother Joan of the angels) to the Russian ballet (Powell and Pressburger's The red shoes) and the rehearsal halls of a drill dance troupe (The fits). The endurance feats of the original dancing plagues return in Sydney Pollack's devastating classic They shoot horses, don't they?
This summer, spanning breakdance and kathakali, tap and hip hop, ballet and Javanese lengger, Choreomania summons the shadow side of the sunniest of film genres.
Image: still from Young girls of Rochefort
42nd Street
Dir Lloyd Bacon 1933 (US)
89 mins 35mm B&W Rated G
Ruby Keeler, Warner Baxter, Ginger Rogers
At the height of the Depression, Warner Brothers took a chance on Busby Berkeley, a self-trained choreographer who had organised marching drills during WWI. The punt paid off. Berkeley's kaleidoscopic dance numbers revolutionised the screen musical, offering overhead perspectives and through-the-leg tracking shots that no Broadway show could muster. 42nd Street wrote the script for the puttin'-on-a-show backstage drama. There's the bankrupt director who needs one last hit (Baxter), sassy chorines and the ingenue who debuts as a bit-player and comes back a star (Keeler). But it's all about Berkeley's sui generis spectaculars. Hydraulic platforms spin, legs fly and a cavalcade of peroxide blondes make the Manhattan skyline dance.
Wednesday 11 November 2020
2pm – 3:29pm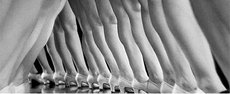 Stormy weather + Tap hop
Dir Andrew L Stone 1943 (US)
78 mins 35mm-to-digital B&W Rated G
Lena Horne, Bill Robinson, Cab Calloway
This rare all-Black MGM musical is an illustrious showcase of early African-American stage and screen talent. Stormy weather recounts the real-life story of its star, Bill 'Bojangles' Robinson, a soldier who returns from WWI and embarks on a career as a tap dancer. Travelling from nightclubs in Harlem to Memphis, Bill meets a love interest (Horne, in a sensational leading role) alongside a who's who of Black performers, including blues singer Ada Brown, musician Fats Waller and choreographer Katherine Dunham and her dance troupe. Cab Calloway makes a cameo, singing scat in a zoot suit. You'll need to watch on 'til the film's finale for its most famous sequence: the Nicholas brothers split-jumping up and down a staircase. Their astonishing 'Jumpin' Jive' routine was unrehearsed and recorded in one take. In the words of Fred Astaire, this gravity-defying duet ranks as 'the greatest dance number ever filmed'.
Preceded by Tap hop
Dir Soda_Jerk 2009 (AU)
2 mins 30 sec Digital Colour Unclassified 12+
Splicing footage from the musical comedy Pardon my sarong (1942) and the TV series Graffiti rock (1986), Tap hop stages a dance battle between pioneering 1980s hip-hop crew the New York City Breakers and seminal 1940s tap group Tip Tap & Toe. The synergies between tap and hip-hop emerge as the breakers move to tap beats and the tappers dance to the scratch rhythms of turntablism.
Sunday 15 November 2020
2pm – 3:21pm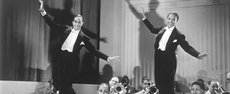 They shoot horses, don't they?
Dir Sydney Pollack 1969 (US)
129 mins 35mm-to-digital Colour Rated M
Jane Fonda, Michael Sarrazin
During the Great Depression, as chorines tripped the light fantastic in Busby Berkeley's ballrooms, other desperate folks subjected themselves to dance marathons. In Pollack's take on this real-life 1930s fad, drifters Gloria (Fonda) and Robert (Sarrazin) attempt to hoof their way to a $1500 grand prize over the course of a gruelling contest. Their danse macabre recalls accounts of 16th-century choreomaniacs who would shuffle until their feet bled. In Pollack's harrowing universe, the flights of fancy of the dance film crash back to earth as a spectacle of masochism, leering exploitation and aching tenderness. Upon release, They shoot horses, don't they? won nine Academy Awards. 'The world in which [the film] was born may only exist today as a ghost or a half-remembered nightmare, but its melded weariness and ferocity stalks hungrily at the edge of our contentment' – LA Review of Books.
Wednesday 18 November 2020
2pm – 4:09pm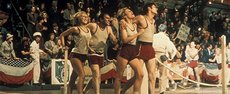 Mother Joan of the angels
Dir Jerzy Kawalerowicz 1961 (Poland)
110 mins 35mm-to-digital B&W Unclassified 15+
Polish with English subtitles
Lucyna Winnicka, Mieczyslaw Voit
Kawalerowicz was artistic director of Kadr, the film unit that heralded the Polish new wave with works of rich metaphor, grotesque humour and formal experimentation. Mother Joan of the angels is based on Aldous Huxley's semi-fictional novel The devils of Loudon. A priest arrives at an isolated convent in the countryside to expel the demons that have possessed Mother Joan (Winnicka) and her nuns. Temptations of his own await. Shot in high-contrast black and white, the film dramatises the push and pull of chastity and eroticism. Writhing, swarming and splaying prostrate in the cloister, the nuns convey their disturbances in scenes of striking choreography. One of the greatest Polish films, Mother Joan of the angels won the Special Jury Prize at Cannes in 1961.
Sunday 22 November 2020
2pm – 3:50pm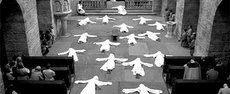 On the town
Dirs Gene Kelly and Stanley Donen 1949 (US)
98 mins 35mm-to-digital Colour Rated G
Gene Kelly, Frank Sinatra, Jules Munshin
With Technicolour toe-tappers (choreographed by first-time directors Kelly and Donen) and a Leonard Bernstein score, On the town is an instant high. Three lusty sailors enjoy 24 hours of shore leave in New York. Chip (Sinatra) meets a wisecracking cabbie, Ozzie (Munshin) hooks up with an anthropologist, and the gang hotfoot it across the city in search of the mysterious 'Miss Turnstiles', a pin-up girl who Gabey (Kelly) spies on the subway. The film was one of the first musicals shot on location, zipping all over the Big Apple, from the Navy Yard to the Brooklyn Bridge and Rockefeller Center. Their romp beguiles with all the freshness of a Hollywood nouvelle vague.
Wednesday 25 November 2020
2pm – 3:38pm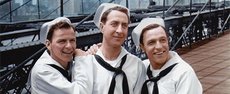 Will you dance with me?
Dir Derek Jarman 1984 (UK)
78 mins VHS-to-digital Unclassified 15+
Australian premiere. Jarman captures the ecstasy of the dance floor with neon flares and VHS vapour trails. In September 1984, he took his Olympus camcorder into Benjy's, a gay nightclub in East London's Mile End district. The footage was research for friend Ron Peck's Empire State, a gangster movie set in the club scene. In 2014, it was rediscovered and released in its largely unedited glory as Jarman's lost disco film: a time capsule of an era, just before the ravages of AIDS, when FGTH's 'Relax' was charting and a pint cost 72p. Jarman saw queer spaces as heterotopias, worlds apart from the conservatism of Margaret Thatcher's England. For him, the club 'eschews the overground reality which rejects it, and seeks perfection in an ideal favoured by low lights, denim, leather and the rest'.
With an introduction by José Da Silva.
José Da Silva is director of UNSW Galleries, Sydney. He previously led the Australian Cinémathèque at the Queensland Art Gallery | Gallery of Modern Art where he contributed to curatoriums for the Asia Pacific Triennial of Contemporary Art and curated the exhibition David Lynch: Between Two Worlds (2015). He has curated major film and video programs for Derek Jarman, Rainer Werner Fassbinder, Andy Warhol and Theo Angelopoulos, amongst others.
Sunday 29 November 2020
2pm – 3:35pm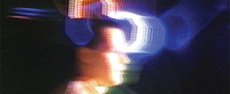 The red shoes
Dir Michael Powell and Emeric Pressburger 1948 (GB)
136 mins 35mm Colour Rated G
Moira Shearer, Anton Walbrook, Marius Goring
Powell and Pressburger's classic psychodrama sees a ballerina torn between the desire for love and the compulsion to perform. The film follows Vicky Page (Shearer), a young dancer who rises through a renowned company led by Boris Lermontov (Walbrook). Alongside composer Julian Craster (Goring), they adapt Hans Christian Anderson's fable about a pair of magic shoes that induce their wearer to dance uncontrollably. Early in the film, Lermotov asks Vicky, 'Why do you want to dance?' She replies, 'Why do you want to live?' The directors had conceived of the film before World War II. They returned to the idea in 1946: 'We had all been told for ten years to go out and die for freedom and democracy. Now the war was over, The red shoes told us to go out and die for art.'
Wednesday 2 December 2020
2pm – 4:16pm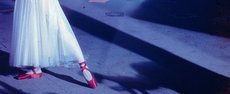 Kalpana
Dir Uday Shankar 1948 (India)
160 mins 35mm-to-digital B&W Unclassified 12+
Uday Shankar, Amala Shankar, Padmini
Hindi with English subtitles
Billed as India's first 'all-dancing' picture, Kalpana is a landmark of mid-century modernist cinema. Director Uday Shankar was a pioneering dancer who united Indian classical forms with Western techniques. After the closure of his dance academy in the late 1930s, he embarked on this autobiographical tale of a young dancer who dreams of starting his own arts centre. The film's extraordinary choreography was designed specifically for the camera, with canted angles and chiaroscuro effects framing the movements of Amala Shankar and Padmini, in her cinematic debut. For the first time, Indian audiences could witness the wealth of their dance traditions on screen, from Rajasthani folk to Keralan kathakali. 'Kalpana is one of the few real 'dance films' – in other words, a film that doesn't just include dance sequences, but whose primary physical vocabulary is dance' – Martin Scorsese.
Restored in 2008 by Cineteca di Bologna/L'Immagine Ritrovata, in association with The Film Foundation's World Cinema Project, the family of Uday Shankar, the National Film Archive of India, and Dungarpur Films. Restoration funded by Doha Film Institute.
Sunday 6 December 2020
2pm – 4:40pm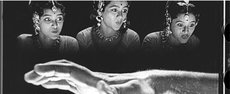 Young girls of Rochefort
Dir Jacques Demy 1967 (France)
128 mins 35mm Colour Rated G
Catherine Deneuve, Françoise Dorléac, Gene Kelly
French with English subtitles
Demy's fizzy ode to American musicals casts real-life sisters Deneuve and Dorléac as twins in a sleepy port village. Taking place over one weekend when a fair comes to town, the romantic comedy revolves around the sisters' dreams of finding lovers and moving to Paris. Demy once explained, 'I'm trying to create a world in my films.' True to this mantra, he ordered thousands of shutters and facades to be repainted in sherbet shades to evoke the fantasias of golden-age Hollywood. Demy's homage to films such as On the town is a two-hour sugar hit doled out by a jazzy Michel Legrand score, widescreen cinematography by Ghislain Cloquet and an outstanding supporting cast, including Kelly. Bonus points for spotting a cameo by Agnès Varda (filmmaker and Demy's wife) as a nun.
Wednesday 9 December 2020
2pm – 4:08pm
Sunday 13 December 2020
2pm – 4:08pm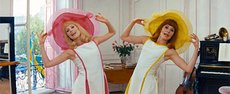 All that jazz
Dir Bob Fosse 1979 (US)
123 mins 35mm Colour Rated M
Roy Scheider, Ann Reinking, Jessica Lange
'It's showtime, folks!' Director and choreographer Fosse turned the camera on his own life for this madcap autobiography. Scheider gives a career-best performance as Joe Gideon, whose gruelling work schedule – mounting a Broadway production by day and editing his latest movie by night – endangers his life. Fuelled by Vivaldi, amphetamines, an insatiable libido and monstrous ego, Gideon self-destructs in hallucinatory flashbacks, fantasy premonitions and dates with an Angel of Death (Lange). Like many films from this period, the sexual politics of All that jazz have not aged well. Yet the audacity of its doom-and-glitter vision of creativity still captivates (it remains the only musical to feature ecstatic song-and-dance during an open-heart surgery scene). Nominated for nine Academy Awards, Fosse's masterwork won the Palme d'Or at Cannes in 1980, and was described by Stanley Kubrick as the best film he'd ever seen.
Wednesday 6 January 2021
2pm – 4:03pm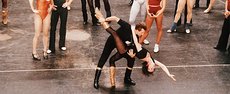 The fits + Black bus stop
Dir Anna Rose Holmer 2016 (US)
72 mins Digital Colour Rated PG
Royalty Hightower, Makyla Burnam
Holmer's debut is one of the most electrifying films of the decade. Inspired by real stories of mass hysteria – including medieval choreomania – The fits explores the angst and yearnings of early adolescence. Eleven-year-old tomboy Toni (breakout star Hightower) finds camaraderie when she joins the Lionesses, an all-Black drill dance troupe. Their mesmerising routines are disrupted when, one by one, the girls succumb to mysterious convulsions. Is it the local water? Is it contagious? Holmer works with a hypnotic sense of rhythm and a rare gift for rendering physicality. In her words, 'I realised how much pure narrative emotional content can be expressed through gestures, movement, the juxtaposition of bodies.'
Preceded by Black Bus Stop
Dirs Kevin Jerome Everson and Claudrena N Harold 2019 (US)
9 mins Digital Colour Unclassified 12+
This multi-award-winning short pays tribute to the Black Bus Stop, an iconic gathering spot for Black students at the University of Virginia in the 1980s and 1990s. In collaboration with choreographer Marjani Forté-Saunders, the filmmakers stage a nocturnal celebration of the space with an exuberant dance.
Wednesday 6 January 2021
7:15pm – 8:35pm
Sunday 10 January 2021
2pm – 3:20pm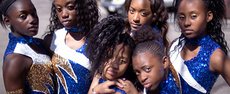 Madeline's Madeline
Dir Josephine Decker 2018 (US)
94 mins Digital Colour Unclassified 15+
Helena Howard, Miranda July, Molly Parker
Decker's furious, visionary works (see this year's Shirley) have won acclaim for their intense performances and dramatic clarity. Her third feature is a study of family conflicts and artistic drives. Madeline (extraordinary newcomer Howard) is an integral member of a physical theatre troupe in Manhattan. When the workshop's overbearing director (Parker) pushes the teenager to incorporate her troubled relationship with her mother (July) into their rehearsals, the lines between performance and reality begin to blur. Filmmaker Barry Jenkins (Moonlight) described Madeline's Madeline as 'bravura filmmaking, insistently challenging and always evolving,' while saying of Howard, 'this is one of the best performances I've ever seen in my life'.
Wednesday 13 January 2021
2pm – 3:34pm
Wednesday 13 January 2021
7:15pm – 8:49pm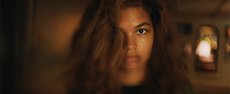 Memories of my body
Dir Garin Nugroho 2018 (Indonesia)
107 mins Digital Colour Unclassified 18+
Rianto, Muhammad Khan
Javanese with English subtitles
As part of the Gallery's commitment to spotlighting recent cinema from our region with limited release, we're thrilled to screen Nugroho's latest award-winning film. Inspired by the life of celebrated dancer Rianto, this coming-of-age story explores gender and sexuality against the political unrest of '80s and '90s Indonesia. Juno, a young orphan living in rural Java, finds community in a Lengger dance troupe. The sensual performances of these male dancers in female roles awaken him to the possibilities of gender fluidity and alternative forms of kinship. As he masters the traditional Javanese dance, Juno experiences deep-seated homophobia and the violence of Indonesian president Suharto's crackdown on artists. Hounded from village to village, he encounters other bodies – beautiful and bruised, young and old – whose tenderness and tragic histories bring him to realise, 'my body is my home'. The film's release sparked controversy amongst conservative groups in Indonesia and was banned from screening in many provinces.
Wednesday 20 January 2021
2pm – 3:44pm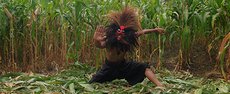 Golden eighties
Dir Chantal Akerman 1986 (Belgium)
96 mins 35mm-to-digital Colour Rated PG
Delphine Seyrig, Lio, Fanny Cottençon
French with English subtitles
Following her masterworks of the 1970s, Akerman collaborated with the unlikely dream team of screenwriter Leora Barish (Desperately seeking Susan), veteran Truffaut scenarist Jean Gruault, and Cahiers du Cinéma critic Pascal Bonitzer. They surprised audiences with this Fujicolour pop musical. Golden eighties plays out in a shopping centre, where love lives are tangled and hearts are exchanged as readily as shop leases. With a lightness of touch, Akerman explores the glitzy commercialisation of emotion and the social masks worn to conceal historical trauma. 'Somewhere between camp and straight, satire and romance, teen movie and avant-garde masterpiece, Golden eighties is the time and place to be in' – critic Adrian Martin.
Wednesday 20 January 2021
7:15pm – 8:51pm