Celebrity talks: Nude fictions
Writers read their own words inspired by the exhibition
In this series, writers read a piece of their own fiction inspired by artworks in Nude: art from the Tate collection. Settle in to enjoy these imaginative tales of some of art's greatest nudes.
Wednesdays 6.30pm
4-25 January, 1 February 2017
18 January is Auslan interpreted
Free
No bookings required
Duration 30 minutes
Location: Entrance court
Related exhibition: Nude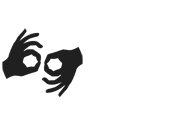 Linda Jaivin
Linda Jaivin first made her name on the literary scene with her comic erotic novel Eat me. She has since published six more novels, including A most immoral woman and The empress lover, along with short stories and four works of long-form non-fiction. She is currently working on, among other things, a three-part radio documentary on the subject of privacy, called Nothing to hide, for ABC's Radio National.
Wednesday 4 January 2017
6:30pm – 7pm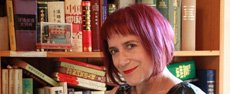 Benjamin Law
Benjamin Law is a TV screenwriter, journalist and newspaper columnist, who has a PhD in creative writing and cultural studies. A frequent contributor to Good Weekend, Frankie and The Monthly, he is the author of two books— The family Law and Gaysia: adventures in the queer east —and the co-author of the comedy book Shit Asian mothers say with his sister Michelle and illustrator Oslo Davis. Both his books have been nominated for Australian Book Industry Awards and The family Law was made into an SBS TV series.
Wednesday 11 January 2017
6:30pm – 7pm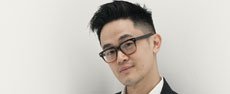 Christos Tsiolkas
Christos Tsiolkas is one of Australia's most highly acclaimed novelists. He is the author of five novels: Loaded, which was made into the feature film Head-on, The Jesus man and Dead Europe, which won the 2006 Age Fiction Prize and the 2006 Melbourne Best Writing Award. The Slap won Overall Best Book in the Commonwealth Writers' Prize 2009, was shortlisted for the 2009 Miles Franklin Literary Award and longlisted for the 2010 Man Booker Prize. It was turned into a TV mini-series in Australia and the United States. Barracuda was an instant bestseller, shortlisted for several prizes and adapted into a mini-series in 2016. His most recent book, Merciless gods, is a collection of short stories. He is also a playwright, essayist and screenwriter.
This talk on 18 January will be Auslan-interpreted for deaf and hearing-impaired visitors
Image: Christos Tsiolkas. Photo: John Tsiavis
Wednesday 18 January 2017
6:30pm – 7pm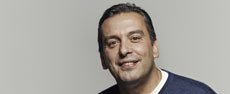 Anita Heiss
Dr Anita Heiss is the author of non-fiction, historical fiction, commercial women's fiction, poetry, social commentary and travel articles. Her latest book is a novel, Barbed wire and cherry blossoms. She is a regular guest at writers' festivals and travels internationally performing her work and lecturing on Indigenous literature. A member of the Wiradjuri nation of central NSW, she is a lifetime ambassador of the Indigenous Literacy Foundation, an ambassador of Worowa Aboriginal College, an advocate for the National Centre of Indigenous Excellence and an adjunct professor with Jumbunna Indigenous House of Learning, UTS. She currently divides her time between writing, public speaking, managing the Epic Good Foundation and being a 'creative disruptor'. Anita was a finalist in the 2012 Human Rights Awards and the 2013 Australian of the Year Awards.
Image: Anita Heiss. Photo: Amanda James
Wednesday 25 January 2017
6:30pm – 7pm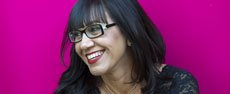 Michael Leunig
Michael Leunig is an Australian cartoonist, writer, painter, philosopher and poet. His commentary on political, cultural and emotional life spans more than 40 years and has often explored the idea of an innocent and sacred personal world. The fragile ecosystem of human nature and its relationship to the wider natural world is a related and recurrent theme.
Micheal's newspaper work appears regularly in the Melbourne Age and the Sydney Morning Herald. He describes his approach as regressive, humorous, messy, mystical, primal and vaudevillian – producing work which is open to many interpretations and has been widely adapted in education, music, theatre, psychotherapy and spiritual life.
Image: Self portrait by Michael Leunig
Wednesday 1 February 2017
6:30pm – 7pm