Celebrity talks: Long live the greats
Exploring why classical art forms still resonate
In this series of talks, cultural figures discuss the enduring works in the exhibition The Greats: masterpieces from the National Galleries of Scotland and the ability of classical art forms to resonate through the ages. What keeps them relevant, why do we still respond to them and what does this say about us?
Image: Simon Tedeschi. Photo Maja Baska
Wednesdays, 6.30pm
28 October – 11 November 2015

Free
Duration 30 minutes
Location: Entrance court
Related exhibition: The Greats
Simon Tedeschi in conversation with Lily Serna
Simon Tedeschi is one of Australia's most renowned and sought-after pianists. As a soloist, he regularly performs with orchestras around the country and worldwide. With the release of his new recording of Mussorgsky's Pictures at an exhibition, he is embarking on a national recital tour. This 10-movement suite is a musical description of a walk among paintings. Physically demanding, it has required him to undertake physical training to prepare for its rigours. Tonight Simon talks with Lily Serna, mathematician and popular television host of Letters and numbers on SBS, about this incredible piece of music and the inspiration behind it.
Wednesday 28 October 2015
6:30pm – 7pm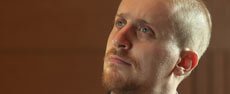 John Bell in conversation with Fenella Kernebone
Acclaimed actor and director John Bell AO OBE is among Australia's most distinguished theatrical figures. After graduating from Sydney University, he spent five years with the Royal Shakespeare Company in England. Back in Australia, he co-founded the Nimrod Theatre in 1970 and, in 1990, he founded the Bell Shakespeare Company. He has been widely recognised for his services to Australian theatre, and in 1997 was named one of Australia's National Living Treasures. Tonight, with arts journalist Fenella Kernebone, John discusses the ongoing relevance and appeal of Shakespeare's plays and the challenges they face in a contemporary context.
Wednesday 4 November 2015
6:30pm – 7pm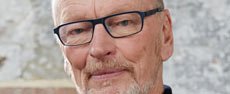 Steven Heathcote
Steven Heathcoate AM is ballet master and repetiteur at the Australian Ballet. Contracted to the company in 1983, he rapidly rose to the rank of principal artist, a position he held for 20 years. He has also performed as a guest artist with some of the world's major ballet companies, including the American Ballet Theatre, Birmingham Royal Ballet, Royal Danish Ballet and Mariinsky Ballet. Steven appeared in the 2009 feature film Mao's last dancer, conceived and directed a production of Handel's Julius Caesar for the Victorian Opera in 2010, was choreographer and assistant director for that company's production of Stravinsky's The rake's progress in 2012, and in 2013, played Don Quixote in the Australian Ballet's production of that ballet. Tonight, Steven talks about classical ballet's power to transform and stay vital.
Wednesday 11 November 2015
6:30pm – 7pm