Celebrity talks: Archibald Prize 2018
Hear from artists and their sitters
Join Fenella Kernebone, Benjamin Law and Yumi Stynes in this series of talks with finalists from the Archibald Prize 2018. Find out what it takes to be hung in the Archibald as we hear from artists and their sitters in an intimate conversation that unveils the stories behind the canvas.
Artists in conversation with Fenella Kernebone
Fenella Kernebone is the head of curation for TEDxSydney, responsible for leading the programming of one of the largest TEDx events in the world. She is also a noted television and radio presenter and producer and has hosted radio and television shows on ABC TV, SBS TV, RN, Triple J, podcasts such as It's a long story for Sydney Opera House and the TEDxSydney Livestream and Adventure Series.
On 16 May, Fenella speaks to this year's winner of the Archibald Prize, Yvette Coppersmith.
On 23 May, she speaks to three artists who all painted self-portraits: Guy Maestri, Vanessa Stockard and Angela Tiatia.
Wednesday 16 May 2018
6:30pm – 7pm
Wednesday 23 May 2018
6:30pm – 7pm
Artists in conversation with Benjamin Law
Benjamin Law is a journalist, columnist, TV screenwriter and author of The family law (2010), Gaysia: adventures in the queer East (2012) and Quarterly essay 67: Moral panic 101 (2017). The family law is now an AACTA-nominated TV series for SBS which he created and co-writes.
Benjamin will be in conversation with Archibald Prize finalists Del Kathryn Barton, Jonathan Dalton, Julian Meagher and Sally Ross.
Wednesday 20 June 2018
6:30pm – 7pm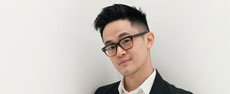 Artists in conversation with Yumi Stynes
Yumi Stynes is an Australian television and radio presenter and massive art fan. She is the co-host of KIIS FM's 3PM Pick-Up radio show and the presenter on the ABC's blockbuster podcast, Ladies, we need to talk. After her successful book launch last year, Yumi has a second cook book coming out this Christmas.
Join Yumi Stynes in conversation with artist Dee Smart and her sitter, the highly-acclaimed dancer, choreographer and director Meryl Tankard. Smart is a self-taught artist and this is her second time in the Archibald Prize, having been hung in last year's exhibition.
Wednesday 27 June 2018
6:30pm – 7pm