Celebrity talks: artists and sitters from the Archibald Prize 2019
Hear the stories behind the portraits
Join Jan Fran and Zan Rowe in this series of behind-the-scenes talks with finalists and their sitters from the Archibald Prize 2019. Find out what it takes to be hung in the Archibald as we hear from artists and their sitters in these intimate conversations that unveil the stories behind the canvas.
Jan Fran is a journalist, TV presenter and internet commentator best known for hosting The Feed and Medicine or myth on SBS and the podcasts Sexism and the city and The few who do. Her online opinion segment The Frant has been over 18 million times since its start in 2017.
Zan Rowe is the host of Double J Mornings and ABC music correspondent. She is also the former host of triple j Mornings, a mega music fan, book nerd, food lover and once great captain of a dodgeball team 'Dodger Federer'.
Image: Jan Fran. Photo by Jedd Cooney
Jan Fran in conversation with Thea Perkins and Christian Thompson
Journalist and TV presenter Jan Fran speaks to Archibald finalist Thea Perkins and her sitter and fellow artist Christian Thompson in this candid conversation about the portrait and their long-time friendship.
Sydney-based Thea Perkins is an Arrernte and Kalkadoon woman with an emerging painting and installation practice. This is her first time in the Archibald Prize.
Artist Christian Thompson is known for his powerful live performances and conceptual portraits that explore identity, cultural hybridity and history. He made history when he became the first Aboriginal Australian to be admitted into the University of Oxford in its 900-year history.
Image: Thea Anamara Perkins, Christian, Archibald Prize 2019 finalist, © Thea Anamara Perkins
Wednesday 14 August 2019
6:30pm – 7pm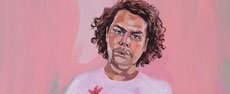 Zan Rowe in conversation with Kim Leutwyler and Faustina Agolley
Radio and TV host Zan Rowe goes behind-the-scenes with Archibald finalist Kim Leutwyler and her sitter, the brilliant Faustina Agolley. Together they discuss the experience of painting this portrait and its significance in the exhibition.
Originally from the United States, Sydney-based artist Kim Leutwyler's paintings explore ideas of beauty, gender and queer identity. She was a finalist in the Archibald Prize in 2015 and 2017 and in the Sulman Prize in 2017.
Faustina Agolley is an actor, TV host, producer, writer and DJ. She has hosted Video hits and The voice, starred in the 2017 production of Molière alongside John Bell, toured Australia and New Zealand as Oprah Winfrey's resident DJ and is currently starring in ABC and Hulu's Harrow, among other things!
This talk will be Auslan-interpreted.
Image: Kim Leutwyler Faustina (detail) Archibald Prize 2019 finalist © Kim Leutwyler
Wednesday 21 August 2019
6:30pm – 7pm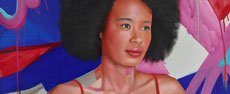 Zan Rowe in conversation with Katherine Edney
In this chat, Zan Rowe speaks to Archibald finalist Katherine Edney about her raw and deeply personal self-portrait in the exhibition. Having painted herself in her last weeks of pregnancy, Katherine describes her personal journey behind the creation of this intimate portrait.
Sydney artist Katherine Edney has been a multi-time finalist in the Brett Whiteley Travelling Art Scholarship, the Portia Geach Memorial Award and the Ravenswood Australian Women's Art Prize. This is her first time in the Archibald Prize.
Image: Katherine Edney, Self-portrait with Ariel (detail) Archibald Prize 2019 finalist © Katherine Edney
Wednesday 28 August 2019
6:30pm – 7pm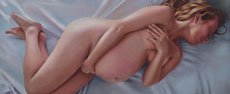 Jan Fran in conversation with Jasper Knight and Jason Phu
Join Jan Fran for a candid conversation with Archibald artist Jasper Knight and his sitter and fellow artist Jason Phu. Topics of conversation include the experience of making this portrait and who now owns it.
Sydney artist Jasper Knight has been in the Archibald Prize on six previous occasions. His work has been shown throughout Australia and in London, Berlin and Beijing and can be found in both corporate and private collections throughout the country.
Jason Phu has been an Archibald Prize finalist twice. He won the Sulman Prize in 2015 and is a Sulman finalist again this year. Last year he also showed in the Dobell Drawing Biennale here at the Gallery.
Image: Jasper Knight Jason Phu (detail) Archibald Prize 2019 finalist © Jasper Knight
Wednesday 4 September 2019
6:30pm – 7pm