Archibald 2014 luncheon BOOKED OUT
Be part of the conversation
Sofitel Sydney Wentworth and the Art Gallery of New South Wales present the Archibald 2014 luncheon.
The nation's favourite and most prestigious prize for portraiture is always a source of entertainment and controversy.
Hosted by Michael Brand, the Gallery's director, and Nell Schofield, writer and presenter, this is your opportunity to be part of the conversation with selected artists and their subjects in the Wentworth Ballroom of Sydney's Hotel of the Arts.
Wednesday 20 August 2014, 12.30pm
$105 non-member
$95 member
$950 table (maximum 10 people)
Two-course luncheon including wine and coffee
Bookings and enquiries: 02 9225 1878
Tables seat a maximum of 10 people. If you wish to be seated together, please purchase your tickets as a group booking by phone. Please advise any dietary requirements at time of booking.
Cancellations:
Three full working days (Mon–Fri) notice is required to qualify for a refund. All refunds attract an administration charge of 25% of the ticket price(s) with a minimum charge of $5. Not negotiable.
Location: Level 3, Wentworth Ballroom
Sofitel Sydney Wentworth, 61–101 Phillip St, Sydney
Duration 1 hour, 30 minutes
Related exhibition: Archibald, Wynne and Sulman Prizes 2014
Related program: Portraits at the Gallery 2014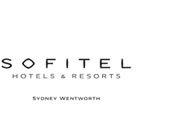 Wednesday 20 August

12:30pm – 2pm


BOOKED OUT