Young Members: born with a bang!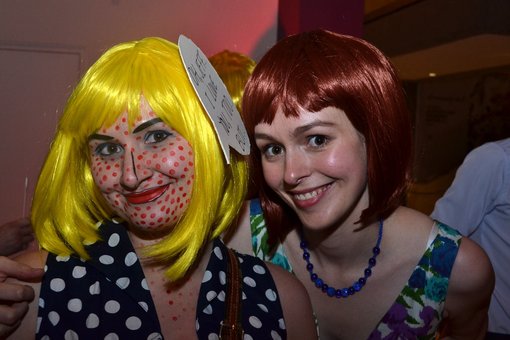 Last Saturday night, the Gallery's Young Members group held our end-of-year pop art party – a flurry of colour, creative dressing and wigs a-plenty as 500+ people went overboard with costumes inspired by the Pop to popism exhibition and danced up a storm.
It was extra exciting as it was the first event under our new moniker of Young Members. We were previously called Contempo (and even Young Friends in the not-too-distant past) and have changed to Young Members to better reflect that we're an events group for Gallery members and their friends, aimed at 18-40 year olds.
Of course the young at heart are welcome, but we wanted an easy way to let people know that our events hone in on vibrant emerging and contemporary art – be it provocative talks by artists or visits to unique private art collections. We get pretty active too, between street art walking tours and getting hands on with workshops. Young Members are an involved bunch. Whatever we're doing, it's filled with cultural exploration and fun!
Check out some photos from the party in the slideshow below (click one of the small images to begin). You can stay up to date with what we're up to and find out how to get involved via the Young Members section of the Gallery website, Facebook and Instagram. Perhaps we'll see you at one of our events soon?
Previous post: Stop and take a closer look
Next post: Significant others: women in pop art

December 02 2014, 3pm
by Sophie Harrington
Young Members manager (until October 2015)