With thanks to the art lovers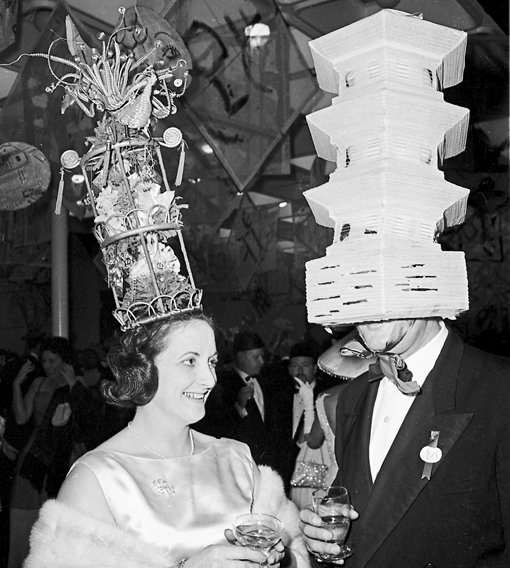 Image: Detail of photo of Mrs Philip Rundlre and Tom Gillies with Chinese headdresses at the 1965 Oriental ball (John O'Gready/Fairfax Syndication)
Last Saturday night we put on our glad rags to celebrate the 60th anniversary of the Art Gallery Society of NSW.
Over six decades many thousands of Sydneysiders and people from all over the state have shown their love of the Art Gallery of NSW by becoming members. In that time, we've grown from a small, elite club, renowned for outrageous balls and controversial personalities, into a broad-based organisation of more than 31,000 with an unrivalled program of activities – the most active friends' group in Australia.
From the start, we've attracted the good, the great and the notorious – from Chief Justice Sir Kenneth Street to Sir Frank Packer's wife Lady Florence, philanthropist Ann Lewis, artist Margaret Olley, politician Bronwyn Bishop, architect Harry Seidler and his wife Penelope, and impresario and publicity agent Harry M Miller.
The antics of the Eastern Suburbs set in the early days has to be read to be believed. There was the future prime minister who came to party, the leadership contest fought out on the streets, the financial advisor who went to jail… These stories and more are told in frank detail in a new history called Art lovers: the story of the Art Gallery Society 1953–2013, which was launched at Saturday's dinner by the Society's patron, the Governor, Professor Marie Bashir, and is available from the Gallery Shop.
As well as chronicling Sydney's cultural life, the book traces the Society's growth into a more democratic organisation for all lovers of art from any walk of life – which is what it should be and what it is today.
One of the most important contributions the members make is buying artworks for the Gallery's collection. In our 60 years we've provided funds for more than 200 artworks – Asian, Australian, European, photographs, sculptures, prints – you name it, we've bought it!
This year, as part of our birthday celebrations, we've also sponsored the exhibition Sydney moderns: art for a new world along with the conservation of some of the associated artworks, including several painted panels by Roy de Maistre.
This support for the Gallery shows just how important the collection and exhibitions are in many members' lives. It's so rewarding for these individuals to walk around the Gallery, see the masterpieces on display and know they've made a contribution. It's a fantastic legacy for their children, and their children's children, and many generations to come.
So to all our members, past and present, from everyone at the Society and at the Gallery, and on behalf of art lovers everywhere, thank you.
To view a slideshow of images from the gala dinner, click on one of the small images below.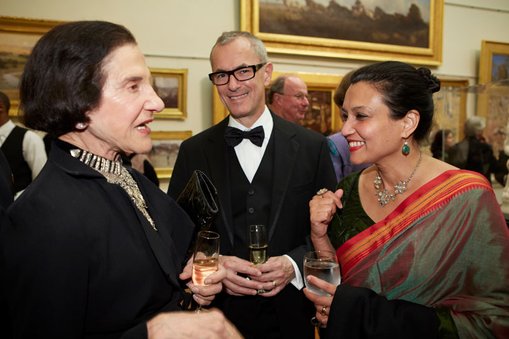 1/7
Art Gallery Society gala dinner, 27 July 2013
Left to right: Governor of NSW, Her Excellency Professor Marie Bashir AC, CVO; Dr Michael Brand, Director, Art Gallery of NSW; Suhanya Raffel, Director of Collections, Art Gallery of NSW
2/7
Art Gallery Society gala dinner, 27 July 2013
Left to right: Tina Gomes Brand; Dr Michael Brand, Director, Art Gallery of NSW; artist Ann Thomson, who donated work to the fundraising auction
3/7
Art Gallery Society gala dinner, 27 July 2013
Left to right: Art Gallery Society Councillor Aviva Ziegler; former Society Executive Director Judith White, who wrote Art lovers; Governor of NSW, Her Excellency Professor Marie Bashir AC, CVO; former Society Councillor Annette Blinco
4/7
Art Gallery Society gala dinner, 27 July 2013
Left to right: Art Gallery Society Councillor Valerie Marteau; Anne Flanagan, Deputy Director, Art Gallery of NSW; Contempo President Renee Siros
5/7
Art Gallery Society gala dinner, 27 July 2013
Left to right: Art Gallery Society volunteer and former guides coordinator Carolyn Bethwaite; artist Alex Seton, who donated work to the fundraising auction
6/7
Art Gallery Society gala dinner, 27 July 2013
Left to right: Elaine Smith; Jonathan Biggins, who was MC
7/7
Art Gallery Society gala dinner, 27 July 2013
Pianist Alexey Yemtsov performing at the dinner
Previous post: Roy de Maistre shapes up
Next post: Colour and music rolled into one

July 31 2013, 3pm
by Craig Brush
Executive director, Art Gallery Society of NSW (until June 2014)