Who is Guido Valdez?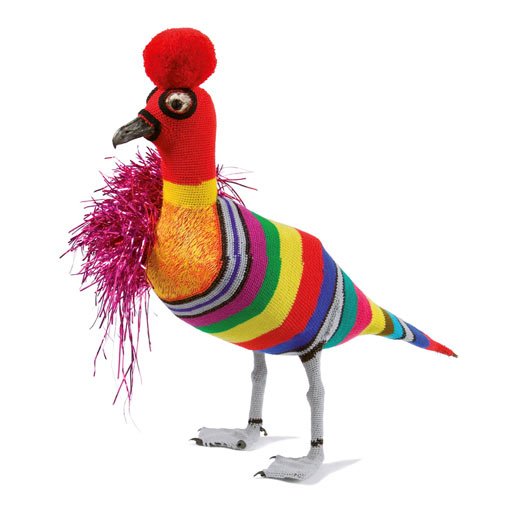 Louise Weaver Guido Valdez (Vendetta for Love) 2006, hand-crocheted lambs wool, Lurex, plastic and cotton thread over a taxidermic Pacific Gull (Larus pacificus), 48.5 × 46 × 22 cm, private collection © the artist
A most captivating character has recently taken up residence in the contemporary galleries at the Art Gallery of NSW, migrating to Sydney, we're told, for a season of rest and recreation. Watch out, Guido Valdez is here and he's dressed to party. But who is this new man about town?
In an exclusive interview, one of Senor Valdez' closest friends, Melbourne artist Louise Weaver, has revealed what she knows to the Gallery. As someone with a deep and abiding fascination for nature's ability to reinvent and rejuvenate, she knows all about camouflage and metamorphosis – and all about our new resident.*
'Guido Valdez (Vendetta for Love) has the bearing of one "out to impress". He leaves a trail of admirers in his wake, as he travels the world seeking new sensations and excitement. A "bon vivant", he is the consummate chameleon, able to adopt and perform a cavalcade of evolving roles.
'Part matador, "superhero wrestler" and Latin lover, he is "dressed" in his colourful art gallery best. He wears his "plumage" with distinction; his chest aflame; the pom-pom rouge – a crest or award for services to avian wrestling perhaps?
'He has muscle where it counts after all, and those wiry legs … well a dancer would be jealous. How must he feel; those tiny talons separated and enrobed in grey crocheted wool, a web, a net, a skin pulled tight to protect and offer comfort against the cold?
'I think of Guido as a kind of avatar – an emissary who goes into the world to places I can't always be. He observes all kinds of fantastic things and is constantly amused at the funny comments he hears … reporting back from time to time with "Firebird" staccato in my dreams.'
Well thank you Louise, sounds like you know him rather well… Guido Valdez is in town for a few months, so let's hope there's time for the rest of us to get to know him a little better.
*In 2006 Louise Weaver was invited to create a work and to design the cover of Art & Australia magazine (now ARTAND). Guido Valdez (Vendetta for Love) is the outcome of that commission. He is on loan to the Gallery for the Colourwheel exhibition.
Previous post: Encountering Grayson Perry
Next post: We're all big kids at heart

June 09 2015, 10am
by Jackie Dunn
Writer and exhibition researcher