Whiteley, in a nutshell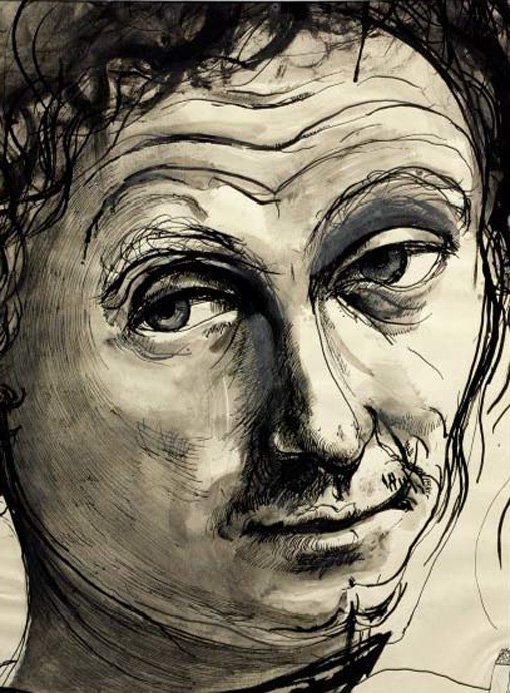 Brett Whiteley Pages from New York Sketchbooks 1967 (detail), Brett Whiteley Studio collection © Wendy Whiteley
In late 2016, little more than a fortnight into my curatorial internship with the Art Gallery of NSW, I had the illuminating pleasure of visiting the back rooms of the Brett Whiteley Studio in Surry Hills. Away from the propriety of a gallery, any artist's studio is a world of tension, a place of work and of pleasure, a source of inspiration and despair. Even for Whiteley – arguably the most public artist Australia has ever known – I came to appreciate that the studio holds secrets that even the nosiest fly on the gallery wall may never know.
The Studio visits were some two years before the eventual exhibition at the Gallery – Brett Whiteley: drawing is everything – opened to the public. At that time, the exhibition had no name and the early objective was to sight and prepare a preliminary selection of works. Sifting through the cabinets with curator Anne Ryan was a game of lucky dip. One moment I was admiring a refined, celebrated, oft-exhibited drawing or print, perhaps of Lavender Bay or a native bird, the next my sensibilities were tested by an explicit sketch hastily inked onto a scrappy piece of card.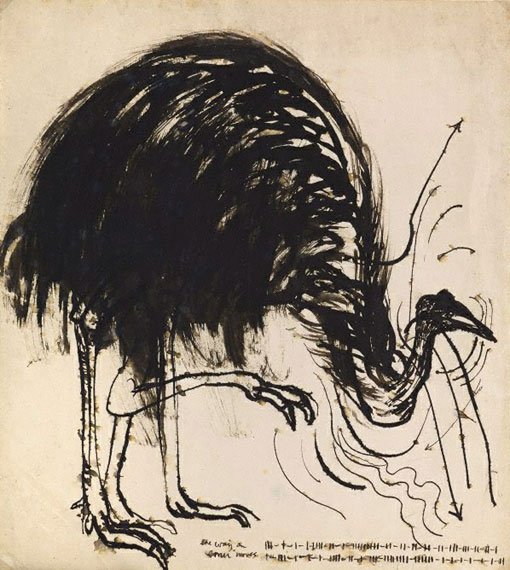 But that, it seems to me, was Whiteley in a nutshell. His output as a draughtsman, a painter, a printmaker and a sculptor was prolific, which meant, among other things, that there was plenty of room for rehearsal. By his own admission, drawing did not come easy. The drive to draw was always there with playful sketches filling the margins of his schoolboy notebooks and letters home. But it was not until life-drawing sessions at Julian Ashton's art school and at John and Marie Santry's drawing club alongside the likes of Lloyd Rees that Whiteley began to seriously hone his craft.
What he no doubt learned was the value of mistakes as a necessary conduit to brilliance. The great benefit of the Studio's holdings, preserved thanks chiefly to the efforts of Wendy and Arkie Whiteley in the years after Brett's death, is the totality of what was kept – warts and all, so to speak. If Whiteley so much as doodled on a piece of cardboard packaging (which was literally the case), it was saved, issued an identification number and filed away for posterity. Seeing firsthand the true extent of Whiteley's obsessive need to draw affirmed to me the integrity of his art and, indeed, the sincerity behind his appropriation of Alfred, Lord Tennyson's line: 'It is better to have drawn and lost than never to have drawn at all'.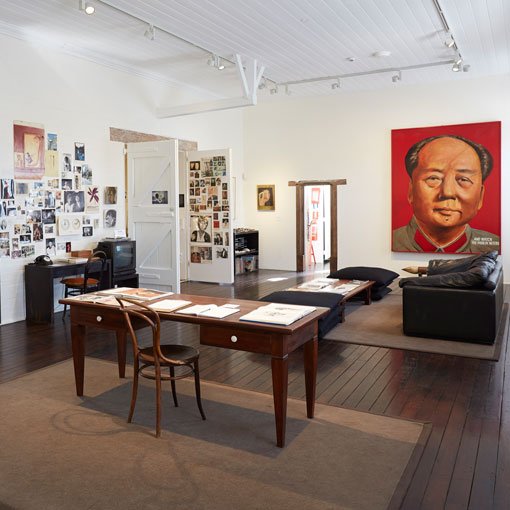 I cannot help but associate the openness of Whiteley's approach to drawing with the way he viewed life more broadly. The people Whiteley admired could easily be a reading list for a student of psychology. He venerated Vincent van Gogh and Francis Bacon, listened to Bob Dylan, read Baudelaire, Rimbaud and Patrick White. But he also read and drew figures as diametrically opposed as Chairman Mao and Yukio Mishima.
The common thread was certainly not a creative or ideological affiliation. Rather, Whiteley was drawn to genius – not in the sense of intelligence or praiseworthiness, but in the classical sense of a person's character or essential nature. It is, perhaps, this same motivation that led him to obsess over the serial killer John Christie while living in Ladbroke Grove, London, and it formed the basis for the questions that Whiteley posed in a 1965 exhibition at Marlborough New London Gallery by hanging the Christie works alongside drawings made at London Zoo: How could men be such beasts? And, conversely, how could beasts be so human?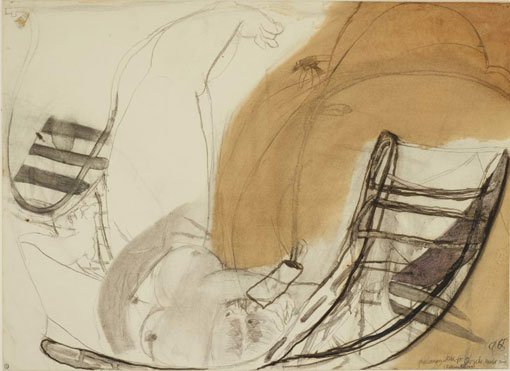 Time has been kind to Brett Whiteley. His legacy seems to have successfully weathered the storm that was his life. The art-viewing public no longer have to be distracted by gossip peripheral to the content of his art. Nor does the art world have to choose sides after each exhibition from the Studio, met as they always were in his lifetime with a host of predictable reviews from entrenched brigades of supporters and detractors. Even Wendy, for so long the fierce and constant guardian of her late husband's legacy, spoke of the current exhibition as an exercise in letting go.
Going through the drawers and folio boxes and notebooks and canvases at the Studio, I saw Whiteley's genius at its best and worst. For an artist whose reputation preceded him by a running start, his drawings grew on me in a way I did not anticipate. Surrounded by a lifetime of art, I could even convince myself, however momentarily, that there was nothing more to Whiteley than the art he made, that he was never the subject of a single controversy in his entire life, that drawing really was everything.
'Brett Whiteley: drawing is everything' is at the Art Gallery of NSW until 31 March 2019
Previous post: My big break
Next post: Vale Edmund Capon AM OBE

March 13 2019, 9am
by Jack Howard
Curatorial intern