When Brett met Francis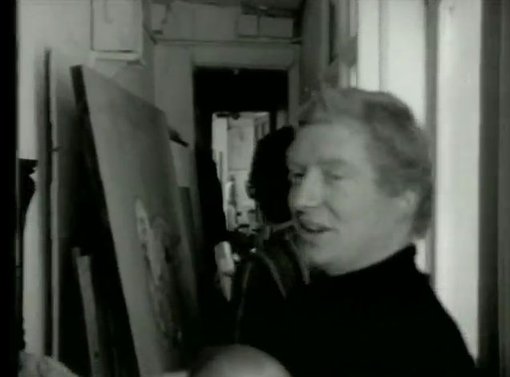 Brett Whiteley in a still from the 1965 documentary The Australian Londoners, directed by Stefan Sargent
Australian art was 'hot' in London when 20-year-old Brett Whiteley arrived in early 1960, courtesy of the Italian Government Travelling Art Scholarship.
Bryan Robertson, director of the Whitechapel Gallery, was completely bowled over when he first saw Brett's work at the artist's Ladbroke Grove studio and included three of his abstract paintings in the 1961 Recent Australian painting exhibition. It was from this exhibition that the Tate bought Brett's untitled red painting when he was only 22 years of age. And it was at the exhibition's after-party that Brett first met Francis Bacon. At Brett's request, Robertson – a good friend of Bacon – invited the English painter to the dinner at the Café Royal.
Their meeting was the beginning a friendship that continued over the years and included bouts of gambling and Brett flying to England to attend the opening of Bacon's retrospective at the Tate in 1985. Brett almost swapped all his 1964 Bathroom exhibition at the Marlborough Gallery (which also represented Bacon) for Bacon's painting Landscape near Malabata, Tangier 1963 (now in a private collection). However, realising he had no money for living expenses, Brett decided against it.
Although Brett never owned a Bacon, Bacon did at one stage own a painting by Brett. Apparently, Bacon bought one of Brett's Rembrandt self-portrait paintings from 1968, studied it for three weeks then told him that he had failed and discarded it. Despite this incident, the two artists remained good friends.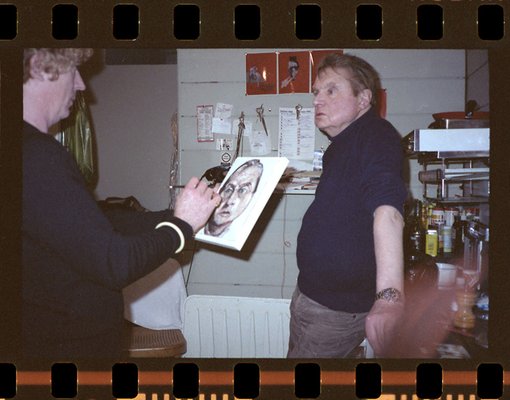 Brett entered portraits of Bacon into two Archibald Prize exhibitions. This photograph of Brett painting Bacon was taken in Bacon's studio. The small canvas Brett is working on is part of his Francis Bacon at 75 triptych, which he submitted in the 1984 Archibald Prize. A similar work by Whiteley of Bacon will be included in the exhibition Francis Bacon: five decades at the Art Gallery of NSW later this year.
A few years later Brett submitted another painting of Bacon to the Archibald. On reviewing the 1989 exhibition, artist and critic Elwyn Lynn questioned whether Brett's portrait of Bacon was eligible since Bacon had never come to Australia. As Brett had drawn Bacon from life while in London, the portrait was accepted and prominently hung near the exhibition entrance.
The London years 1960-67 exhibition, focusing on the work Brett produced in London in the 60s, is at the Brett Whiteley Studio from 13 July 2012.
Previous post: A fish tale
Next post: Conserving a Gallery favourite

July 11 2012, 11am
by Emma Collerton
Assistant at the Brett Whiteley Studio (until February 2013)