What's behind the wall?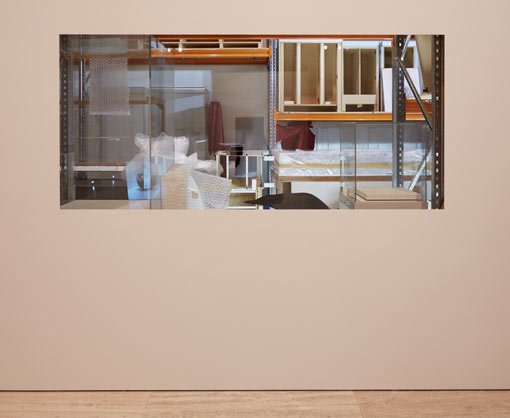 Detail from Daniel von Sturmer's Material from another medium installed at the Art Gallery of NSW © Daniel von Sturmer. Courtesy Anna Schwartz Gallery, Melbourne/Sydney
When you enter the exhibition Seven artists from the John Kaldor Family Collection at the Art Gallery of NSW, you may think we haven't finished installing. There's an element in the work of artist Daniel von Sturmer that confounds expectations and spatial understanding, while revealing some interesting aspects of the inner workings of major galleries.
Von Sturmer came to the attention of many local Gallery visitors at the 14th Biennale of Sydney in 2004 with his The truth effect 2003. Since then, he has been rightly recognised as one of our (well, New Zealand's as well, to be fair) most significant video artists.
The Seven artists exhibition, curated by the Gallery's Nicholas Chambers, includes Von Sturmer's multi-part work Material from another medium, which was first shown in Melbourne's Centre for Contemporary Photography in 2001. One of the videos from the Melbourne show was acquired by the collector John Kaldor, who has gifted a significant collection of works to the Gallery. So when Nicholas wanted to re-stage the piece, it seemed to happily come full circle to its new iteration.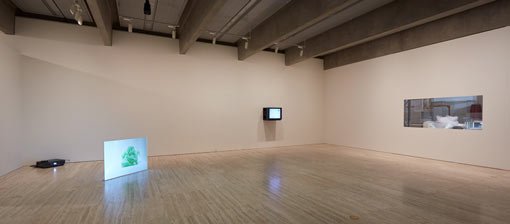 As well as several video elements, Material from another medium includes an opening in the wall that exposes an area of the Gallery rarely seen by outsiders: the back room. Every major display space in larger institutions needs its own packing room, a space for plinths and wrapping and… well, just all sorts of things. Indeed, the glimpses of these necessary but hidden materials are fascinating reflections back onto the very objects that feature in the videos: crushed paper, uncurling plastic, rolls of gaffer tape.
This space behind the wall is what might be called a 'non-place'. This interesting term, coined by French anthropologist Marc Augé, is used to describe the kind of spaces that intersect our contemporary lives, fleeting spaces we pass through that aren't really significant enough to be regarded as 'places': airports, highways, supermarkets etc. They're places where we 'become no more than what [we] do', working in transit, just passing through. Here the non-place is the site of the critical yet oft-forgotten preparation and support for the artistic display that usually captures, more deeply, our attention.
As Material from another medium was such a seminal work for Von Sturmer, we asked him to reflect on that non-place behind the wall after re-creating it in Seven artists.
'Much of my work is centred around ideas to do with viewers viewing – looking at, looking through or into (things, spaces, events),' says Von Sturmer. 'Sometimes this manifests in an intervention – cutting away a wall to reveal a corridor (Plane 2000) or partially blocking a view to create a rectangular aperture (Mediation 1998). In Material from another medium, the window opens a space up as an image – it renders it both spatial and pictorial at once. These terms "float" in the same way as one's perception wavers in apprehension – an experience of the space as an image can emerge.
'Material from another medium... emerged from an interest in how familiar and common materials can be used to provoke thinking around the nature of perception and underlying assumptions we make about the world. A series of short video-based experiments were made which centred around materials with synthetic (human-made) and malleable properties – plastic, polystyrene, polymer paint, blu-tak, as well as quotidian ready-made props of balloons, pencils and tape among others.
'The window-like aperture in Material from another medium frames an ordinary storeroom, making visible the normally intentionally invisible fabric of the gallery, providing a kind of behind-the-scenes reveal. The scene will change over time as items are stored or removed in the normal course of gallery goings on. The view is of the overlooked or insignificant. It's a space for the materials and things often relied upon in the service of art but which usually hold little value in and of themselves: paint, tape, bubble-wrap, plastic bags … all ordinary, familiar, unremarkable.'
Previous post: Do I know you?
Next post: David Strachan's salmon fricassé

July 27 2015, 9am
by Jackie Dunn
Writer and exhibition researcher