Wearing modernism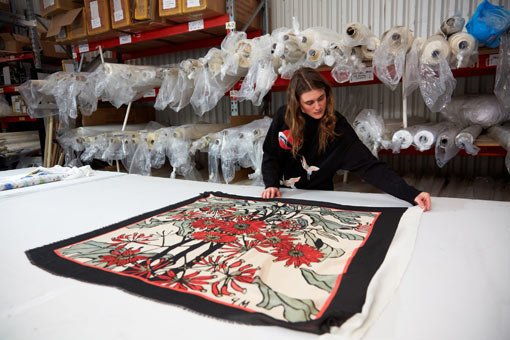 Textile designer Maddy North hand-finishing a scarf featuring Margaret Preston's Wheelflower
The front room of the headquarters of Think Positive Prints in Alexandria is relaxed and cosy, with a rack of fashion samples and a table spread with pastries – a calm zone before the busy pattern and fabric-printing workshop in the main warehouse space beyond. This is where the Gallery Shop's new Making modernism scarves are being printed with styles featuring popular works by Margaret Preston and Grace Cossington Smith in conjunction with the exhibition O'Keeffe, Preston, Cossington Smith: making modernism.
'With pieces like these, it's so important for us to get an accurate starting point,' says production manager Francesca Walters, 'Because we've got the colour-management software and the printing capability for precise colour-matching, we want it to reflect the original as closely as possible.'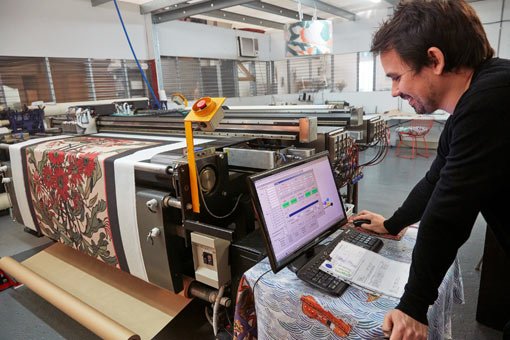 Respecting the vision of artists and designers is paramount for the shop and thus the company, and the evidence of this commitment is everywhere.
Material with a bold graphic print waves in the breeze from floor fans. A clothesline is draped with delicate silks. Metres of cotton are being fed through a coating solution to help it absorb the printing ink.
The Making modernism scarf designs are loaded onto the computer – reproductions of Grace Cossington Smith's Arums growing c1927, and Margaret Preston's Anemones 1925, Wheelflower c1929 and Implement blue 1927 – and the fabrics onto the giant printers. The print heads move smoothly across the silk crepe de chine and modal cashmere, and the images come to life in vivid sweeps.
'They take a lot of adjusting and checking,' the print technician Ben Mar explains. 'We have to always maintain the optimum temperature and moisture for printing or the ink dries out and the machines clog.'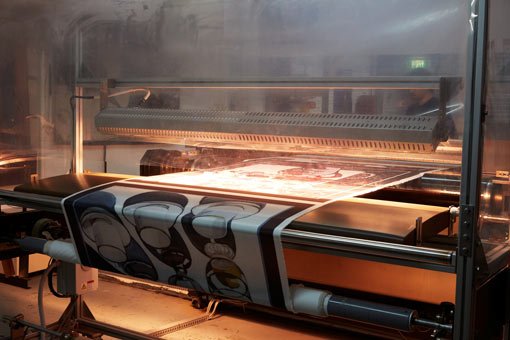 After the printing, setting, washing and drying, there's a large cutting table where the staff gather to hand-finish the scarves. 'All of the fringing is done in-house,' say textile designers Leisa Wake and Maddy North, 'and everybody working here learns how, so we can all pitch in.'
North demonstrates: first finding the individual yarn from the fabric edge, then carefully drawing it out of the weave to leave the fine ends. The painstaking process needs to be repeated about 60 times for each scarf, but they work quickly: 'We've got it down to 20 minutes per scarf.'
With this sort of attention to detail, it's no wonder customers are buying the scarves to frame and put on their walls – just the kind of artisanship that would make our favourite modernists proud.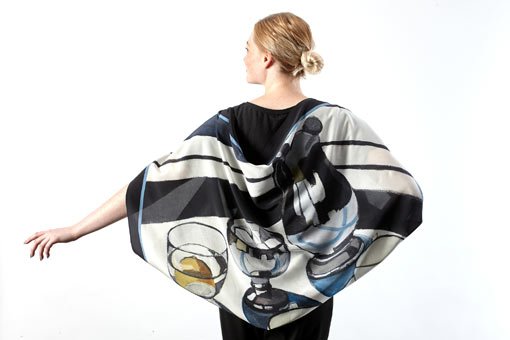 Shop online for Making modernism scarves
A version of this post originally appeared in Look, the Gallery's members magazine.
Previous post: None of these women are naked
Next post: Inside a framing studio

September 19 2017, 2pm
by Holly Bennett
Creative and content coordinator