We are family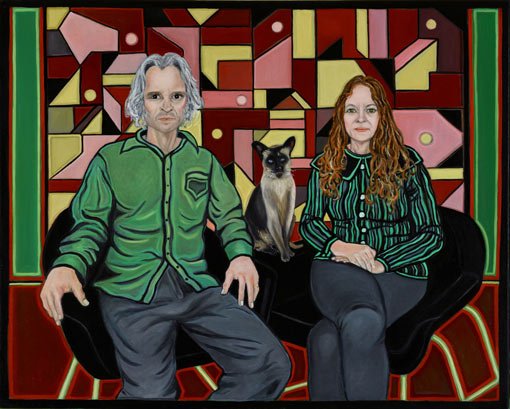 Marina Finlay Peter, Coco and Susan O'Doherty, Archibald Prize 2018 finalist
When it comes to Australia's favourite portrait prize, for this year's crop of finalists and their subjects it's a real family affair.
Father and daughter Robert Hannaford and Tsering Hannaford both have works in the exhibition again. It's Tsering's fourth time in the Archibald and Robert's 26th!
Kathrin Longhurst has painted her daughter Maia for her first Archibald showing.
A lawyer by profession, Amani Haydar is another first-time finalist in the Archibald; however, her story may be familiar to you, as hinted in the title of her work Insert headline here.
A self-portrait, it incorporates a 2006 photo of her mum, who in turn is holding a photo of her own mother, who had recently been killed in an airstrike in Lebanon. In 2015, Amani's mother was murdered by Amani's father. The photo in Amani's painting featured in some of the media coverage.
Family is a theme in other self-portraits this year – and there are a lot of them (21 in all).
Vincent Namatjira has included his grandfather, the esteemed artist Albert Namatjira, in the background of his painting, along with Chuck Berry (no relation).
As the title suggests, Guy Maestri's The fourth week of parenthood (self-portrait) was painted in the first weeks of being a new father, while Vanessa Stockard, who debuted in the 2017 Archibald with a self-portrait as a new mother, thinks of herself one year on as a different woman.
'This year I feel stronger and my portrait looks at the viewer with quiet resilience. There is also a starkness that reflects a new-found respect for what is important and to hell with the rest… I feel this portrait combines the unicorn glitter and lolly-sweet haze I feel as a mother, with a backbone and an ability to say "no".'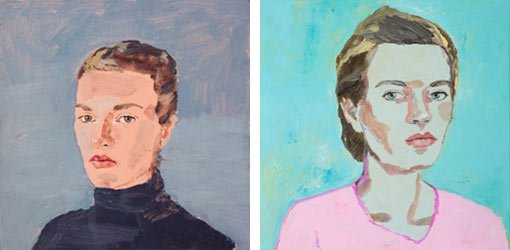 There's more glitter and pink to be found in Sally Ross's portrait of Garrett and Will Huxley, visual artists and performers who have been partners for 11 years.
'They could be the love children of American artist and mistress of disguise Cindy Sherman and Leigh Bowery, the performance artist and long-time muse of Lucien Freud,' says Sally.
The other couple to feature in this year's prize is Susan and Peter O'Doherty. Susan is a painter and mixed assemblage artist and Peter is a painter and musician (Mental As Anything, Dog Trumpet). They've been painted by Marina Finlay, who herself is a subject in this year's prize in a portrait by Karyn Zamel.
Accompanying the O'Dohertys is their dog, Coco, who is not the only furred or feathered family member to feature this year.
Former Archibald winner Del Kathryn Barton has depicted herself with Cherry-Bomb, her three-year-old French bulldog, in a painting she started while her mother battled terminal cancer.
'Cherry-Bomb is witness to and defender of my creative life. I remain forever grateful for her play-like-it's-the-end-of-the-world presence in my life, especially at a time of indescribable loss. Her deep eye contact is one of the most healing elements in my journey with grief.'
Marc Etherington – who painted Del and her staffie Magic Dog for the Archibald in 2015 – included a whippet called Granny in his self-portrait. It's the dog that he, his wife Kate and son Lars hope to have.
And then there's a galah called Herb, who shares equal billing with Booker Prize winning author Richard Flannagan in Julian Meagher's portrait.
There are even more family connections if we look across the years.
The partner of Susan Carland – the subject of Andrew Lloyd Smith's 2018 portrait – is media personality Waleed Aly, who was painted by Abdul Abdullah for the 2011 prize.
In 2018, Marcus Wills is a finalist with a portrait of actor Lotte St Clair. She also appeared tangently as a child in a photograph in Wills' 2017 painting of her husband, Thomas M Wright.
Coincidentally, Wright stars in Sweet country, the latest film from director Warwick Thornton, who is another face in this year's exhibition, in a work by David Griggs.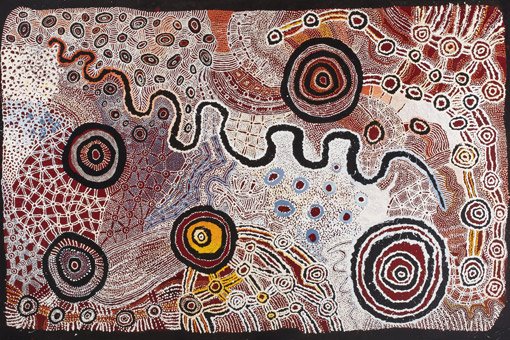 More family ties bind this year's Wynne Prize.
Tim McMonagle, the older brother of Archibald 2018 artist Fiona McMonagle, has a work in that competition.
The Wynne also features individual works by Ray Ken and his granddaughter Sylvia Ken, and a collaborative work by Wipana Jimmy and her daughters Beryl Jimmy and Imitjala Pollard, under the name the Waturru Collaborative.
Previous post: Looking good once again
Next post: The not-so-young Henrys

May 17 2018, 1pm
by Kirsten Tilgals
Online producer