We're all big kids at heart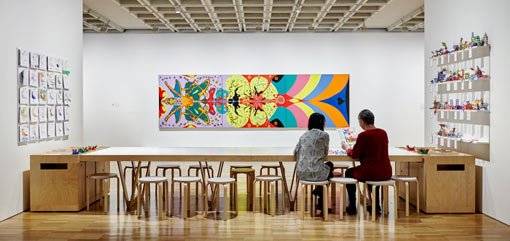 The creative space in Colourwheel with Matthys Gerber's Slavedriver 2003 in the background
At the recent Museums & Galleries National Awards, we won an innovation award for Pop Play. Now there is a new creative space at the Art Gallery of NSW where both big kids and little kids can once again sit, colour and be carefree.
Pop Play was an area in our summer Pop to popism exhibition that was designed as a place to discover, create and play. Visitors could partake in a game of pop twister as well as take photos of themselves as Marilyn Monroe. The crowd favourite seemed to be the designated drawing area, filled with tables and chairs and tins of coloured pencils. What seemed like the perfect pit stop for children in a large exhibition soon became a desirable destination for all.
The MAGNA judges commented: 'It is a pleasure to see families making "real things" and playing rather than only engaging with touchscreens. Provides a great opportunity for multigenerational engagement.'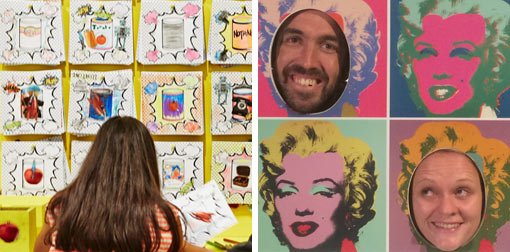 The Gallery had printed 30,000 Warhol-inspired soup-can graphics on cardboard to colour and they went like hotcakes. However, you couldn't help but notice that many of the most enthusiastic participants were, in fact, adults. Some were joining their children to colour in, some were colouring quietly on their own and some were having a group colouring-in fiesta.
What drove the grown ups to this colouring-in frenzy? Obviously, the pop artworks were inspiring. Was it also the opportunity to sit and partake in an activity that took us back to our childhood? The rhythmical and repetitive process of colouring can also be quite relaxing, like meditation. Holly Bennett from the Gallery Shop has previously blogged about colouring books for adults, including ones specifically designed to make you happy or calm.
Now Pop has left the building and Colourwheel has opened as part of a major reinstallation on lower level two with a range of artworks that reveal the joy, power and emotion of colour. As well as a children's trail, it includes a large activity area with tables and trolleys stocked with art materials.
The activities will be refreshed during the course of the show but to begin you can make a pop-out cardboard polychrome sculpture, inspired by Robert Klippel, and design a fabulous outfit for a Pacific Gull to wear, inspired by a Louise Weaver sculpture we have on loan from a private collection. Plus there's a special place where you can exhibit your masterpieces.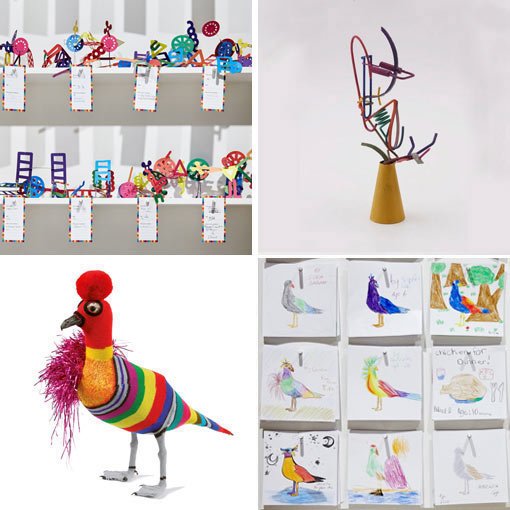 As Victoria Collings, the Gallery's senior coordinator of education and family programs, observed, people want to be part of the art. They enjoy being in beautiful surroundings with inspiring works around them, making art of their own, and they like to leave their mark.
So whether you like making with your hands or creating from your imagination, whatever your age, we hope to see you at the Gallery soon, colouring your heart away.
Previous post: Who is Guido Valdez?
Next post: To morbidity and beyond

June 17 2015, 12pm
by Ashley McDonald
Volunteer guide